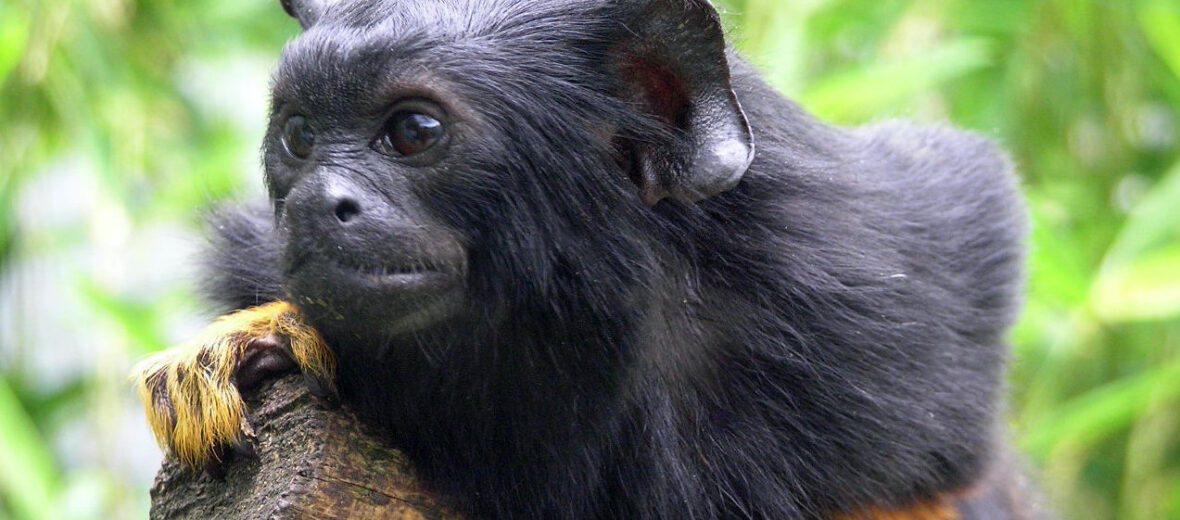 The golden-handed tamarin, aka red-handed tamarin or Midas tamarin, hails from Brazil, French Guiana, Guyana, Suriname, and Venezuela. They prefer wooded forests with plenty of trees. Via interspecific competition (competition for the same resources), these tamarins are gradually replacing the pied tamarins, by moving into their territory and out competing them for food. Due to stable and slowly expanding numbers, these tamarins are listed as Least Concern by the IUCN.
First the Stats…
Scientific name: Saguinus midas
Weight: Up to 1.21 lbs.
Length: Up to 17 inches, including their tail
Lifespan: Up to 16 years
Now on to the Facts!
1.) As is the case with other tamarins, they have claws instead of nails on their fingers and toes, sans their big toes.
2.) These critters lack an opposable thumb.
3.) Golden-handed tamarins dwell in family troops of up to 15 individuals.
4.) There is little competition between the males of the troop.
5.) When 1 tamarin is threatened by a Predator or another troop the others will run to its defense.
But wait, there's more on the golden-handed tamarin!
6.) These critters can be aggressive and territorial. They also possess claws and sharp teeth.
7.) Only 1 female in the troop will breed each season. The others all suppress the instinct to breed.
Did you know…?
The golden-handed tamarin can jump up to 60 feet and even leap that distance onto the ground without injury.
8.) Females undergo up to a 170 day gestation (pregnancy) that yields up to 2 infants.
9.) Infants are cared for primarily by the father, but given to mom to nurse. The other tamarins in the group aid in rearing the infants as well.
10.) Like other tamarins, these critters are primarily arboreal (spend their lives in trees).
But wait, there's still more on the golden-handed tamarin!
11.) Leaves, plant exudates (a substance secreted by a plant), fruit, flowers, nectar, eggs, insects & other arthropods, frogs, lizards, and spiders are all on the menu for these Omnivores (eat plant and animal matter).
12.) Cats, snakes, and birds of prey all hunt these tiny critters.
Now a Short Golden-Handed Tamarin Video!
Be sure to share & comment below! Also, check out the Critter Science YouTube channel. Videos added frequently!
Want to suggest a critter for me to write about? Let me know here.
Think you know a lot about critters? Try your hand at these fun, free quizzes: