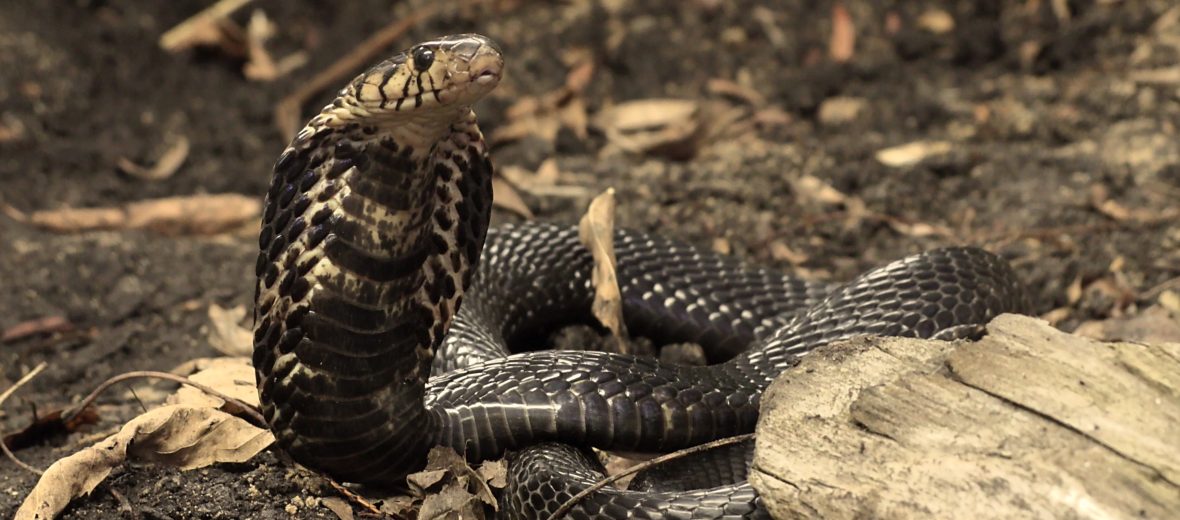 The forest cobra, aka black cobra or black and white-lipped cobra, hails from central and western Africa. They are the largest known true cobra species. These venomous elapids (venomous snakes characterized, in part, by permanently erect fangs) prefer lowland forests and moist savanna habitats, but they are very adaptable and can tolerate a range of habitats, like drier climates. Even though they face the threats of hunting, trapping, and habitat loss, they are still listed as Least Concern by the IUCN. Their numbers are decreasing though, so their status could change.
First the Stats…
Scientific name: Naja melanoleuca
Weight: Up to 7.9 lbs.
Length: Up to 10 feet
Lifespan: Up to 30 years
Now on to the Facts!
1.) Forest cobras are excellent swimmers, to the point where they can be classified as semi-aquatic.
2.) Other snakes, amphibians, monitor lizards, & other lizards, fish, young birds, bird eggs, rodents, and other small mammals are all on the menu.
3.) Mongooses and black mambas prey on these cobras.
4.) These snakes are diurnal (active during the day) in uninhabited areas and nocturnal (active at night) in suburban areas.
5.) Not only can they swim well, but they are agile climbers too; ascending to heights of up to 33 feet.
But wait, there's more on the forest cobra!
6.) If threatened, these snakes take on the characteristic cobra stance, elevating its head high and flaring its hood.
7.) Nervous and skittish by nature, forest cobras are quick to strike and will even make an extra effort to go after its perceived threat.
Did you know…?
The forest cobra venom is a postsynaptic neurotoxin and bites end up in severe neurotoxicity (the disruption or termination of neurons). The maximum venom yield is 1,102 mg! Death can occur within 30 – 120 minutes in severe cases of envenomation!
8.) These snakes rank as the 4th most venomous true cobra species.
9.) Envenomation results in ptosis (drooping of the upper eyelids), tachycardia (heart rate over 100 beats per minute), nausea, vomiting, respiratory distress, and high potential for death.
10.) The forest cobra does not have the ability to spit or spray its venom.
But wait, there's still more on the forest cobra!
11.) Their mating ritual consists of a kind of dance. Where the male and female will raise their heads up high and sway back and forth, pushing against each other at times. This can go on for over an hour, before mating actually takes place.
12.) These snakes are oviparous (lay eggs).
13.) Females lay up to 26 eggs that hatch in up to 70 days.
14.) The female will attack without provocation, and with potentially fatal consequences if she perceives her nest to be in danger.
Now a Short Forest Cobra Video!
Be sure to share & comment below! Also, check out the Critter Science YouTube channel. Videos added frequently!
Want to suggest a critter for me to write about? Let me know here.
Think you know a lot about critters? Try your hand at these fun, free quizzes: