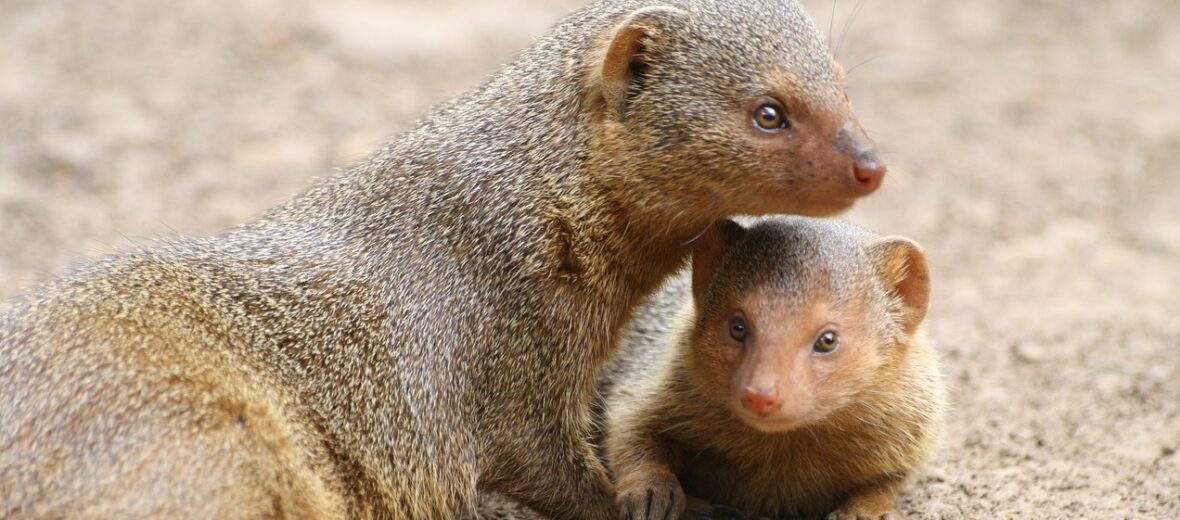 The mongoose is famous in real life and in literature. These feisty critters are even able to stand their ground against venomous snakes. There are 30+ known species of mongooses in the world and all are tough. These creatures can be found in Asia, Africa, Europe, and some islands like the Hawaiian islands (to name just a few). They prefer forests, deserts, semi-aquatic, and rocky areas. But they can even make their homes near people. Most mongooses are listed as Least Concern. But there are a few species that are in danger. As is reported by the IUCN.
First the Stats…
Scientific name: Herpestidae
Weight: Up to 11 lbs.
Length: Up to 22.8 inches, plus up to a 19 inch tail
Lifespan: Up to 20 years
Now on to the Facts!
1.) The smallest known mongoose is the dwarf.
2.) Mongooses are Omnivores (eat plant and animal matter) that prey on insects, rodents, birds, frogs, eggs, and will also eat plants.
3.) The correct pronunciation for more than 1 mongoose is either mongooses or mongeese.
4.) They are famous, the world over, for their ability to defeat venomous snakes in battle. They aren't totally immune to the neurotoxic venom, but they have a high resistance to it.
5.) Thanks to evolution, these critters have developed mutations in their nervous system. The neurotoxin has a hard time binding to their nicotinic acetylcholine receptors, causing it to be less effective on the mongoose.
But wait, there's more on the mongoose!
6.) Mongeese use tools, like rocks, to break open the shells of eggs, in order to get at the tasty insides. They will also resort to just throwing the egg on the ground to crack it open.
7.) They typically hide out, in the heat of the day, in abandoned burrows. These critters seldom build their own burrows.
Did you know…?
Mongooses are prohibited in the United States and New Zealand, due to their invasive nature.
8.) A large group of mongooses is called a pack or a mob. Some are solitary though. Only coming together to mate.
9.) During mating season they will make calls called giggling. This signals the intent to breed. Other times, they will make a series of random calls to alert the others of danger.
10.) Females give birth to 1 – 4 babies each breeding season.
But wait, there's still more on the mongoose!
11.) The semi-aquatic marsh mongoose can dive for up to 15 seconds, in search of crustaceans and fish.
Did you know…?
Rikki-Tikki-Tavi, a fictional mongoose, saves a family from venomous snakes, in this short story by Rudyard Kipling.
12.) Introduced Javan mongooses were intended to reduce rat populations. These critters not only avoided the rats, but rather destroyed bird populations and have since become invasive.
13.) Mongeese are typically diurnal (active during the day). But they can also exhibit nocturnal (active at night) habits too.
14.) Snakes, marabou storks, hawks, jackals, and leopards all prey on mongooses.
Now a Short Mongoose Video!
Be sure to share & comment below! Also, check out the Critter Science YouTube channel. Videos added frequently!
Want to suggest a critter for me to write about? Let me know here.
Learn more about all kinds of cool critters, right here!