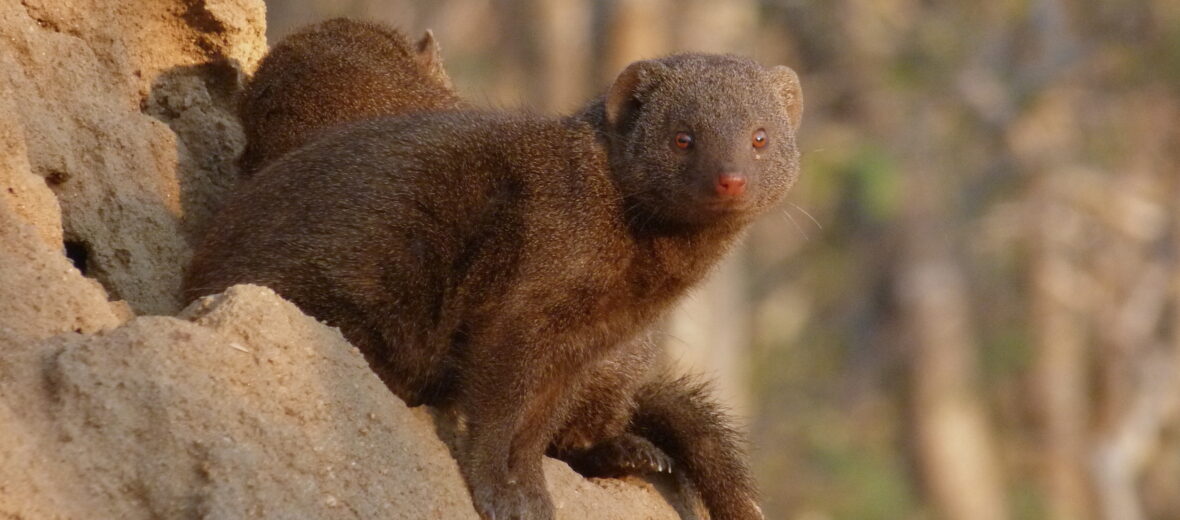 Being the smallest isn't always a bad thing. Take the dwarf mongoose, for example. Even though they are the smallest African carnivore, they are crucial in their role within the animal kingdom. They are quick and agile hunters of insects and other small critters, yet very social as well. They are also nomadic creatures and are necessary prey animals to larger predators. The IUCN lists this species of mongoose as Least Concern.
First the Stats…
Scientific name: Helogale parvula
Weight: Up to 9.7 ounces
Length: Up to 7.9 inches
Lifespan: Up to 10 years
Now on to the Facts!
1.) They live in packs of as many as 30+ mongooses.
2.) The dwarf mongoose preys primarily on insects, though it has been observed eating rodents, lizards, snakes, and birds.
3.) Dens are not used for more than a few days at a time, being as dwarf mongooses are nomadic (moving from place to place).
4.) Mongoose groups are matriarchal (led by a dominant female). The dominant female in a group produces 2 – 3 litters each year.
5.) Dwarf mongooses and ground hornbills have a symbiotic (benefits both animals) relationship. They both help guard each other from predators by alerting one another to the presence of things like raptors.
But wait, there's more on the dwarf mongoose!
6.) The group's hierarchy is reverse age-based, meaning the youngest individuals rank higher than the older ones. This arrangement most likely assures that the young will get enough food to survive.
7.) The dwarf mongoose is diurnal (active during the day).
Did you know…?
Birds of prey and snakes are the primary predators of the dwarf mongoose.
8.) The dwarf mongooses communicate with each other through a variety of twitters, whistles, trills, and vibrations.
Now a Short Dwarf Mongoose Video!
Also, check out the Critter Science YouTube channel. Videos added frequently!
Want to suggest a critter for me to write about? Let me know here.
Learn more about all kinds of cool critters, right here!