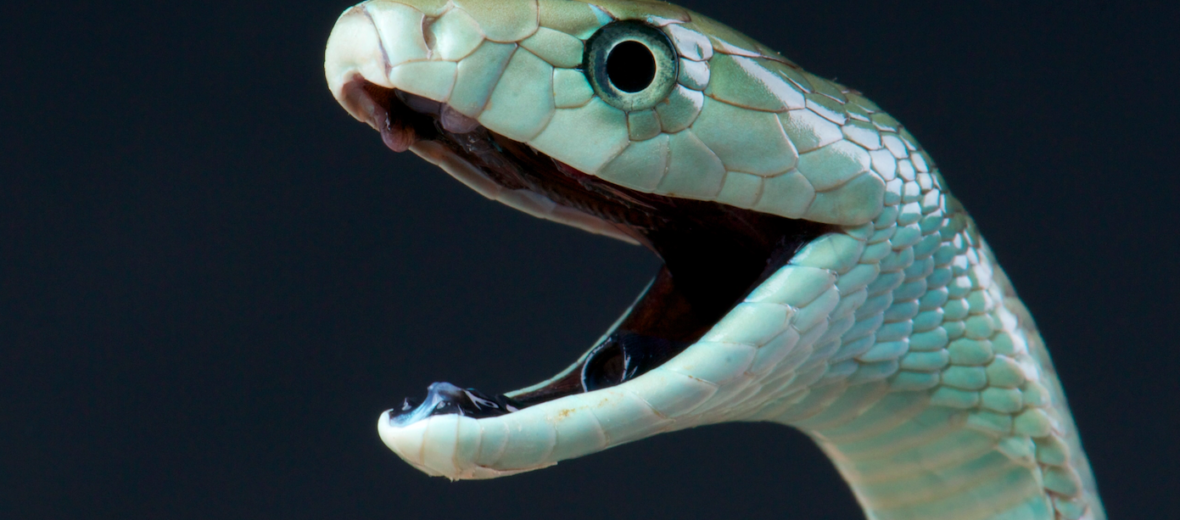 Having the reputation of being the deadliest snake in Africa, the black mamba is not only fast, but strikes repeatedly, when cornered. Black mambas are the second largest venomous snake in the world. Can you guess the first? If you guessed the king cobra, you're correct. Black mambas take up residence in southern and eastern Africa and prefer moderately dry environments like rocky outcrops, light woodland, scrub, and semi-arid savannas. These snakes are nothing to be trifled with as their venom is quite potent and can cause death without a quickly delivered antivenom. Mambas are listed as Least Concern by the IUCN.
First the Stats…
Scientific name: Dendroaspis polylepis
Weight: Up to 3.5 lbs.
Length: Up to 14 feet
Lifespan: Up to 11 years
Now on to the Facts!
1.) Mambas are the fastest land snake in the world; reaching speeds of up to 12 mph!
2.) They prey on mice, rats, squirrels, and sometimes even birds.
3.) Their predators are: crocodiles, birds of prey, big frogs, monitor lizards, mongooses, foxes, jackals, honey badgers, and humans (killing them for fear of being bitten).
4.) These snakes are diurnal (active during the day).
5.) They are both terrestrial (spend time on the ground) and arboreal (spend time in the trees).
But wait, there's more on the black mamba!
6.) When threatened an adult can raise its head up to 4 feet off the ground and fan out its hood to look even more threatening. As if the 4 feet off the ground thing and the death worm reputation weren't enough.
7.) A bite takes just 30 minutes to 3 hours to kill a human! They are responsible for up to 20,000 deaths a year. If you don't get antivenom, you will die.
Did you know…?
It only takes 2 drops of venom to kill a person. However, their fangs can contain up to 20 drops of venom! Plus mambas strike repeatedly, because they can.
8.) Females lay between 6 – 17 eggs.
9.) Parents have no part in raising their young and their eggs are laid and left to their own devices.
10.) The young are born up to 24 inches long.
Now a Short Black Mamba Video!
Also, check out the Critter Science YouTube channel. Videos added frequently!
Want to suggest a critter for me to write about? Let me know here.
Learn more about all kinds of cool critters, right here!