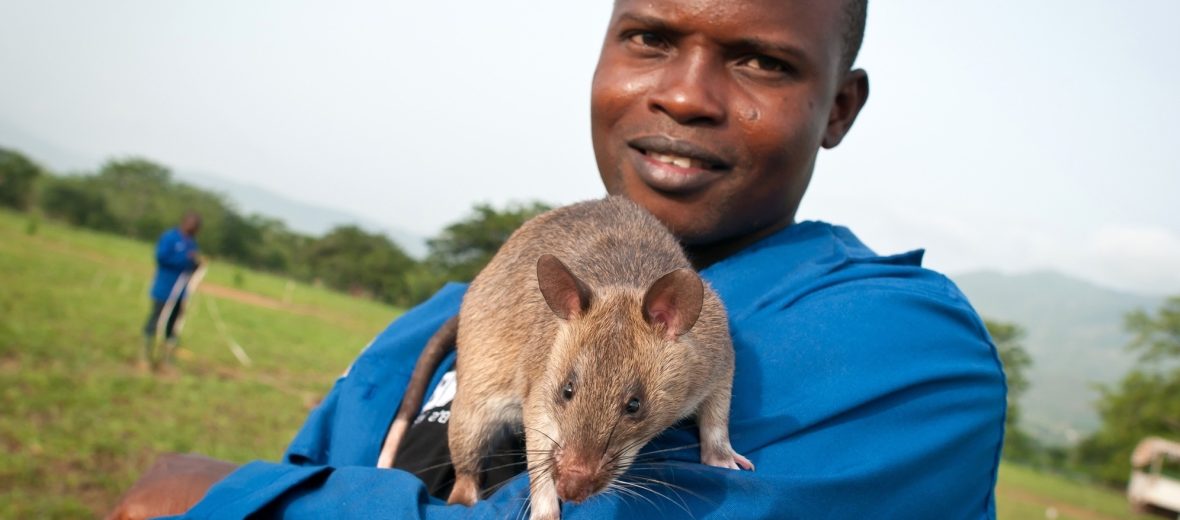 The Gambian pouched rat, aka African giant pouched rat, is considered the largest known rat species in the world. These giants hail from Sub-Saharan Africa; from Angola to Mozambique and Senegal to Kenya. They prefer woodlands, forest thickets, plantations, farmlands, croplands, rural areas, and can also be found around termite mounds. Due to their stable population and propensity for becoming invasive, these rodents are listed as Least Concern by the IUCN.
First the Stats…
Scientific name: Cricetomys gambianus
Weight: Up to 9 lbs.
Length: Up to 3 feet
Lifespan: Up to 7 years
Now on to the Facts!
1.) These rodents are social creatures that live in colonies as large as 20 individuals.
2.) Like hamsters, and unlike any other known rat species, these critters have cheek pouches.
3.) Gambians have the habit of stuffing their cheek pouches so full that they are almost unable to enter their burrow.
4.) Their burrows typically consist of several chambers and multiple entry points.
5.) The Gambian pouched rat is nocturnal (active at night).
But wait, there's more on the Gambian pouched rat!
6.) These terrestrial critters are also able to climb and swim very well.
7.) A group of rats is called a colony, horde, mischief, pack, plague, or swarm.
Did you know…?
Even though these critters are considered a pest species, in some areas, they are also kept as pets, in some countries.
8.) Vegetables, crabs, insects, snails, palm fruits, and palm kernels are all on the menu.
9.) These rats are seasonally monogamous (mate with only 1 partner each breeding season).
10.) Females birth up to 4 litters within a 9 month period.
But wait, there's still more on the Gambian pouched rat!
11.) The female undergoes up to a 32 day gestation (pregnancy) that yields up to 6 pups.
12.) Males don't participate in rearing their offspring and, in fact, will sometimes even cannibalize their young.
13.) These rodents have very poor eyesight, so they depend highly on their keen sense of smell and hearing.
14.) Gambians are preyed on by larger mammals and birds of prey. Plus humans eat them, as bush meat.
Now a Short Gambian Pouched Rat Video!
Be sure to share & comment below! Also, check out the Critter Science YouTube channel. Videos added regularly!
Want to suggest a critter for me to write about? Let me know here.
Think you know a lot about critters? Try your hand at these fun, free quizzes: