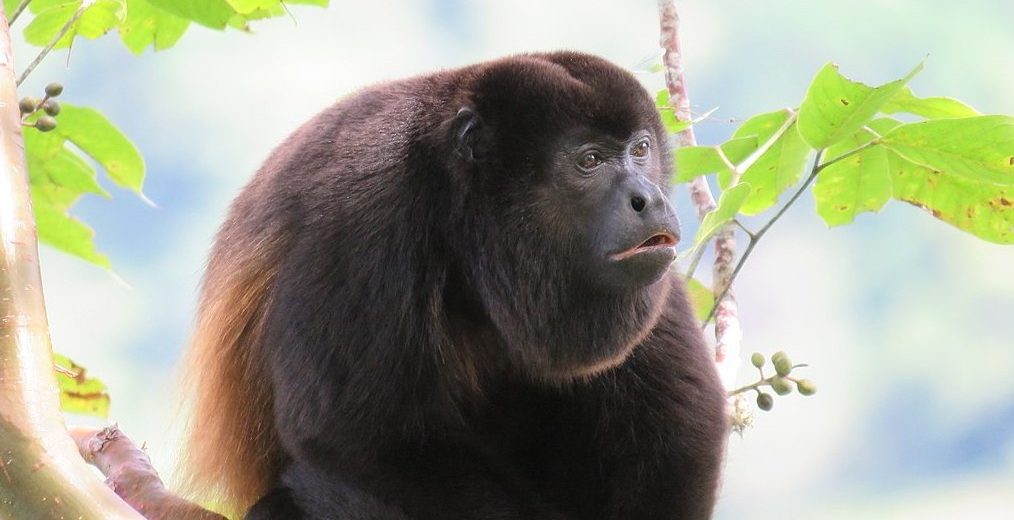 Ranging from Southern Mexico, through Central America, and into Colombia & Ecuador, the mantled howler monkey lives in lowland and montane rainforests. These monkeys are among the largest of all the New World primates. Sadly, they face the threats of habitat loss and fragmentation, at the hands of housing and urban development; deforestation, due to agriculture; hunting; and trapping. Due to these threats, these monkeys are listed as Vulnerable by the IUCN. Their numbers are also decreasing.
First the Stats…
Scientific name: Alouatta palliata
Weight: Up to 22 lbs.
Length: Up to 27 inches, plus up to a 25.8 inch tail
Lifespan: Up to 20 years
Now on to the Facts!
1.) These primates prefer to dwell in mountain regions with elevations of up to 6,500+ feet.
2.) Some other common names for these monkeys are: golden-mantled howling monkey, common mantled howler, South Pacific blackish howling monkey, southern mantled howler, Ecuadorian mantled howling monkey, and northern mantled howler.
3.) A group of monkeys is called a barrel, cartload, tribe, troop, or wilderness.
4.) Forming troops of up to 20 individuals, these monkeys have a complex and social hierarchy system that consists of a single dominant male and numerous subordinate females with whom the male mates.
5.) Mantled howler monkeys are primarily arboreal (spend their lives in trees).
But wait, there's more on the mantled howler monkey!
6.) While navigating the canopies, they use all 4 limbs to grasp branches.
7.) They can be seen using their legs and prehensile tail to hold on, while they eat.
Did you know…?
The primary call of a howler monkey can be heard from up to 3 miles away and is the loudest known call from a land animal.
8.) Mantled howlers are diurnal (active during the day).
9.) Howlers communicate via grunts, barks, and woofs. But, when threatened, they will let out their famous howl.
10.) Leaves, fruits, and flowers make up their diet.
But wait, there's still more on the mantled howler monkey!
11.) The mantled howler monkey is polygynous (1 male mates with multiple females).
12.) Even though most births occur in late December or January, these primates generally breed all year long.
13.) Females birth a single infant after up to a 6 month gestation (pregnancy).
14.) Infants spend up to 11 weeks with mom, by riding on her back; grasping the base of her tail.
15.) They may be arboreal, but these primates can also swim quite well.
But wait, there's still a little more on the mantled howler monkey!
16.) The famous guttural call is typically emitted at around dawn and dusk.
17.) These monkeys get most of their moisture from the foods they eat, thus almost eliminating the need to drink standing water.
18.) Jaguars, pumas, and harpy eagles all prey on these howler monkeys.
Now a Short Mantled Howler Monkey Video!
This video talks about howler monkeys, in general.
Be sure to share & comment below! Also, check out the Critter Science YouTube channel. Videos added regularly!
Want to suggest a critter for me to write about? Let me know here.
Think you know a lot about critters? Try your hand at these fun, free quizzes:
Photo credit: Dr. Ariel Rodriguez-Vargas