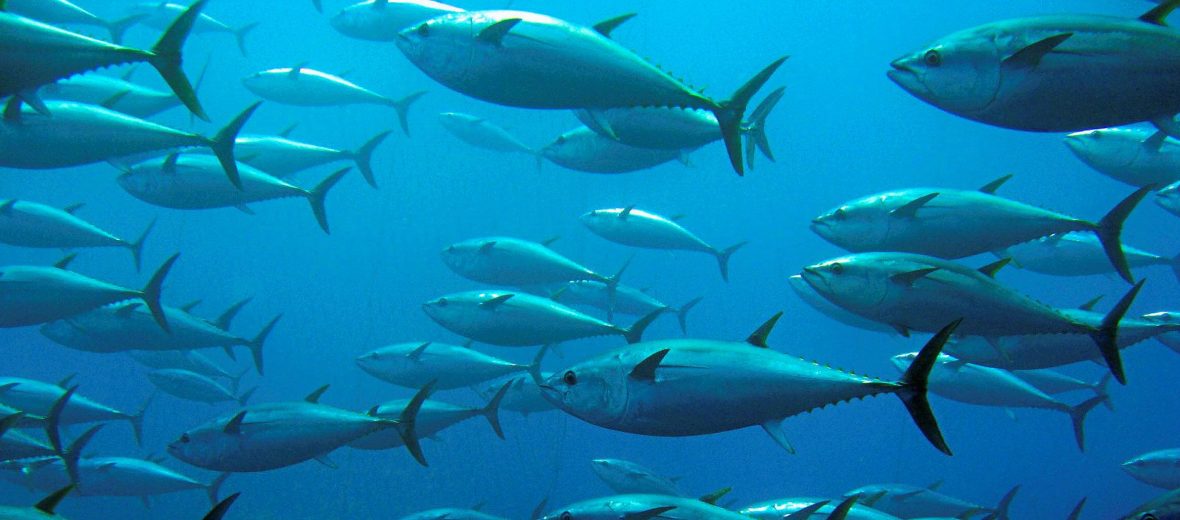 The skipjack tuna, aka the balaya, cakalang, katsuo, bakulan/kayu, tongkol/aya, arctic bonito, oceanic bonito, mushmouth, striped tuna, or victor fish, can be found in tropical and warm-temperate waters. They are located in the Atlantic, Indian, and Pacific Oceans. Overfishing is their biggest threat. Yet, even though their populations are decreasing, they are still listed as Least Concern by the IUCN.
First the Stats…
Scientific name: Katsuwonus pelamis
Weight: Up to 22 lbs.
Length: Up to 32 inches
Lifespan: Up to 12 years
Now on to the Facts!
1.) Skipjack tunas can be found in large shoals consisting of up to 50,000 fish.
2.) These fish are important commercial and game fish.
3.) The skipjack tuna has the highest percentage of skeletal muscle devoted to locomotion of any animal; with an average of 68% of the animal's total body mass.
4.) They prey on small fishes, pelagic crustaceans, squids, and other small invertebrates.
5.) Sharks, yellowfin tunas, billfishes, wahoo, and seabirds all prey on skipjacks.
But wait, there's more on the skipjack tuna!
6.) They are sold fresh, frozen, dried, salted, canned, and smoked.
7.) In 2018, landings of 3.2 million tons were reported, on a regular basis.
Did you know…?
Skipjacks can swim at speeds of up to 2.7 feet per second.
8.) The skipjack tuna is a batch spawner. This means that they spawn several times each season.
9.) Females lay upwards of 300,000 eggs per season. But many of these will be eaten before they even get a chance to hatch.
10.) These fish are frequently used as bait for other fish.
Now a Short Skipjack Tuna Video!
Be sure to share & comment below! Also, check out the Critter Science YouTube channel. Videos added regularly!
Want to suggest a critter for me to write about? Let me know here.
Think you know a lot about critters? Try your hand at these fun, free quizzes: