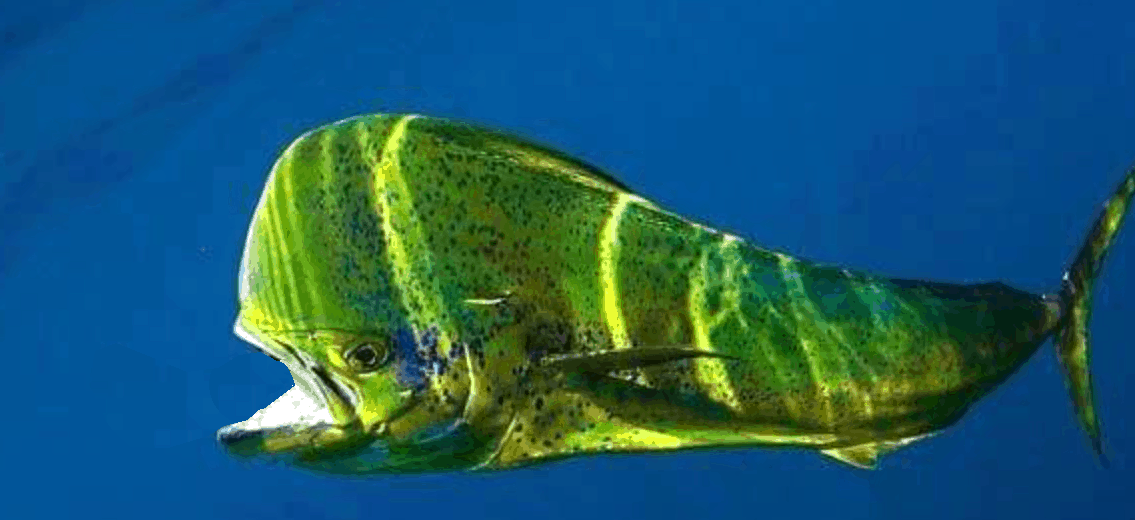 The mahi-mahi, aka dorado, pompano, or dolphin fish, can be found in equatorial, tropical, and sub-tropical waters of the Pacific, Atlantic, and Indian Oceans. They are a highly sought after sport fish due to their bright coloration and strong fight. Not only are they speedy, but mahi-mahi are among the fastest growing of the world's known fish. These fast-moving, brightly colored fish are listed as Least Concern by the IUCN, due to their stable numbers, worldwide.
First the Stats…
Scientific name: Coryphaena hippurus
Weight: Up to 87 lbs.
Length: Up to 7+ feet
Lifespan: Up to 5+ years
Now on to the Facts!
1.) The name mahi-mahi comes from the Hawaiian language meaning "very strong".
2.) Males are called bulls and females are called cows. The males have a bony crest or hump on their foreheads, females do not.
3.) Dolphin fish prey on small juvenile tuna, pelagic fish, pompano, invertebrates, billfish, jacks, and pelagic (open sea) larvae as well as nearshore, bottom-dwelling species.
4.) Predators of this fish are marine mammals, large tuna, sailfish, marlin, swordfish, and humans.
5.) These fish are diurnal (active during the day).
But wait, there's more on the mahi-mahi!
6.) Some restaurants server mahi-mahi under the name "dolphin". So if you see dolphin on the menu, relax, it's not the mammal, but rather the fish.
7.) As far as consumption, the Natural Resources Defense Council (NRDC) classifies mahi-mahi as a "moderate mercury" fish. This means that they have relatively low levels of mercury in their system. But they recommend only consuming up to 6 portions, or less, per month. Just to be safe.
Did you know…?
The mahi mahi can swim at speeds of nearly 60 mph!
8.) There are 2 known species of dolphin fish: the common and the pompano.
9.) Females spawn 2 – 3 times per year, yielding 80,000 – 1,000,000 eggs each time!
10.) Within 4+ months, they are ready to reproduce.
Now a Short Mahi-Mahi Video!
Be sure to share & comment below! Also, check out the Critter Science YouTube channel. Videos added frequently!
Want to suggest a critter for me to write about? Let me know here.
Learn more about all kinds of cool critters, right here!