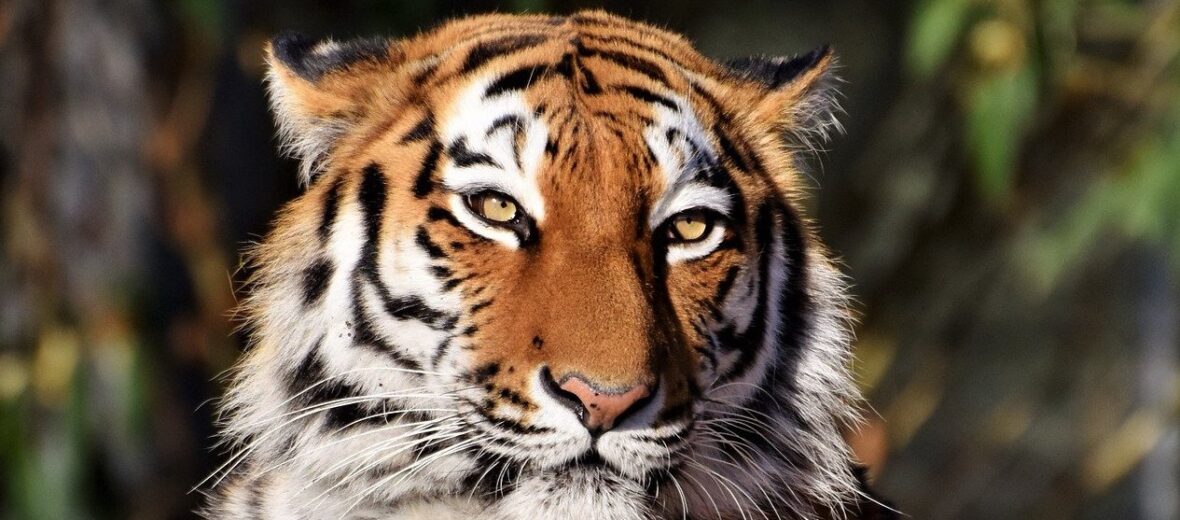 The Siberian tiger, aka Amur tiger, is the largest "big cat" in the world. But only in captivity. In the wild, the Bengal tiger is the largest. They can be found in the Russian Far East, Northeast China, and potentially North Korea (although this isn't confirmed). Amur tigers prefer taiga and boreal forests. These tigers are listed as Endangered by the IUCN. This is due to illegal hunting, trapping, and collection, habitat destruction, and climate change. Their numbers are also decreasing, despite conservation efforts. It is estimated that there are only 600 +/- Siberian tigers remaining in the wild to date.
First the Stats…
Scientific name: Panthera tigris altaica
Weight: Up to 675 lbs.
Length: Up to 6.8 feet, plus a 3.3 foot long tail
Height: Up to 42 inches
Lifespan: Up to 20 years
Now on to the Facts!
1.) No 2 tigers have the same stripes. Like our fingerprints. Each tiger is different.
2.) Even their skin is striped.
3.) These mighty predators are not all that successful at hunting. They are only successful 1 in every 10 – 20 attempts. Talk about perseverance.
4.) Siberian tigers prey on Siberian roe deer, sika deer, Amur moose, Manchurian wapiti, wild boar, gorals, rabbits, hares, pikas, and even the occasional salmon.
5.) The Siberian tiger is genetically similar to the now extinct Caspian tiger.
But wait, there's more on the Siberian tiger!
6.) These tigers can patrol an area of up to 620 square miles!
7.) The gestation (pregnancy) time for a Siberian tiger is up to 3 months.
Did you know…?
A tiger's roar can be heard for over 2 miles!
8.) Female tigers birth 2 – 3 blind and helpless cubs.
9.) Mom is the sole provider for her cubs, for the first 2 years of their lives. After which time they leave to start life on their own.
10.) Unlike other cats, tigers actually enjoy the water and are excellent swimmers, swimming long distances and even crossing rivers to find prey.
But wait, there's still more on the Siberian tiger!
11.) A group of tigers is called a streak. Although a streak is rarely ever witnessed from these solitary cats.
12.) Amur tigers communicate, in part, via vocalizations like roaring, growling, moaning, hissing, and chuffing.
Did you know…?
With hind legs that are longer than their fore legs, these tigers can leap up to 30 feet in a single jump!
13.) Tigers, in general are nocturnal (active at night) hunters with night vision that is up to 6 times greater than ours.
14.) Tigers have large, padded feet and they roll their paws as they step, making them almost totally undetectable, till it's too late.
15.) Being as they aren't the fastest cat out there, they prefer ambush hunting. They wait till prey comes close enough to them and then then attack with a short burst of speed.
But wait, there's still a little more on the Siberian tiger!
16.) Tigers kill their prey with a powerful bite to the neck or base of the skull. This crushes the vertebrates and severs arteries, rendering their prey helpless.
17.) While there are no albino tigers, there are leucistic tigers. This is the result of a recessive gene from mom and dad that affects pigmentation and often results in blue eyes.
18.) As apex predators, Siberian tigers are a keystone species. They keep other animal populations under control, like Herbivores. This aids in the protection of vegetation, which in turn helps streams and forests grow.
Now a Short Siberian Tiger Video!
Be sure to share & comment below! Also, check out the Critter Science YouTube channel. Videos added frequently!
Want to suggest a critter for me to write about? Let me know here.
Learn more about all kinds of cool critters, right here!