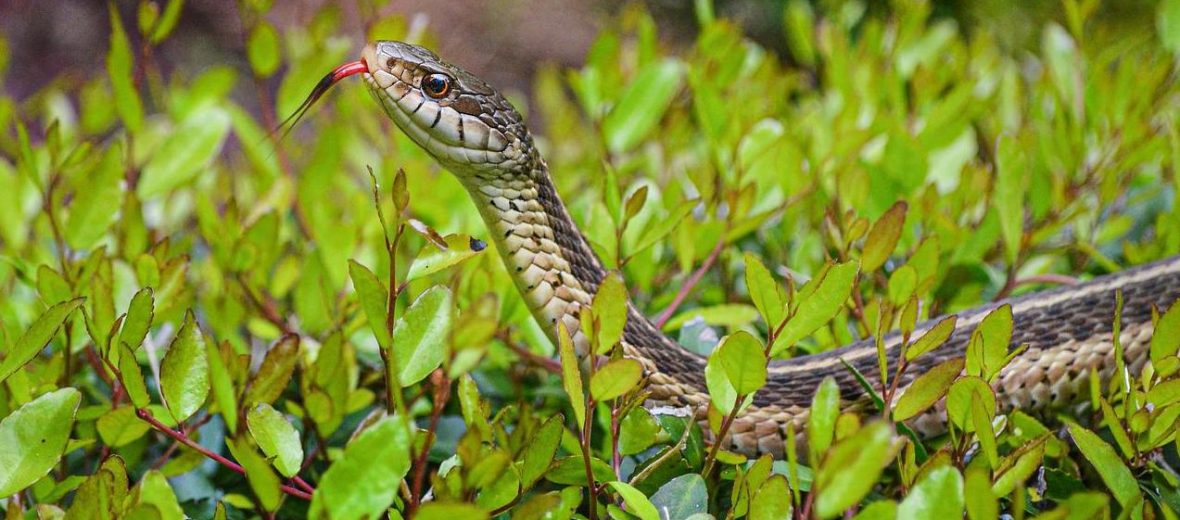 The eastern garter snake, aka common garter snake, can be found throughout Canada, United States, Mexico, and Central America. Garter snakes are nonvenomous colubrids that pose no threat to us humans or our pets. Due to their stable populations and no real threats to their survival, these snakes are listed as Least Concern by the IUCN. Garter snakes are also kept as pets.
First the Stats…
Scientific name: Thamnophis sirtalis sirtalis
Weight: Up to 5.3 ounces
Length: Up to 26+ inches
Lifespan: Up to 10 years
Now on to the Facts!
1.) These garter snakes tolerate a wide range of habitats, like forests, grassy fields, sheds, barns, garages, abandoned farmlands, lakes, streams, rivers, bogs, ponds, swamps, drainage ditches, quarries, and even garbage dumps.
2.) Eastern garter snakes are Cathemeral (active both day and night).
3.) Their preferred concealment locations are those where they can bask, to get warmth, and one that affords an easy escape; in the event a Predator approaches.
4.) Garter snakes prey on frogs, toads, slugs, earthworms, and small fish.
5.) Garter snakes, as a general rule of thumb, are typically aggressive and don't take too kindly to being handled. But their bite is not impressive.
But wait, there's more on the eastern garter snake!
6.) If threatened, these snakes will readily bite and release a musk (smelly liquid released from their cloaca – anus) that can be tough to wash off.
7.) A group of snakes is called a bed, den, knot, nest, or pit.
Did you know…?
Females birth up to 40 live young each breeding season.
8.) Although typically solitary, these snakes will band together in various hides to brumate (Hibernation for reptiles) throughout winter.
9.) These snakes are polygynandrous (promiscuous – both male and female have multiple partners).
10.) In an effort to reproduce, numerous males will entwine with a single female in what is called a breeding ball.
But wait, there's more on the eastern garter snake!
11.) The young are born at up to 9″ long and Precocial (self sufficient).
12.) Hawks, crows, egrets, herons, cranes, raccoons, otters, other snake species (like king snakes and coral snakes), shrews, and bullfrogs all prey on garter snakes.
Now a Short Eastern Garter Snake Video!
Be sure to share & comment below! Also, check out the Critter Science YouTube channel. Videos added regularly!
Want to suggest a critter for me to write about? Let me know here.
Think you know a lot about critters? Try your hand at these fun, free quizzes: