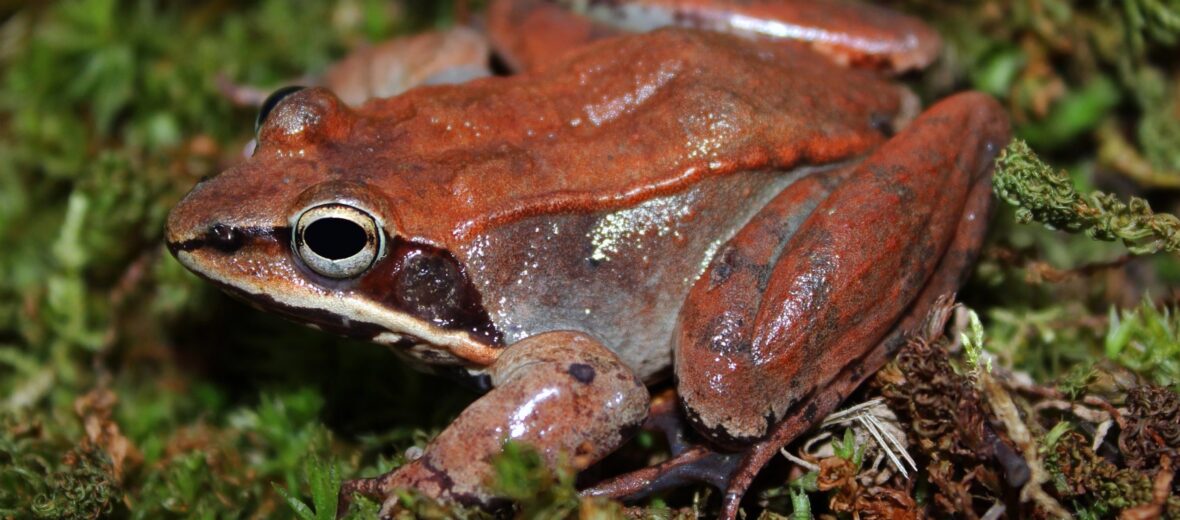 The wood frog can be found in Alaska, through Canada, and down into northeastern United States; with a few populations as far south as South Carolina. These seemingly normal frogs harbor an incredible ability that has received the attention of biologists all over. More on that in a bit. Even though they suffer at the hands of habitat loss and pollution, not to mention the potential for infection by the Chytrid fungus, these amphibians are still listed as Least Concern by the IUCN.
First the Stats…
Scientific name: Lithobates sylvaticus
Weight: Up to .28 ounce
Length: Up to 3.25 inches
Lifespan: Up to 3+ years
Now on to the Facts!
1.) Beetles, spiders, worms, millipedes, slugs, snails, and other small invertebrates make up the wood frog's diet. The tadpoles eat algae and plant matter.
2.) Snapping turtles, skunks, coyotes, foxes, raccoons, and birds all prey on adult frogs. Predators of tadpoles include: including beetles, salamanders, wood turtles, and other wood frogs.
3.) These amphibians prefer thickets, wet meadows, tundra, peat bogs, coniferous forests, and deciduous forests.
4.) They actually spend more time away from water than most other amphibians in North America.
5.) Wood frogs tend to prefer breeding in vernal pools (seasonal pools of water).
But wait, there's more on the wood frog!
6.) Their most notable feature is the black mask over their eyes. This is often referred to as a robber's mask.
7.) The can tolerate the freezing of their blood and other tissues during the frigid winter months. They rely on the saturation of their cells by glucose (a type of sugar) to act as a sort of antifreeze. Nearly 65% of their body freezes solid; only to defrost at the beginning of spring.
Did you know…?
The wood frog is the proposed official state amphibian of the state of New York.
8.) The freezing and unfreezing has gathered the attention of biologists aiming to apply this feature to cryogenics.
9.) Females lay an egg mass, called frog spawn, that consists of up to 3,000 eggs.
10.) Up to 80% of adult frogs will return to the same pond they were born in to reproduce. The other 20% will migrate to new pools of water.
Now a Short Wood Frog Video!
Be sure to share & comment below! Also, check out the Critter Science YouTube channel. Videos added frequently!
Want to suggest a critter for me to write about? Let me know here.
Learn more about all kinds of cool critters, right here!