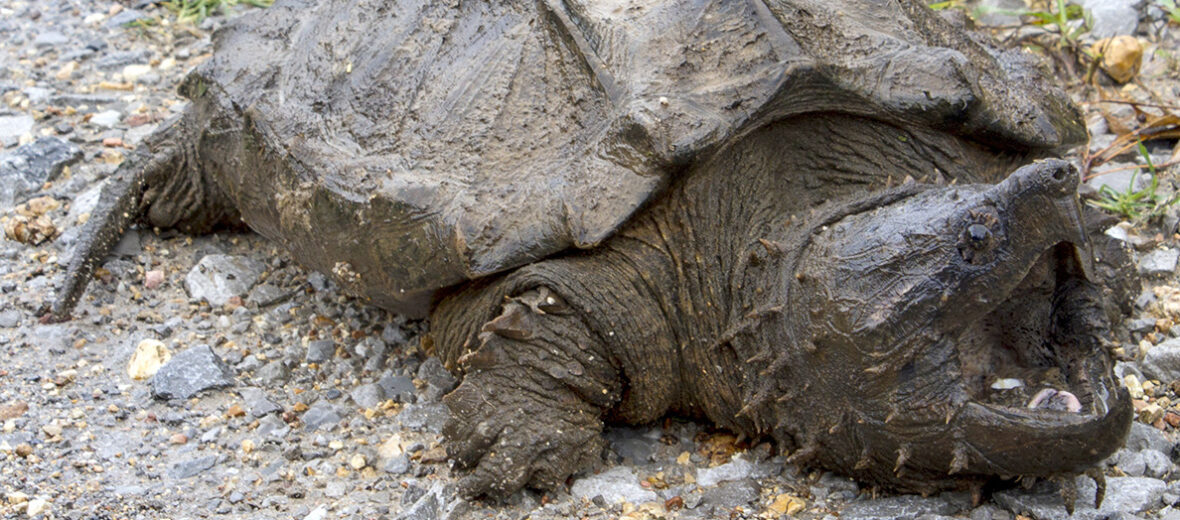 The alligator snapping turtle is the largest of all the North American, freshwater turtles. It's also the meanest. They can be found in canals, rivers, lakes, and swamps throughout the southeastern parts of North America. Laying motionless, they sit and wait for passing prey to find an interest in their specially evolved tongue and snap within a half second, crushing their prey and gaining a tasty meal. There are 3 known types of snapping turtles: the western alligator snapping turtle, the Apalachicola River snapping turtle, and the northern (also called the common) snapping turtle. These amazing turtles are listed as Vulnerable, by the IUCN.
First the Stats…
Scientific name: Macrochelys temminckii
Weight: Up to 220 lbs.
Length: Up to 30 inches
Lifespan: Up to 100 years
Now on to the Facts!
1.) These turtles are nocturnal (active at night).
2.) Their food of choice is fish, worms, snails, frogs, snakes, crayfish, and aquatic vegetation; plus the occasional finger, toe, or hand.
3.) The only predators these turtles have are raccoons and birds that steal their eggs. Adults have no predators.
4.) Their shells are segmented into 3 sections and raised, resembling an alligator. Hence the name.
5.) Alligator snapping turtles are well known for their sour attitude, especially for being handled.
But wait, there's more on the alligator snapping turtle!
6.) They have very strong jaws that are capable of taking a finger or toe. This has happens when people are walking through bodies of water that house these turtles or when they are handling them.
7.) They move so little that algae actually grows on their carapace (shell).
Did you know…?
Alligator snapping turtles have a bite force of 1,000 lbs.! They are capable of biting through bone with a single bite!
8.) Snapping turtles are able to hold their breath for up to 50 minutes!
9.) Alligator snappers use a special worm-like apparatus on the tip of their tongue, called a vermivore, to lure prey to their gaping mouth. This feature is wiggled enticingly until a passing prey animal decides to take a bite out of this "worm". Much to their dismay, it's the turtle who has the last bite.
10.) Aside from their cool tongues, they also have a keen sense of smell that allows them to detect even hidden prey in the watery muck.
But wait, there's still more on the alligator snapping turtle!
11.) Adults of 11 – 13 years old and older will mate in the spring.
12.) Females lay between 10 – 50 eggs on the shore and leaves them to hatch and take care of themselves.
Now a Short Alligator Snapping Turtle Video!
Also, check out the Critter Science YouTube channel. Videos added frequently!
Want to suggest a critter for me to write about? Let me know here.
Learn more about all kinds of cool critters, right here!