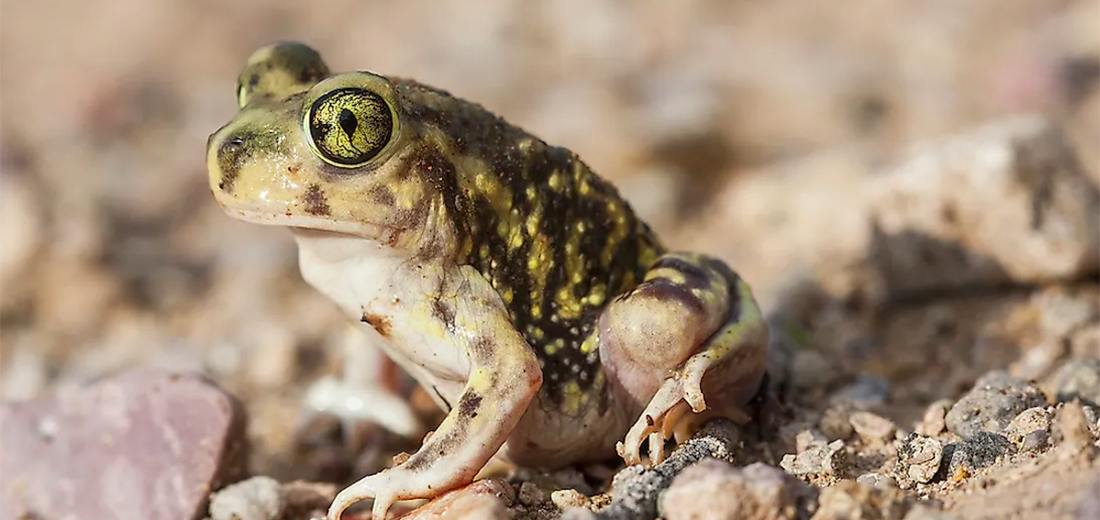 The spadefoot toad gets its name from the hard, keratinous projections on their hind feet, which aid in digging backwards into the soil. They can be found in or around irrigation waters, pothole ponds, wetlands, fields, farmland, dunes, woodlands, and roadside ditches. This species spends most of its life underground. They like sandy or loamy habitats. This softer soil gives them the ability to easily dig burrows for safety and brumation. Spending most of their time underground, they emerge during rainy seasons to look for food and a little lovin. The spadefoot toad is listed as Least Concern by the IUCN. This includes the Great Basin spadefoot, the Couch's spadefoot and the Eastern spadefoot, among others.
First the Stats…
Scientific name: Scaphiopodidae
Weight: Up to 3.5 ounces
Length: Up to 3.9 inches
Lifespan: Up to 12 years
Now on to the Facts!
1.) Some folks state that this toad has the smell of peanut butter. I'm not sure what to think about people who go around sniffing toads, but who am I to judge?
2.) The call of the spadefoot is a low-pitched "kwah" or "gwaa, gwaa" sound, repeated in short intervals.
3.) Handling these toads can cause an allergic reaction marked by wheezing, sneezing, itching, and red eyes.
4.) Like many other toads, spadefoot toads are nocturnal (active at night).
5.) They can lose up to 48% of their body's moisture without dehydrating!
But wait, there's more on the spadefoot toad!
6.) They prey on worms, caterpillars, flies, crickets, spiders, moths, earthworms, centipedes, millipedes, snails, and more.
7.) These toads are preyed on by crows, burrowing owls, herons, snakes, coyotes, and larger frogs and toads.
Did you know…?
They can jump up to 10 mph, when trying to escape predators!
8.) Females mate with a male and then lay 100s of eggs in an available source of water. The diminutive eggs are attached to pebbles and sticks underwater and they quickly develop until the tadpoles hatch, a mere 24 – 48 hours later.
9.) Tadpoles typically eat plankton, but will also resort to cannibalism, if they are faced with rapidly drying pools of water and overcrowding.
10.) If they end up resorting to cannibalism, their bodies have the ability to transform. They get larger heads, sharp beaks, stronger jaw muscles, and shortened intestines. Researchers have concluded that this is an adaptive trait as it accelerates the rate of growth of the tadpoles by providing an increased caloric intake.
Now a Short Spadefoot Toad Video!
Also, check out the Critter Science YouTube channel. Videos added frequently!
Want to suggest a critter for me to write about? Let me know here.
Learn more about all kinds of cool critters, right here!