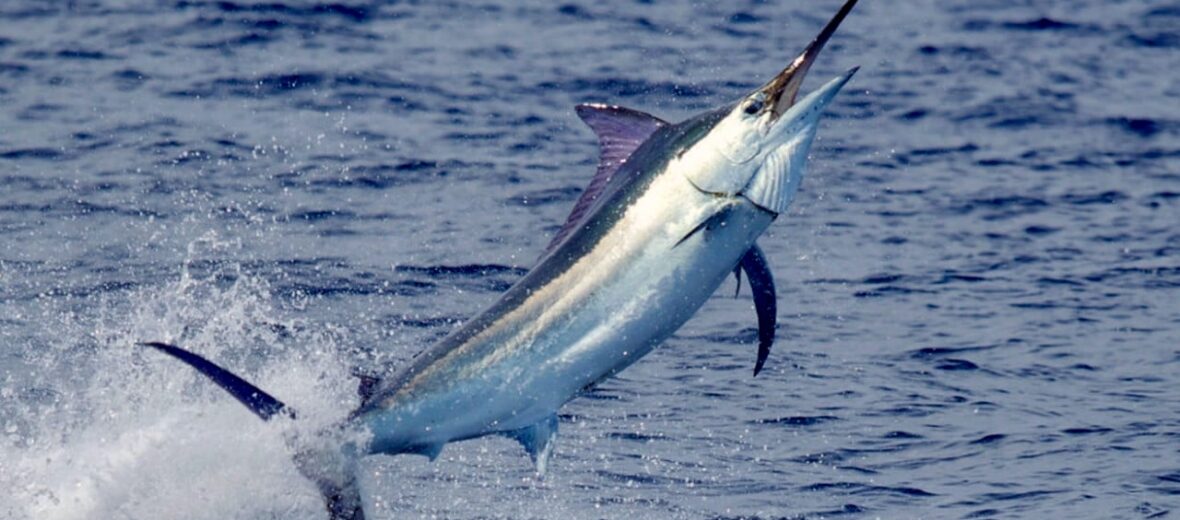 Living in the temperate and tropical waters of the Atlantic, Indian, and Pacific Oceans the blue marlin is easily recognizable by their dorsal sail and their spear shaped snout. There are 10 known species of marlin. Their name is thought to be derived from a sailor's marlinspike (a tool used for marine ropework). These majestic creatures are on the decline, thanks to overfishing, bycatch (being mistakenly caught in fishing nets meant for other fish), pollution, and climate change. Their global population is listed as Vulnerable by the IUCN.
First the Stats…
Scientific name: Makaira nigricans
Weight: Up to 1,800 lbs.
Length: Up to 16.4 feet
Lifespan: Up to 20 years
Now on to the Facts!
1.) These fish are often mistaken for sailfish or swordfish, but there are notable differences. Can you spot them?
2.) Blue marlins are sexually dimorphic (females are markedly larger than males).
3.) They prey on crustaceans, mackerel, tuna, dolphin fish, and squid. As juveniles, they will prey on zooplankton.
4.) Marlins are diurnal (active during the day).
5.) They annually migrate thousands of miles each year in search of food and a mate.
But wait, there's more on the blue marlin!
6.) These fish are solitary and aggressive.
7.) As juveniles, they are eaten by planktonic eating fish. As they grow their only known predators are large oceanic sharks.
Did you know…?
Blue marlins can swim upwards of 60 mph! Making them 1 of the fastest fish in the ocean.
8.) Females can lay up to 100 million eggs each season! But most are consumed by other fish before reaching adulthood.
9.) When hunting, a blue marlin will herd fish into tight balls. Then they swim through the fish ball and jerk their head back and forth to stun and kill fish. Then they circle back and eat the motionless fish.
10.) A female will become sexually mature when they reach approximately 265 lbs.
But wait, there's still more on the blue marlin!
11.) Only around 1% of the fertilized eggs reach adulthood.
12.) The females spawn up to 4 times a year.
13.) Though not commercially fished, blue marlins are among the most prized of sport fishermen, due to their size and fight they put up when on a hook.
14.) They are considered bony fish, as their skeletal system is based on bones, rather than cartilage.
Now a Short Blue Marlin Video!
Be sure to share & comment below! Also, check out the Critter Science YouTube channel. Videos added frequently!
Want to suggest a critter for me to write about? Let me know here.
Learn more about all kinds of cool critters, right here!