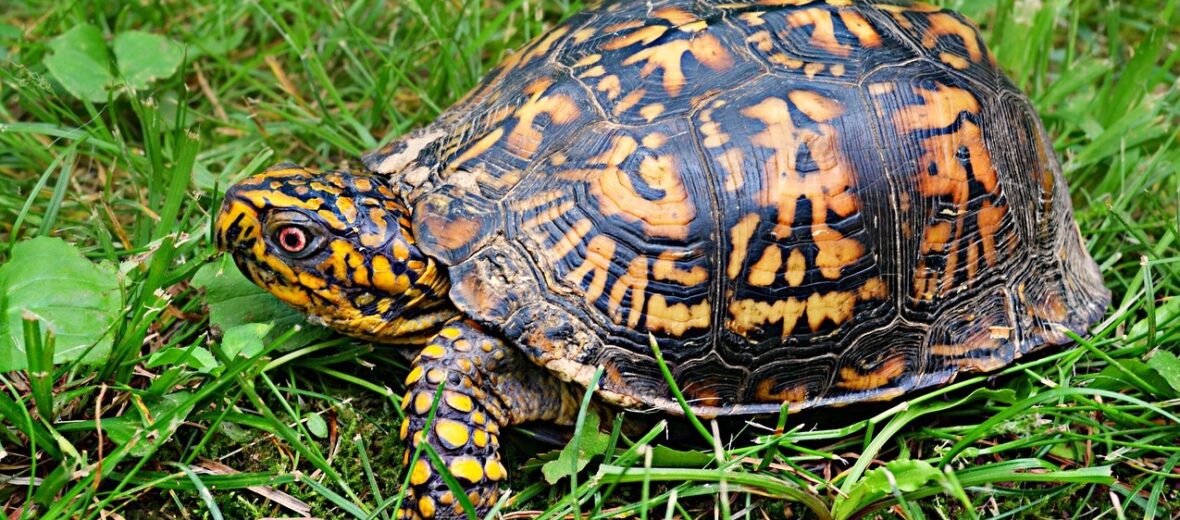 Living amongst the deciduous and mixed forested regions, the eastern box turtle belongs to a group of marsh turtles. There are 6 known subspecies of box turtles. These critters prefer a predominantly moist forest floor with good drainage. They can also be found around open pastures, grasslands, and under fallen logs, usually in moist leaves or wet dirt. Sometimes they may also be located near ponds and streams. You can see these turtles as far north as southern Maine all the way down to Texas. Due to habitat destruction, vehicle strike (getting hit by vehicles), over-collection for the pet trade, pollution, and climate change, these little turtles are listed as Vulnerable by the IUCN. Their numbers are also decreasing.
First the Stats…
Scientific name: Terrapene carolina carolina
Weight: Up to 2 lbs.
Length: Up to 5 inches
Lifespan: Up to 100 years
Now on to the Facts!
1.) These little turtles get their name from their hinged plastron that allows for total shell closure. They can close their shell up, like a box.
2.) They are social turtles that get along (typically) quite well with each other.
3.) Eastern box turtles are diurnal (active during the day).
4.) Finding them partially submerged in ponds or streams is common.
5.) On hot summer days, they may even submerge themselves in mud for days at a time.
But wait, there's more on the eastern box turtle!
6.) From October till around April, they will enter into brumation (a type of hibernation, for reptiles).
7.) A group of turtles is called a bale, creep, dole, nest, or turn.
Did you know…?
In captivity, box turtles tend to lose their shell's color. This has led to the belief that their carapace changes color with age. This is not true. It's just that their needs aren't typically being met as they would be in the wild.
8.) Being opportunistic Omnivores (eat both plant and animal matter), these critters will consume snails, slugs, grubs, earthworms, beetles, caterpillars, grasses, fallen fruit, berries, mushrooms, flowers, duck weed, and even carrion (dead animals).
9.) These turtles are thought to be either polygynous (1 male mates with multiple females) or polygynandrous (males and females mate with multiple partners).
10.) Females lay up to 9 eggs that incubate in approximately 70 days. They can lay up to 5 clutches of eggs each year.
11.) Raccoons, skunks, coyotes, dogs, ants, crows, snakes, and hogs all prey on box turtles.
Now a Short Eastern Box Turtle Video!
Be sure to share & comment below! Also, check out the Critter Science YouTube channel. Videos added frequently!
Want to suggest a critter for me to write about? Let me know here.
Learn more about all kinds of cool critters, right here!