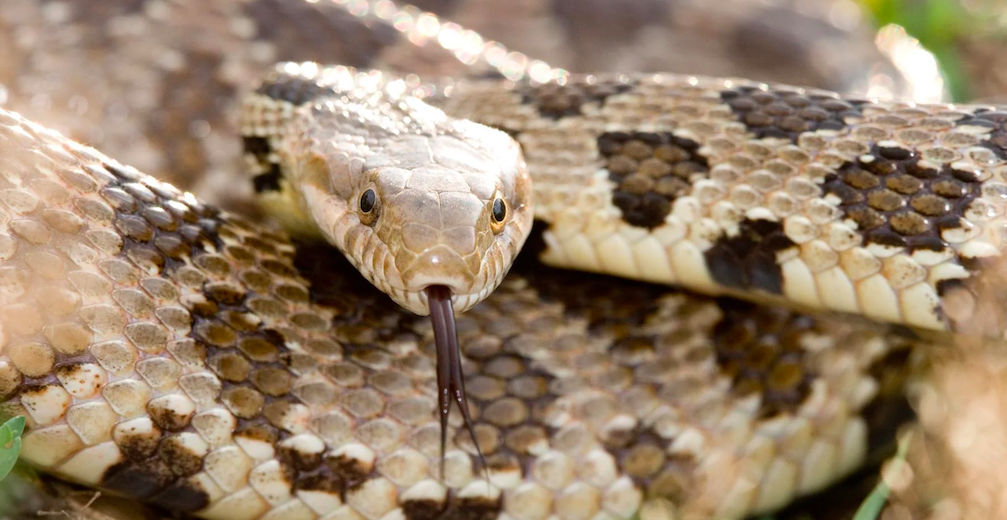 The fox snake, aka foxsnake, is native to Canada and the United States. There are 2 known subspecies: the western and eastern fox snake. They prefer forest edges, open woodlands, prairies, fields, meadows, pastures near streams, marshes, and a variety of other wetland habitats. Even though they suffer at the hands of collection for the pet trade, vehicle strike (being hit by vehicles on the road), being mistaken for rattlesnakes & killed, and habitat destruction, both subspecies are listed as Least Concern by the IUCN. However, they are listed as Endangered in Missouri, in the U.S.
First the Stats…
Scientific name: Pantherophis vulpinus
Weight: Up to 4.9 lbs.
Length: Up to 5 feet
Lifespan: Up to 20 years
Now on to the Facts!
1.) Like other snakes, foxsnakes are solitary and only come together to mate.
2.) During colder months, these snakes become diurnal (active during the day). During the warmer months, they switch to a nocturnal (active at night) lifestyle.
3.) While mostly terrestrial (spend their lives on the ground), they can also climb trees, with ease, and swim quite well.
4.) These snakes are nonvenomous colubrids. This means they constrict their prey, rather than rely on venom.
5.) Each year many snakes are killed due to the misconception that they're venomous rattlesnakes. This is due to mimicry. When threatened, the fox snake will rattle it's tail rapidly and coil up, like a rattler. In the animal world, this protects them against being eaten by a larger animal. In the human world, this can get them killed.
But wait, there's more on the fox snake!
6.) The fox snake is considered docile and easily handled. Although bites can occur if not handled properly.
7.) Rats, mice, gophers, voles, and birds are all on the menu.
Did you know…?
If really threatened, they will also release a musk. This is a foul smelling liquid-like type of feces (poop). If it gets on your skin, it is hard to wash off.
8.) A group of snakes is called a bed, den, knot, nest, or pit.
9.) Females lay up to 29 eggs that hatch in up to 60 days.
10.) Hawks, coyotes, and ironically foxes all prey on fox snakes.
Now a Short Fox Snake Video!
Be sure to share & comment below! Also, check out the Critter Science YouTube channel. Videos added frequently!
Want to suggest a critter for me to write about? Let me know here.
Learn more about all kinds of cool critters, right here!