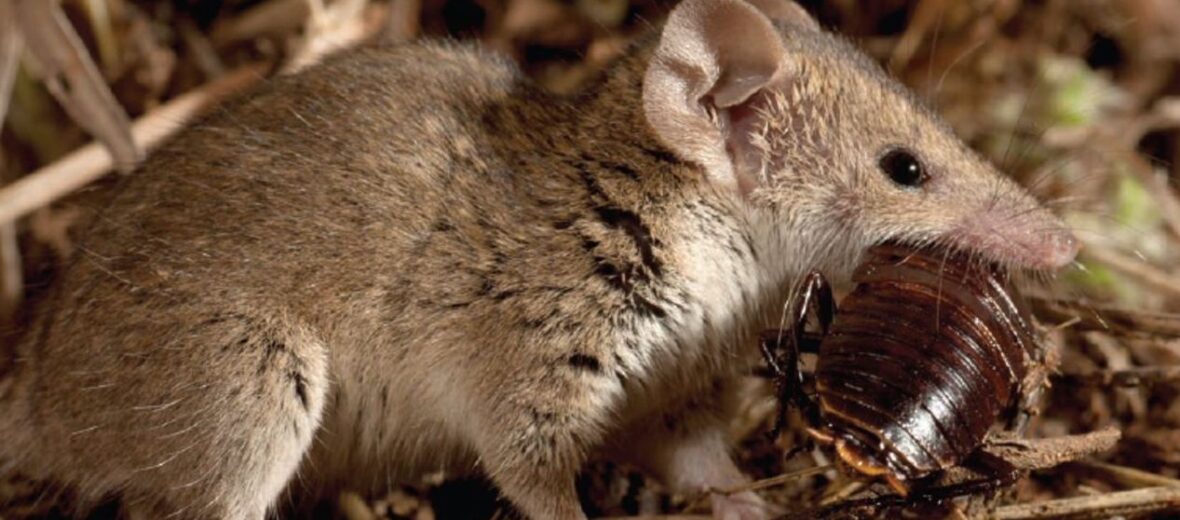 The common planigale, aka pygmy planigale or coastal planigale, is a small Carnivorous (eats meat) marsupial that hails from northern and eastern Australia, as well as Great Keppel Island. They can be found in sclerophyll forests (vegetation that has adapted to long periods of dry, hot weather), rainforests, grasslands, marshlands, and even the outer suburbs. Although they are threatened by habitat loss, especially on Great Keppel Island, their populations are stable across their ranges and thus they are listed as Least Concern by the IUCN.
First the Stats…
Scientific name: Planigale maculata
Weight: Up to .37 ounce
Length: Up to 3.9 inches, plus up to a 3.1 inch tail
Lifespan: Up to 3 years
Now on to the Facts!
1.) The common planigale preys on insects, various other arthropods, lizards, and baby birds.
2.) They are preyed on by domestic and feral cats and birds of prey.
3.) These critters are primarily nocturnal (active at night), but during winter they may occasionally be seen foraging during the day, if conditions are right.
4.) If the temperature drops low enough, they will enter into torpor (a brief state of hibernation). In this state, their metabolism slows and their heart rate drops from 100 beats per minute to 15 – 30 beats per minute!
5.) Females make small, saucer-shaped nests out of grasses and bark.
But wait, there's more on the common planigale!
6.) The female will undergo up to a 20 day gestation (pregnancy) that yields up to 11 young.
7.) The joeys, once born, migrate to mom's marsupium (pouch) to continue development for up to an additional 28 days. Then they emerge from the pouch.
Did you know…?
The female's marsupium opens to the rear. This helps prevent dirt from entering the pouch.
8.) Joeys begin eating solid food at around 55 days. They are independent of mom at around 70 days.
9.) Females are polyestrous (can raise several litters a year) and breed all year long.
10.) Planigales are the smallest known carnivorous marsupial in the world.
Now a Short Common Planigale Video!
This video is of the long-tailed planigale, but planigales are all quite similar.
Be sure to share & comment below! Also, check out the Critter Science YouTube channel. Videos added frequently!
Want to suggest a critter for me to write about? Let me know here.
Learn more about all kinds of cool critters, right here!