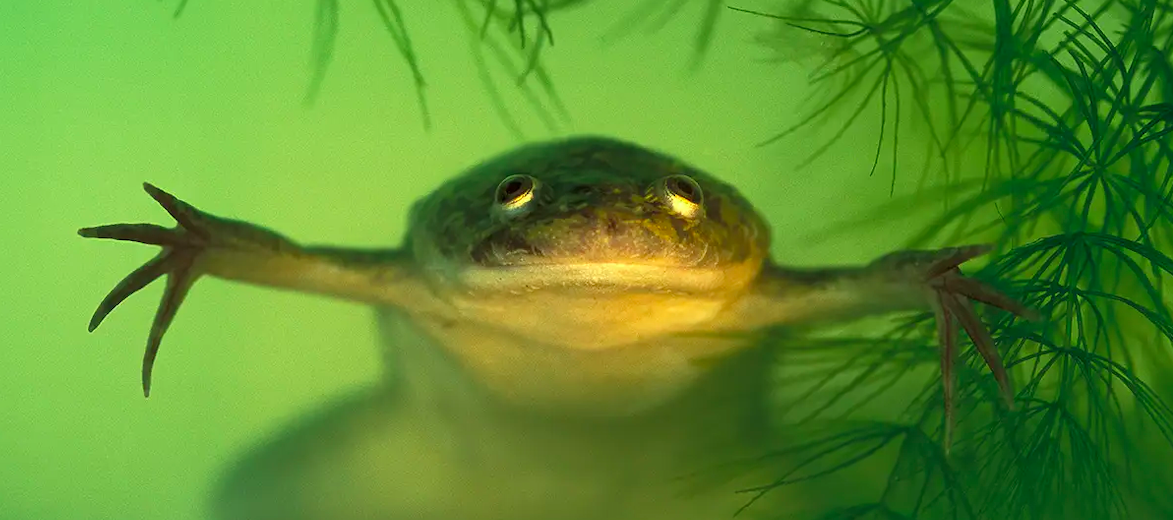 The African clawed frog is native to South Africa, yet has since spread to various regions around the world and is considered an invasive species. These highly adaptable amphibians can survive everything from stagnant water, to ponds, to fast flowing streams, and most things in between. African clawed frogs are also a vector for the deadly fungus Batrachochytrium dendrobatidis, aka chytrid! They don't seem to be affected by chytrid at all, yet transmit it wherever they are released. Due to their global distribution and invasive nature, these frogs are listed as Least Concern by the IUCN.
First the Stats…
Scientific name: Xenopus laevis
Weight: Up to 2.2 ounces
Length: Up to 5 inches
Lifespan: Up to 30 years
Now on to the Facts!
1.) They may have started out in Africa, but they have since been introduced to North America, South America, Europe, and Asia. Much to the local amphibian population's dismay.
2.) These frogs have the ability to slightly alter their coloration to better blend in with their surroundings.
3.) Studies show that they are not impacted by the herbicide atrazine.
4.) They get their common name from the sharp claws located on their hind feet, which are used to tear apart food.
5.) African clawed frogs are toothless, tongueless, and totally aquatic.
But wait, there's more on the African clawed frog!
6.) When feeding, they utilize their forelimbs to shove food into their mouths, along with the suction power of their hyobranchial pump, used to draw food in.
7.) Subcutaneous cartilaginous disks exist, rather than external eardrums.
Did you know…?
Like certain other frog species, they will eat their shed skin, after shedding.
8.) Being scavengers, they will eat nearly anything alive or dead, as well as many types of organic waste.
9.) Birds, snakes, mammals, and fish all prey on these frogs.
10.) Even though they don't have vocal chords, males are able to produce a clicking sound to attract a partner, during mating season.
But wait, there's still more on the African clawed frog!
11.) Females are able to produce up to 2,000 eggs, each time, with a maximum of 8,000 eggs each year!
12.) Eggs hatch in 1 week and the tadpoles develop into adult frogs in up to 8 weeks.
Did you know…?
2 historic outbreaks of priapism (where the phallus remains erect for hours) have been linked to the consumption of frog legs from these frogs that previously ate insects that contain cantharidin.
13.) Back in the 1930s, before modern pregnancy tests, the urine of a suspected pregnant woman was introduced to the water of a female clawed frog. If the frog began to produce eggs, that indicated that the woman was pregnant.
14.) Sadly, due the careless release of these frogs into water bodies worldwide, these frogs have taken over and are listed as highly invasive. They are vectors for chytrid and thus have contributed to the global decline and subsequent extinction in amphibian species in every country where they have been introduced.
15.) Even though they are fully aquatic, they have the ability to leave expiring bodies of water to find new water sources. They have been known to travel up to 1.2 miles in order to locate new habitats.
But wait, there's still a little more on the African clawed frog!
16.) Not only do they eat nearly everything in sight, they are also cannibalistic as well. Eating their own young is commonplace.
17.) These frogs are commonly kept as pets, the world over. But, if you no longer want them, please don't introduce them to your local water body. You could be causing environmental chaos and native amphibian deaths, due to chytrid.
Now a Short African Clawed Frog Video!
Be sure to share & comment below! Also, check out the Critter Science YouTube channel. Videos added frequently!
Want to suggest a critter for me to write about? Let me know here.
Learn more about all kinds of cool critters, right here!