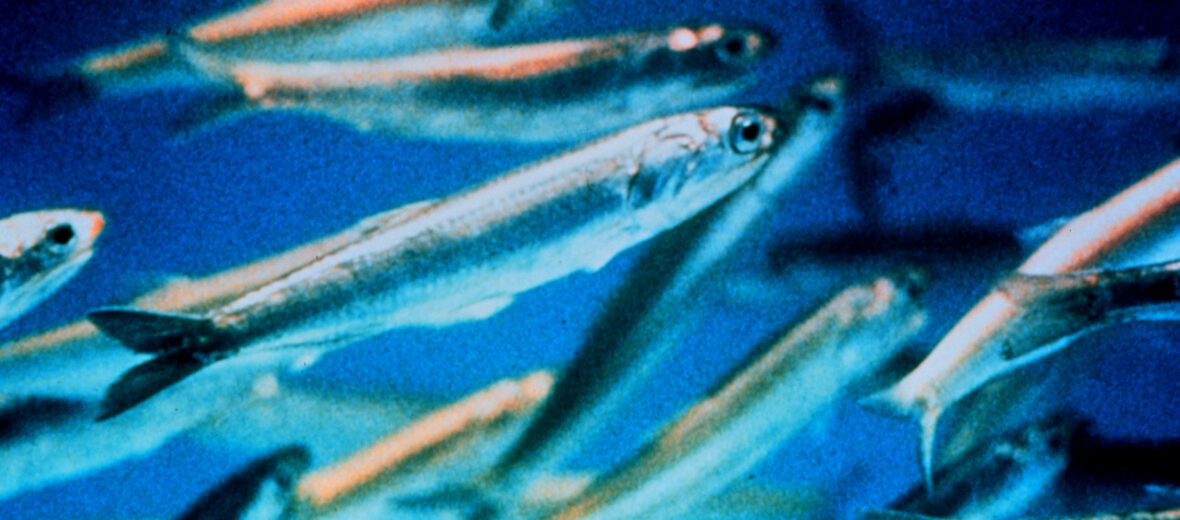 The anchovy is commonplace in oceans all around the world, although they prefer temperate waters. These fish are popular food fish for humans and are abundantly scooped up by other oceanic and brackish water predatory animals. Due to their abundant populations, the world over, these fish are predominantly listed as Least Concern or Data Deficient by the IUCN. For now, their numbers are stable and they aren't an at risk species. But they do experience extravagant population declines, from time to time due, in part, to fluctuating oceanic temperatures.
First the Stats…
Scientific name: Engraulidae
Weight: Up to 1+/- lb.
Length: Up to 15.5 inches
Lifespan: Up to 4 years
Now on to the Facts!
1.) These fish possess tiny but sharp teeth in both their upper and lower jaws.
2.) Anchovies prey on plankton and newly hatched fish.
3.) The anchovy is preyed on by most of the fish, sea birds, and sea mammals in the world. The amount of creatures that hunt them are far too many to list.
4.) They feed by opening their mouths while they swim. As the water passes through the mouth and out the gills, some food particles are sieved by gill rakers and brought into the esophagus to be swallowed.
5.) They are extensively fished in all parts of the world. Turkish commercial fishing fleets, for instance, bring in up to 300,000 tons of anchovy per year!
But wait, there's more on the anchovy!
6.) The Peruvian anchovy fishery is 1 of the largest in the world. They are so large, in fact, that they, in combination with El Niño events of 1973 caused an epic collapse of the anchovy population that took nearly 20 years to recover.
7.) These fish are used as an ingredient in various condiments and sauces, including caesar salad dressing, Worcestershire sauce, remoulade, Gentleman's Relish, several fish sauces, and in some versions of Café de Paris butter.
Did you know…?
Their snout houses a unique rostral organ, that is believed to be an electro-sensory feature, although its precise function is not yet known.
8.) Fishermen use anchovies as bait for larger fish.
9.) Anchovies are rich in omega-3 fatty acids, which benefit your heart.
10.) Spawning takes place from October – March.
But wait, there's still more on the anchovy!
11.) Females can spawn up to 50 times each season! Each spawning yields up to 1,000 eggs.
12.) The fry (baby fish) reach adulthood in only a few months after hatching.
13.) In 2020, Portugal was the top exporter of anchovies, bringing in over $14.8 million in just 1 year.
14.) 2020's top anchovy importer was Spain.
15.) And yes, people still put anchovies on pizza. But that is far more rare in America, these days.
But wait, there's still a little more on the anchovy!
16.) There are more than 140 known species of anchovy.
17.) They not only live throughout the world's oceans, but they also can be found in brackish water as well, at the mouths of some rivers, as they enter the ocean. In South America, anchovies can even be found in fresh water habitats.
Now a Short Anchovy Video!
Be sure to share & comment below! Also, check out the Critter Science YouTube channel. Videos added frequently!
Want to suggest a critter for me to write about? Let me know here.
Learn more about all kinds of cool critters, right here!