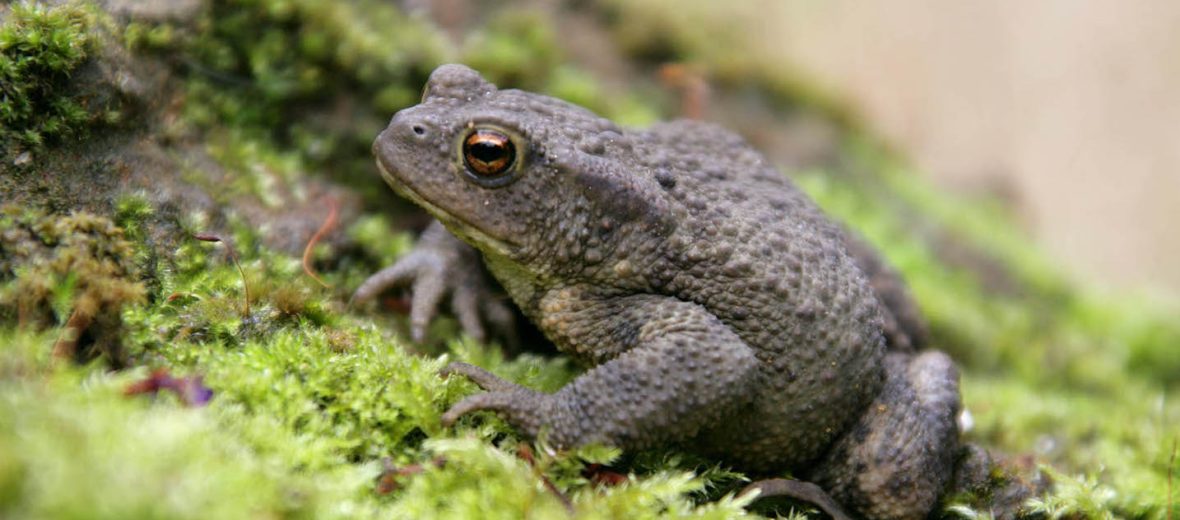 The common toad, aka European toad or simply toad, can be found throughout Europe, sans northern Scotland, Iceland, and on the Mediterranean islands. They prefer swamps, marshes, grasslands, forests, and urban areas; as long as they are close to a water source. Due to their stable populations, these toads are listed as Least Concern by the IUCN. However, they do face the threats of habitat destruction; pollution of water bodies, plus run off from agricultural facilities; and invasive species (and with them diseases, like the Chytrid fungus).
First the Stats…
Scientific name: Bufo bufo
Weight: Up to 2.8 ounces
Length: Up to 7 inches
Lifespan: Up to 12 years
Now on to the Facts!
1.) These toads have descended from a common ancestral line of toads and form a species complex (a group of closely related organisms that are so close in appearance and other features that the borders between them are typically not clear).
2.) Like many other toads, these critters are nocturnal (active at night).
3.) Like all amphibians, they drink by absorbing water through their permeable skin.
4.) Subsequently, like all amphibians, they can also partially respirate (breathe) through their skin as well.
5.) While typically solitary, they will congregate into large numbers during the breeding season.
But wait, there's more on the common toad!
6.) These toads don't have teeth, but rather what is called mandibular ridges that are used to hold onto captured prey.
7.) They don't chew their food, but instead will force it down their throat with their forelimbs and swallow, with assistance, with their eyes. That's right, they swallow food with their eyes.
Did you know…?
These toads can walk/jump at speeds of up to 5 mph.
8.) Common toads brumate (hibernation for reptiles and amphibians) from October – March.
9.) The common toad, like other toads produces a mild toxin from their parotid glands, when threatened. They also will urinate if captured.
10.) Hedgehogs and grass snakes are immune to the toad's toxins.
But wait, there's still more on the common toad!
11.) During mating season, between March – June, males will combat each other for breeding rights.
12.) Females lay several thousand eggs in a gelatinous mass, near or in water.
Did you know…?
A parasitic fly, called Lucilia bufonivora, is known to attack adult common toads. It lays its eggs on the toad's skin and when these eggs hatch, the larvae crawl into the toad's nostrils and eat its flesh internally. This leads to a slow and painful death.
13.) Metamorphosis from egg to adult toad lasts up to 12 weeks.
14.) In 2007, during a survey of Loch Ness, a common toad was found moving along the bottom of the water body at a whopping 324 feet deep!
15.) Common toads prey on worms, ants, spiders, mealworms, crickets, slugs, and occasionally smaller rodents and even snakes.
16.) They are preyed on by minks, hedgehogs, rats, snakes, herons, crows, birds of prey, and domestic cats.
Now a Short Common Toad Video!
Be sure to share & comment below! Also, check out the Critter Science YouTube channel. Videos added regularly!
Want to suggest a critter for me to write about? Let me know here.
Think you know a lot about critters? Try your hand at these fun, free quizzes: