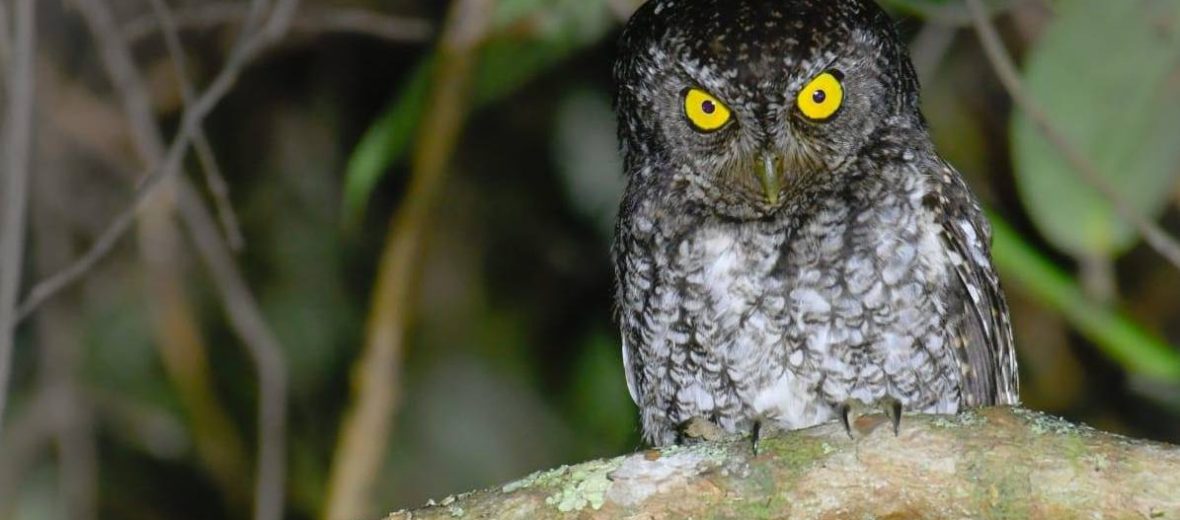 The bearded screech owl hails from Mexico and Guatemala. In North America, this owl is the smallest of its genus. There are more than 20 known species of screech owls. The white-throated screech owl is the largest known of all the screech owls. Bearded screech owls face the threats of habitat destruction, at the hands of agriculture, logging, and housing development; hunting and trapping. They number less than 50,000 wild individuals and their population is decreasing. The IUCN still lists these owls as Least Concern though.
First the Stats…
Scientific name: Megascops barbarus
Weight: Up to 2.5 ounces
Length: Up to 7.9 inches
Wingspan: Up to 16 inches
Lifespan: Up to 20 years
Now on to the Facts!
1.) They prefer humid, temperate, montane forests at elevations of up to 6,600 feet.
2.) These owls, like most other owls, are nocturnal (active at night).
3.) Bearded screech owls prey on crickets, moths, roaches, beetles, spiders, and scorpions.
4.) This screech owl is preyed on by snowy owls, great horned owls, great gray owls, crows, skunks, raccoons, and minks.
5.) Bearded screech owls eat their prey where it lays. They don't typically take it back with them, to their hollow or nest. Unless feeding their young.
But wait, there's more on the bearded screech owl!
6.) Due to their diet, these owls don't appear to cast pellets.
7.) The only nest ever recorded being found was in a tree hollow.
Did you know…?
Like other owls, these critters have serrated flight feathers that enable them to fly almost completely silent.
8.) Their call is a quiet, low-pitched, cricket-like trill lasting 3 – 5 seconds.
9.) Breeding season lasts from March – June.
10.) The female will lay Up to 6 eggs.
Now a Short Bearded Screech Owl Video!
This is a general screech owl documentary.
Be sure to share & comment below! Also, check out the Critter Science YouTube channel. Videos added regularly!
Want to suggest a critter for me to write about? Let me know here.
Think you know a lot about critters? Try your hand at these fun, free quizzes:
Photo credit: Juan Pablo Ligorría