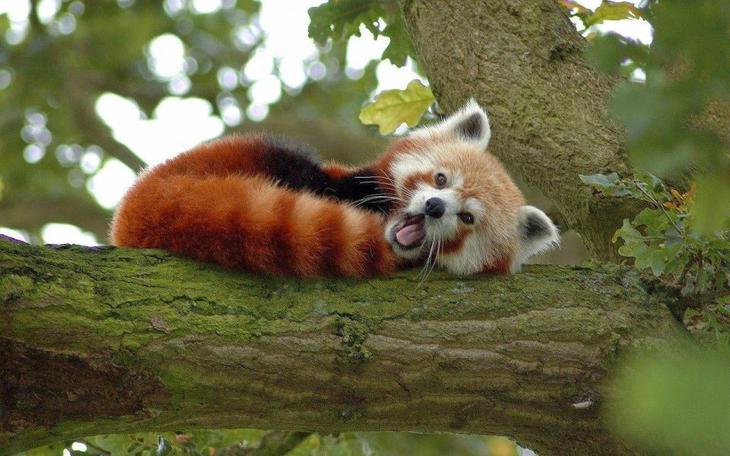 Not as big, but certainly as adorable, it's the red panda. The forests red pandas live in need to have a steady supply of bamboo in order for them to thrive. Red pandas live in the mountains of Nepal, central China and northern Myanmar in rainy, high-altitude temperate forests and tropical forests. Read more about this cute and cuddly critter.
First the Stats…
Scientific name: Ailurus fulgens
Trophic level: Herbivorous
Length: 20.5 ft. (including the tail)
Mass: Male: 8.2 – 14 lbs | Female: 6.6 – 13 lbs
Average life span: 8 years in the wild | Up to 23 in captivity
Now on to the Facts!
1.) The red panda is what is classified as a herbivorous carnivoran. Its diet consists almost entirely of bamboo leaves, plus bamboo shoots. But they will also eat fruit, flowers, and the occasional egg or bird.
2.) They make a bird like tweet as a mating call. Have a listen here.
3.) They are shy and solitary except when mating. Females give birth in the spring and summer, typically to one to four young. Young red pandas remain in their nests for about 90 days, during which time their mother cares for them. (Males take little or no interest in their offspring.)
4.) Red pandas are an at-risk species, victims of deforestation. Their natural space is shrinking as more and more forests are destroyed by logging and the spread of agriculture.
5.) Having a sweet tooth, red pandas also have a hankering for artificial sweeteners too!
But wait, there's more on the red panda!
6.) Red pandas are generally quiet, but subtle vocalizations—such as squeals, twitters and huff-quacks—can be heard at close proximity. They may also hiss or grunt, and young cubs use a whistle, or high-pitched bleat, to signal distress.
7.) Red pandas are pretty solitary except during the breeding season. In zoos, most breeding pairs live together year-round. In the wild, it's 1 animal per square mile.
Did you know…?
Red Pandas aren't actually pandas at all. They are actually more closely related to raccoons, skunks, and mustelids.
8.) Red pandas will climb trees and rocks to escape predators, such as leopards and jackals. They actually spend a great deal of time in trees, being arboreal. They have an easy time scaling trees, in part, due to their semi retractable claws.
9.) Red pandas are born completely covered in fur to protect them from the cold environment. Newborns of the subspecies Ailurus fulgens fulgens weigh a mere 3 to 4 ounces (about 90 to 110 grams). Mom has between 1-3 cubs. Typically 1-2. The young stay with the mother for about one year, which is about when they are full-grown. Red pandas reach sexual maturity at around 18 months of age.
10.) The red panda spends about 65% of the day asleep!
Now a Short Video!