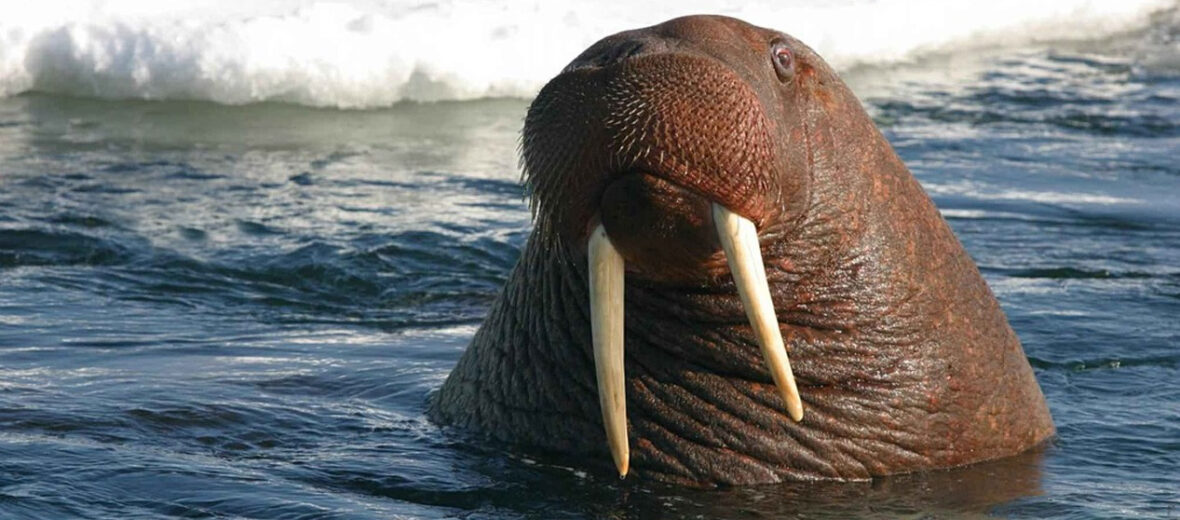 From their massive size, to their long whiskers, to their even longer tusks, the walrus has a special place in the hearts of animal lovers the world over. They are referenced in popular culture all over the world. The Beatles spoke of them in their song, "I Am the Walrus". There was a clever and funny one in the movie, "50 First Dates". And more. Atlantic walruses live in the coastal areas of Canada and Greenland, and Pacific walruses are located in the northern seas off the coasts of Alaska and Russia. Walruses are listed as Vulnerable by the IUCN, due to oil & gas drilling, shipping lanes, fishing & harvesting of aquatic resources, human based recreational activities, pollution at the hands of industrial & military effluents, and climate change.
First the Stats…
Scientific name: Odobenus rosmarus
Weight: Up to 3,300+ lbs.
Length: Up to 12 feet
Lifespan: Up to 40 years
Now on to the Facts!
1.) There is roughly 25,000 Atlantic and about 200,000 Pacific walrus in the wild today.
2.) Both males and females have tusks. Their tusks are used to help haul themselves out of the frigid water and onto sea ice. Their tusks are also used for settling disputes with other walruses, and as defense against would-be predators.
3.) Walruses are Carnivores (eat meat). They prey on mollusks, clams, sea cucumbers, and more. So, they aren't what I'd call a ferocious hunter. When times are tough, they will even eat seals and seal carrion (dead seals).
4.) Walruses are highly social animals that are typically found ­lounging on ice sheets in large groups, called herds, that can ­number into the hundreds.
5.) Those impressive canine teeth of theirs can grow up to 3 feet long!
But wait, there's more on the walrus!
6.) Thanks to inflatable sacs called pharyngeal pouches, males can emit high-pitched whistles and deep, bell-like moans to attract females.
7.) Male walruses tend to get ­aggressive right around mating time. They use their large bodies and long tusks to claim ­their territory and take ownership of large harems of females.
Did you know…?
Adult walruses can eat a whopping 4,000 clams in a single meal! That's a lot of sushi.
8.) The prehistoric walrus, known as Gomphotaria pugnax once frequented the beaches of present-day California about 6 million years ago. It had 2 sets of tusks: 2 on the upper jaw and 2 on the lower jaw. I wonder how it ate?
9.) What's in a name? Well, their scientific name, "Odobenus" means "tooth-walking sea horse." A fitting name, due to the fact that they will often use their tusks to help them ashore.
10.) Walruses spend up to 2/3 of their lives underwater. However, they are capable of moving on land pretty well too. They can even run on all fours.
But wait, there's still more on the walrus!
11.) A group of walruses is called a herd. Herds are separated by gender. Males have one herd and females another.
12.) Orcas and polar bears are their only known predators.
13.) With a 6 inch layer of blubber, these huge critters are able to withstand temperatures down to -31° F.
14.) They can hold their breath for up to 30 minutes!
15.) These sea mammals can swim up to 21 mph.
But wait, there's even more on the walrus!
16.) Walruses are heavyweight fighters that have no problems repeatedly stabbing polar bears to death who try to take their young.
Did you know…?
Walruses can sleep for up to 19 hours! They can also stay awake for up to 3 days, while at sea!
17.) They rely on vibrissae (whiskers) to help them find their food in the murky water.
18.) After a gestation (pregnancy) of 15 – 16 months, the female will give birth to 1 calf.
19.) Calves can weigh in at about 100 – 165 lbs!
20.) The calf can swim as soon as it's born and will remain with mom for up to 3 years. After that, they will go off to join their respective herds.
21.) Males will be ready to mate by 5 years old. Females mate at 15 years old.
Now a Short Walrus Video!
Also, check out the Critter Science YouTube channel. Videos added frequently!
Want to suggest a critter for me to write about? Let me know here.
Learn more about all kinds of cool critters, right here!