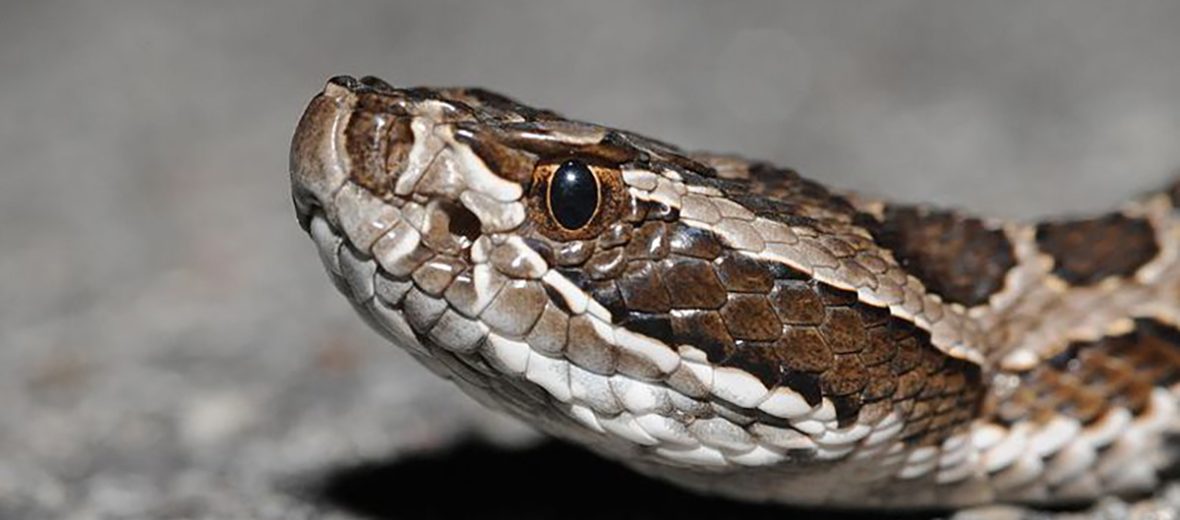 The western massasauga, aka black massasauga, massasauga rattler, massasauga rattlesnake, black rattler, gray rattlesnake, little grey rattlesnake, black snapper, muck rattler, prairie rattlesnake, spotted rattler, swamp rattler, or víbora de cascabel, can be found from from Ontario, Canada; western New York; southwest through the midwestern United States; to southeastern Arizona in the U.S.; and northern Tamaulipas, Mexico. They tolerate a wide range of habitats from bogs, swamps, sedge meadows, wet prairies, marshes, grasslands, forests, rocky hillsides, wetlands, desert grasslands, scrub plains, to dry prairies. Due to their overall numbers and wide-spread distribution, these snakes are listed as Least Concern by the IUCN.
First the Stats…
Scientific name: Sistrurus catenatus
Weight: Up to 15 ounces
Length: Up to 36 inches
Lifespan: Up to 18 years
Now on to the Facts!
1.) Even though they are listed as Least Concern, these snakes still face the threats of habitat destruction, vehicle strike (being hit by vehicles), hunting, and trapping.
2.) Massasaugas are Diurnal (active during the day). During hotter times of the year though they can exhibit Crepuscular (active at dawn and dusk) behaviors.
3.) During colder winter months, they will brumate (Hibernation for reptiles) in animal burrows.
4.) Like other vipers, these snakes are solitary. They only come together to breed.
5.) Being very agile swimmers, these snakes will sometimes even hunt their prey in the water.
But wait, there's more on the western massasauga!
6.) Western massasaugas utilize good eyesight, vibrations, and their heat sensing pits in the front of their faces to detect and hunt prey.
7.) A group of snakes is called a bed, den, knot, nest, or pit.
Did you know…?
The venom of a western massasauga contains metalloproteinases, L-amino acid oxidase, phospholipase A2 enzymes, and serine proteases. The effects of a bite include: hemorrhaging, increased vascular permeability, tissue necrosis (tissue death), and potential death from shock.
8.) They prey primarily on rats, mice, gophers, voles, and moles. However, they will also prey on lizards and snakes.
9.) Hawks, eagles, and herons, foxes, raccoons, and king snakes all prey on these serpents.
10.) When females are prepared to mate they shed their old skin and then release pheromones that attract surrounding males.
But wait, there's still more on the western massasauga!
11.) Females are Gravid (pregnant) for up to 3.5 months.
12.) Like other vipers, these snakes birth live young. The newborn snakelets are born Precocial (totally self-sufficient) and fully venomous.
13.) "Massasauga", means "great river-mouth" in the Native American Ojibwe language.
14.) Even though they are venomous, their teeth are rather small and don't inject much venom yield from a bite. But their bite should still be considered medically significant.
Now a Short Western Massasauga Video!
Be sure to share & comment below! Also, check out the Critter Science YouTube channel. Videos added regularly!
Want to suggest a critter for me to write about? Let me know here.
Think you know a lot about critters? Try your hand at these fun, free quizzes:
Photo credit: Aaron Goodwin