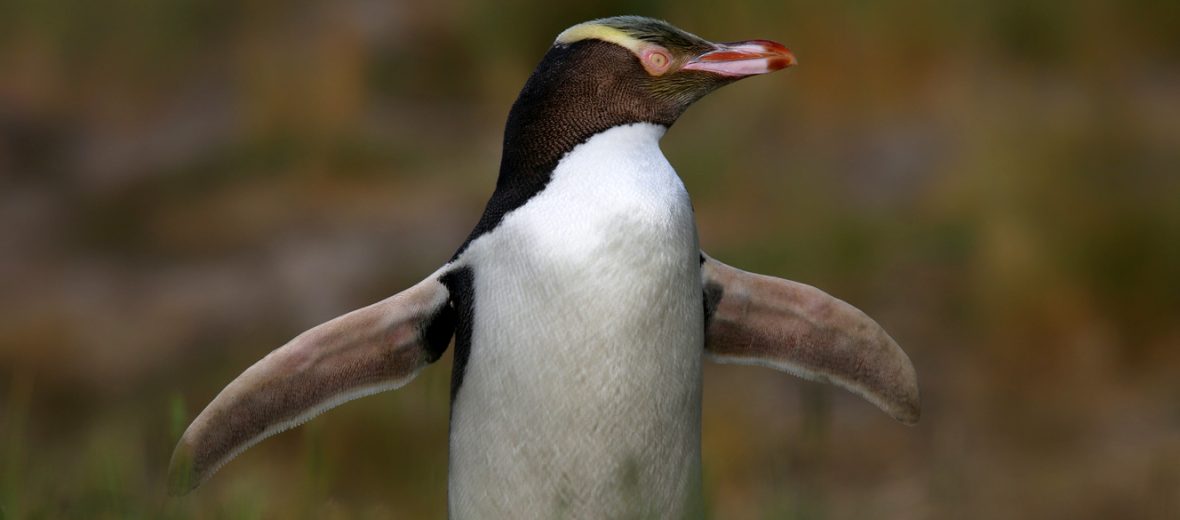 The yellow-eyed penguin, aka hoiho or yellow-crowned penguin, hails from southern New Zealand down to Stewart Island, and stretching even further south to the sub-Antarctic islands of the Campbell & Auckland Islands. These penguins are faced with the threats of habitat destruction and modification; invasive species (and with them predation and disease); and climate change. The IUCN lists these penguins as Endangered, with a mere estimated 3,000 wild individuals remaining. Their populations are also decreasing.
First the Stats…
Scientific name: Megadyptes antipodes
Weight: Up to 12 lbs.
Length: Up to 2.6 feet
Wingspan: Up to 2.3 feet
Lifespan: Up to 22 years
Now on to the Facts!
1.) A group of penguins is called a colony, convent, huddle, raft, rookery, or waddle. Although these animals are more solitary than most.
2.) These penguins are kind of home-bodies, staying close to their nesting site and not traveling very far to find food.
3.) Like other penguins, yellow-eyed penguins are diurnal (active during the day).
4.) Similar to a great deal of penguins, these critters spend most of their time out at sea, foraging for food.
5.) Being Piscivores (feed on fish or aquatic species exclusively), these birds of the sea hunt spats, blue & red codfish, opal fish, and silversides. They may also take smaller species of squid.
But wait, there's more on the yellow-eyed penguin!
6.) Their nests are built along gullies, slopes, or directly on the seashore, nestled in in bushes or forests. They prefer flax and lupin plants to nest within.
7.) Being serially monogamous, they mate with only 1 partner each season, but tend to change partners after the breeding season is over and their young reared.
Did you know…?
These penguins can swim at speeds of up to 12.4 mph.
8.) During the courtship displays, these critters hold their flippers away from their body, holding the head slightly raised, and then shake their body.
9.) Females lay 2 eggs that hatch in up to 45 days.
10.) Chicks are independent in up to 14 weeks.
But wait, there's still more on the yellow-eyed penguin!
11.) Unlike the squalling voice of other penguins, these penguins have an almost musical voice.
12.) Apart from other seabirds, the yellow-eyed penguins molt all their feathers at once. This is a harrowing time for them, as they are stuck on land and vulnerable to predation from land predators. They also lose up to 8+ lbs of body weight during this time, as they can't hunt and are essentially starving.
Did you know…?
The yellow-eyed penguin is featured on the New Zealand $5 note.
13.) These are among the rarest of all the penguin species.
14.) They can dive to depths of up to 324 feet and hold their breaths for up to 4 minutes.
15.) Their Maori name, "Hoiho", means "noise shouter".
16.) On land, their predators are dogs, ferrets, stoats, and wild cats. In the ocean, their predators are sharks, seals, and sea lions.
Now a Short Yellow-Eyed Penguin Video!
Be sure to share & comment below! Also, check out the Critter Science YouTube channel. Videos added regularly!
Want to suggest a critter for me to write about? Let me know here.
Think you know a lot about critters? Try your hand at these fun, free quizzes: