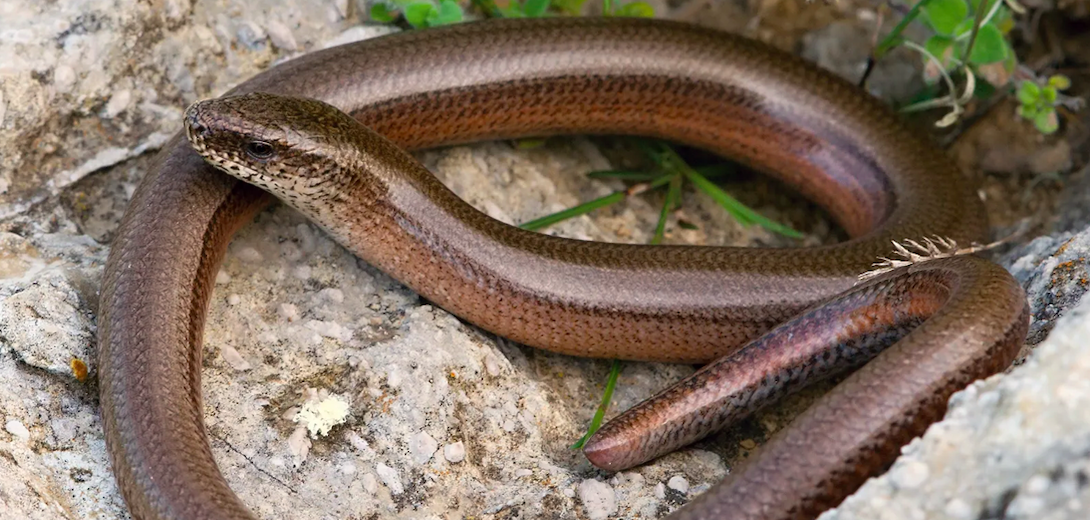 The slowworm, aka blindworm, common slowworm, deaf adder, or long-cripple, is neither a worm, nor even a snake. They are a species of legless lizard. These little critters are found throughout Europe and into western and central Asia. These lizards prefer forest edges, grasslands, heathlands, shrublands, woodlands, and rural gardens. Even though they are faced with the threats of habitat destruction and invasive species (and with them disease & predation), these reptiles are still listed as Least Concern by the IUCN.
First the Stats…
Scientific name: Anguis fragilis
Weight: Up to 3.5 ounces
Length: Up to 20 inches
Lifespan: Up to 54 years
Now on to the Facts!
1.) If threatened, they will partake in caudal autonomy (shed their tail).
2.) The slowworm is semifossorial (spends some or most of their lives burrowed in substrate).
3.) These lizards are primarily crepuscular (active at dawn and dusk).
4.) From October – March these critters will brumate (hibernation for reptiles).
5.) A group of lizards is called a lounge.
But wait, there's more on the slowworm!
6.) Slowworms are polygynandrous (promiscuous – males and females mate with several partners).
7.) Being ovoviviparous, the female will be gravid (pregnant) with internal eggs and then birth live young, reabsorbing the eggs as a means of restoring calcium to her body.
Did you know…?
These critters are not venomous and rarely even bite. If handled, they will typically excrete a stinky musk that can be hard to wash off.
8.) gestation (pregnancy) lasts up to 5 months. The female will birth up to 20 live young from August – October.
9.) These lizards eat worms, slugs, garden snails, insects, and spiders.
10.) Badgers, cats, foxes, snakes, and birds of prey all hunt these lizards.
Now a Short Slowworm Video!
Be sure to share & comment below! Also, check out the Critter Science YouTube channel. Videos added regularly!
Want to suggest a critter for me to write about? Let me know here.
Think you know a lot about critters? Try your hand at these fun, free quizzes: