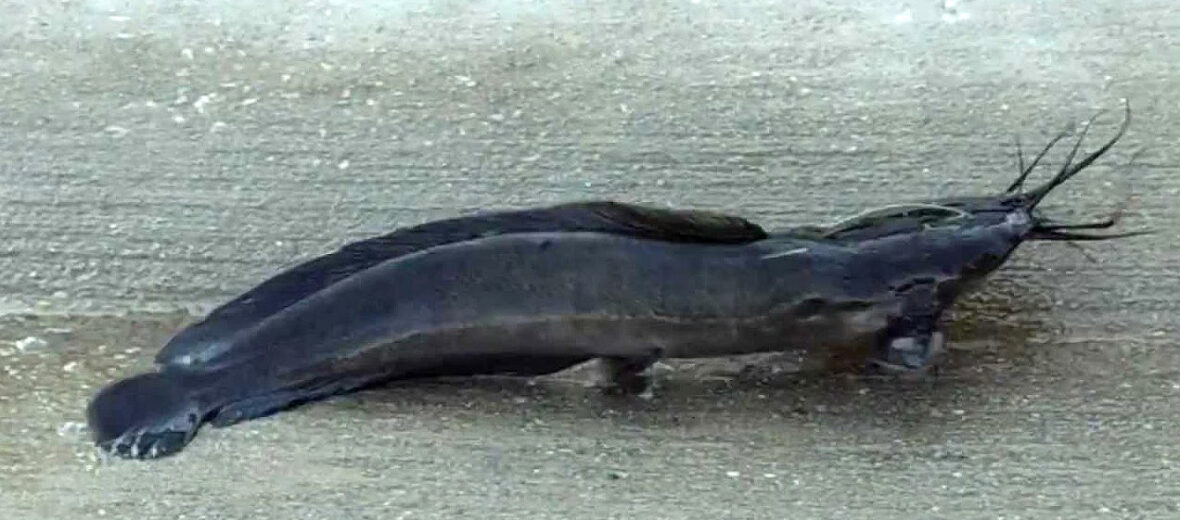 You read that correctly… a walking catfish. Originally from Indonesia, these invasive fish also dwell in Florida, in the United States. They are able to move from 1 water body to another, via land. This makes them a problem, since they are voracious predators that dramatically affect aquatic life. Due to their stable numbers and invasive nature, these fish are listed as Least Concern by the IUCN.
First the Stats…
Scientific name: Clarias batrachus
Weight: Up to 2.6 lbs.
Length: Up to 1.6 feet
Lifespan: Up to 16 years
Now on to the Facts!
1.) Using their pectoral fins to stay upright, they wriggle, in snake-like fashion, across land, from 1 body of water to another.
2.) These fish were introduced to Florida waters back in the 1960s. Most likely due to escaping from aquaculture facilities or intentionally introduced from pet owners who no longer wanted the fish, so they did the worst thing one can do… released them into a local body of water. Don't ever be that person.
3.) They prefer stagnant or slow-moving waters of ponds and canals. Of which there are plenty, in Florida.
4.) In a case study of irony, the most damage caused by these fish is their devastation of fish stocks in the very places they may have escaped from to begin with… aquaculture facilities.
5.) Due to their being classified as an invasive species, it is illegal to buy, own, sell, trade, or transport live walking catfish in Florida without a special permit.
But wait, there's more on the walking catfish!
6.) Like other catfish, the males build the nest for the eggs and guard the nest till the eggs hatch.
7.) Instead of scales, these fish have a smooth skin covered with a slimy mucous coating. This mucous coating helps keep them from drying out as they migrate from one water body to another.
Did you know…?
When breathing air, the walking catfish has specialized tree-like structures found right above the gills. When they open their mouth and take in the air, throat muscles cause the gills to close and the passage to the tree-like organs to open. This allows them to breath oxygen from both air and water.
8.) The barbels (whiskers) around their mouths aid them in finding food in the murky water.
9.) As is the case with catfish, they are Nocturnal (active at night).
10.) They prey on insects, crustaceans, larvae of other fish, smaller fish, eggs, and a wide range of plant matter.
But wait, there's still more on the walking catfish!
11.) When their food choices dwindle, they simple worm their way over to another body of water to begin another round of feeding.
12.) When kept in an aquarium, they need to be housed with similarly sized tank mates, as smaller aquatic life will be eaten.
13.) Alligators, crocodiles, eagles, mammals, and wading birds all prey on walking catfish.
Now a Short Walking Catfish Video!
Be sure to share & comment below! Also, check out the Critter Science YouTube channel. Videos added frequently!
Want to suggest a critter for me to write about? Let me know here.
Learn more about all kinds of cool critters, right here!