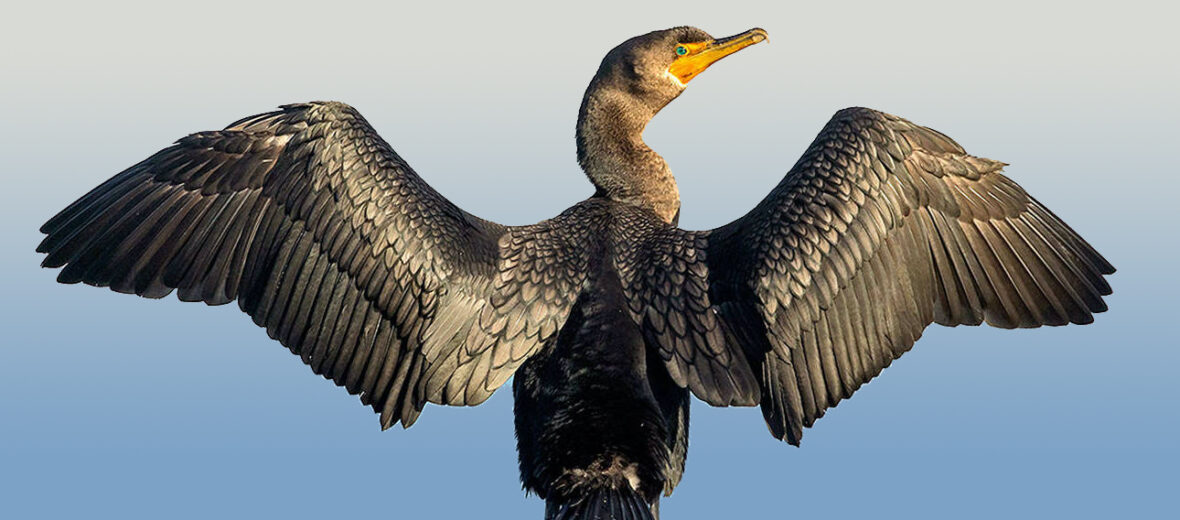 The double-crested cormorant is a waterbird that lives in water bodies which are able to provide enough fish for their needs. They have been known to roost and create breeding colonies on lagoons or ponds, and then travel around 40 miles to a desired feeding area. Cormorants typically float low on the surface of water, due to their weight, and dive to catch small fish. After fishing, they will stand on rocks, docks, boats, and tree limbs with their wings spread open to dry off. Double-crested cormorants are listed as Least Concern by the IUCN.
First the Stats…
Scientific name: Phalacrocorax auritus
Weight: Up to 5.5 lbs.
Length: Up to 35 inches
Wingspan: Up to 48 inches
Lifespan: Up to 22 years
Now on to the Facts!
1.) They are primarily Carnivorous (eat meat).
2.) Their primary diet consists of fish, shrimp, crabs, crayfish, mollusks, salamanders, frogs, eels, snakes, and they will even eat plant matter.
3.) Even though they have vocal chords, they rarely ever make more than a grunting noise.
4.) Cormorants do not have fully waterproof feathers, as they lack the same amount of preen oil as other water birds. Due to this, they can become saturated and have to stand on dry land with wings spread to dry off.
5.) These particular cormorants are the most widespread in North America, and the one most frequently seen in freshwater bodies.
But wait, there's more on the double-crested cormorant!
6.) When taking off from the water, they will stretch their necks out in the direction they wish to fly. When landing, they will puff out the orange skin on their necks as sort of a buffer from the impact of the water landing.
7.) During mating season, the males will pick out a nesting spot and begin showing off, with their breast down and bill & tail up. This shows off the crests on their head and the bright colors of his neck and eyes. They will also grunt and wave its outstretched wings.
Did you know…?
The Alaskan double-crested cormorant is larger than the others in North America and sports a whiter, straighter crest.
8.) Females will lay up to 7 bluish eggs that are incubated by the mother and father. They take up to 33 days to hatch.
Now a Short Double-Crested Cormorant Video!
Also, check out the Critter Science YouTube channel. Videos added frequently!
Want to suggest a critter for me to write about? Let me know here.
Learn more about all kinds of cool critters, right here!