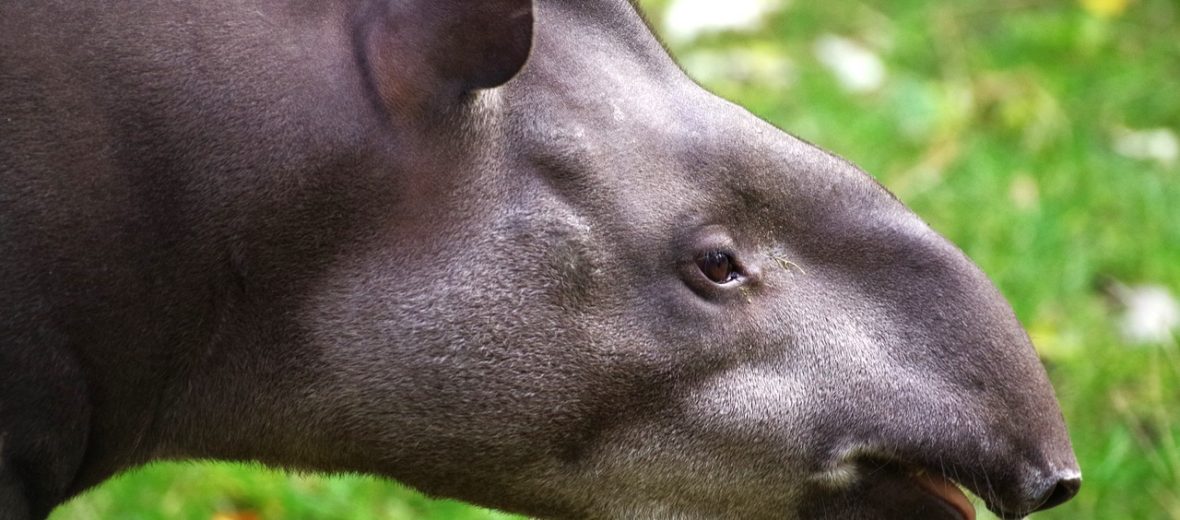 Their name is pronounced either like "appear" or "paper", the tapir or "P'som-sett," which means "mixture is finished". It's a prehistoric mammal that has lineages dating back millions of years to the Eocene period of North America. There are currently 4 subspecies of tapirs in the world today that exist in South America, from southern Mexico to Brazil, Venezuela, and Paraguay. The Malayan tapir lives in Asia, in Burma, Malaya, Thailand, and Sumatra. These cool beasts prefer woods, rainforests, mountains, and grasslands; as long as they're near water. Tapirs are listed as Endangered or Threatened, based on the subspecies, by the IUCN.
First the Stats…
Scientific name: Tapirus
Weight: Up to 550 lbs.
Length: Up to 8.2 feet
Height: Up to 3.3+ feet (at the shoulder)
Lifespan: Up to 30 years
Now on to the Facts!
1.) Tapirs are herbivores (eat plant matter) that consume leaves, aquatic grasses, and fruit.
2.) They use their elephant-like snout for multiple purposes. They sometimes use their nose as a prehensile trunk to grab things like leaves and fruit from branches. Other times they can even use it as a snorkel, while submerged underwater.
3.) These fascinating critters have 4 toes on their front feet and 3 toes on their hind feet.
4.) The tapir is an ecologically valuable species as their feces (poop) spreads seeds throughout the forests in which they graze. They eat fruit, then they pass the seeds. The seeds then develop in new locations, thus spreading the range of the forest and keeping it alive.
5.) Rhinoceroses and horses are their closest relatives.
But wait, there's more on the tapir!
To view more facts on this and many other critters, purchase my book Rainforest Critters. It's only $17.99 for an 84 page book! Available now through Amazon. Click the logo to purchase your copy now:
Now a Short Tapir Video!
Also, check out the Critter Science YouTube channel. Videos added frequently!
Want to suggest a critter for me to write about? Let me know here.
Learn more about all kinds of cool critters, right here!