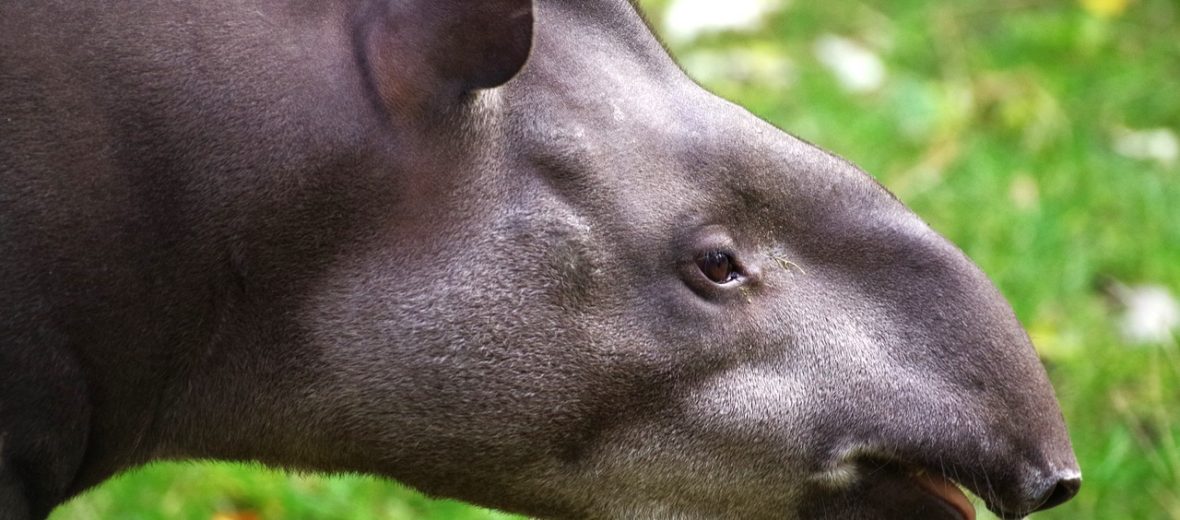 Their name is pronounced either like "appear" or "paper", the tapir or "P'som-sett," which means "mixture is finished". It's a prehistoric mammal that has lineages dating back millions of years to the Eocene period of North America. There are currently 4 subspecies of tapirs in the world today that exist in South America, from southern Mexico to Brazil, Venezuela, and Paraguay. The Malayan tapir lives in Asia, in Burma, Malaya, Thailand, and Sumatra. These cool beasts prefer woods, rainforests, mountains, and grasslands; as long as they're near water. Tapirs are listed as Endangered or Threatened, based on the subspecies, by the IUCN.
First the Stats…
Scientific name: Tapirus
Weight: Up to 550 lbs.
Length: Up to 8.2 feet
Height: Up to 3.3+ feet (at the shoulder)
Lifespan: Up to 30 years
Now on to the Facts!
1.) Tapirs are Herbivores (eat plant matter) that consume leaves, aquatic grasses, and fruit.
2.) They use their elephant-like snout for multiple purposes. They sometimes use their nose as a prehensile trunk to grab things like leaves and fruit from branches. Other times they can even use it as a snorkel, while submerged underwater.
3.) These fascinating critters have 4 toes on their front feet and 3 toes on their hind feet.
4.) The tapir is an ecologically valuable species as their feces (poop) spreads seeds throughout the forests in which they graze. They eat fruit, then they pass the seeds. The seeds then develop in new locations, thus spreading the range of the forest and keeping it alive.
5.) Rhinoceroses and horses are their closest relatives.
But wait, there's more on the tapir!
6.) Their primary predators, based on their region, are jaguars, tigers, crocodilians, and anacondas.
7.) If annoyed, a tapir will make a high-pitched sound which sounds much like car brakes screeching. They will also snort and stomp their feet to appear more threatening. They also communicate via urine scenting and droppings.
Did you know…?
When they curl up their snout, in a posture that looks like they're about to sneeze, this is actually a response to scents in the air. This is called the flehmen response. In raising up their snout, they're opening up pathways to a special device called a vomeronasal organ. This allows them to get a better reading on their environment. Giraffes, horses, and house cats, to name a few, perform this same task.
8.) Looking like a cross between a piglet and a fawn, the calves are born with reddish brown fur covered with white/yellow spots and stripes, for camouflage.
9.) After a few months, the calf will lose their striped and polka dot coloration and look just like mini adults.
10.) Females will birth 1 calf, after a 13 month pregnancy. As long as the mother (cow) produces milk, the calf will stick around and drink it.
11.) Eating up to 110 lbs. of food a day comes easy to these critters.
Now a Short Tapir Video!
Also, check out the Critter Science YouTube channel. Videos added frequently!
Want to suggest a critter for me to write about? Let me know here.
Learn more about all kinds of cool critters, right here!