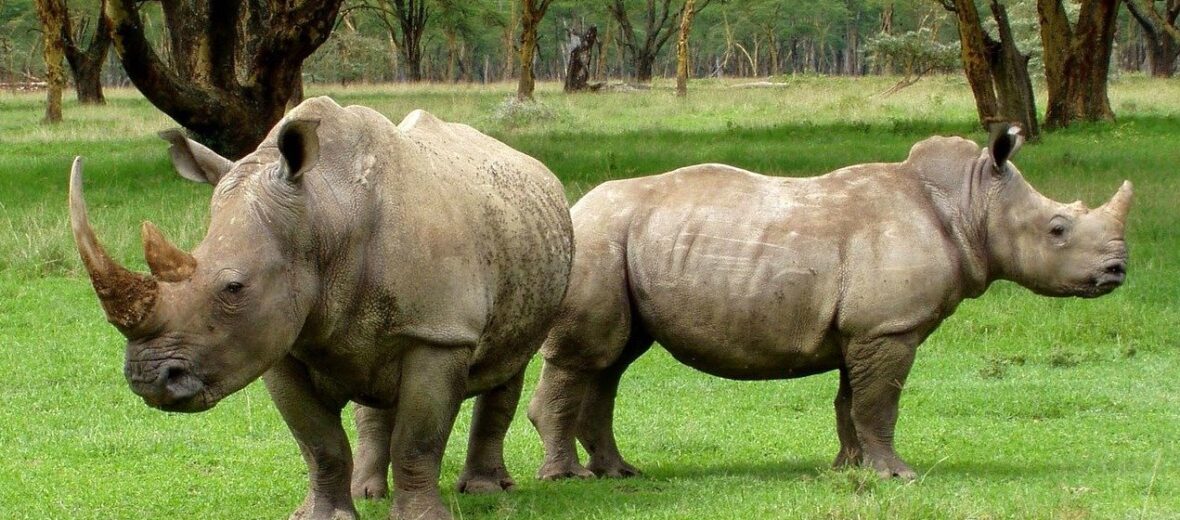 The white rhinos are amazing creatures! The white rhinoceros is the second largest land mammal in the world, after the elephant. White rhinos can weigh over 2 tons and stand as tall as 6 feet, at the shoulders. There were once over 30 species of rhino, but today there are only five and all are endangered. Here are a few really interesting facts about the white rhino. There are only 2 female white rhinos left in the world. They are the last 2 of their kind.
First the Stats…
Scientific name: Rhinocerotidae
Weight: Up to 5,500 lbs.
Length: Up to 13 feet
Height: Up to 6 feet, at the shoulders
Lifespan: Up to 40 years
Now on to the Facts!
1. White rhinoceros are calmer and more sociable than other species of rhino, and they often live in small, territorial groups.
2. Rhinos communicate using a wide variety of sounds, including grunts, growls, snorts, squeaks and bellows.
3. White rhinos can live to be 35 – 40 years old.
4. They are herbivores, which means they eat plant matter; mainly grasses.
5. These amazing critters are known for their giant horns that grow from their snouts – hence the name "rhinoceros", meaning "nose horn". Javan and Indian rhinos have one horn, where as the white, black, and Sumatran rhinos have 2.
But wait, there's more on the white rhino!
6. During the heat of the day, these magnificent creatures can be found sleeping in the shade or wallowing in muddy pools to cool off. They love to get dirty, in fact! Mud protects their skin from the strong sun (like natural sun screen) and this also wards off biting insects, too.
7. Rhinoceroses are typically solitary animals that usually like to avoid each other. But some species, particularly the white rhino, may live in a group, known as a 'crash'. These crashes are usually made up of a female and her calves; although sometimes adult females (called cows) can be seen together, too.
Did you know…?
The white rhino's primary horn can weigh up to 6.6 lbs.
8. Males (called bulls), on the other hand, like to be left alone, unless in search of a female to breed with. They're very territorial too and mark out their area of land with, believe it or not, poop! In fact, rhinos often use spongy piles to communicate with each other, since each individual's dung smells unique.
9. Because of their huge bodies, strong horns and thick, armor-like skin, rhinos have no natural predators. Nevertheless, these brilliant beasts get frightened easily! When they feel threatened, they're instinct is to charge directly at whatever has spooked them – whether it be another animal or a harmless object!
10. Rhinos are often seen with Oxpeckers (tick birds) perched on their back, which live off the pesky parasitic insects living in the rhino's thick skin. The birds' loud cries also help alert their hosts of potential danger too!
But wait, there's still more on the white rhino!
11. Sadly, it's estimated that there are only around 29,000 rhinos left in the wild, compared to 500,000 at the beginning of the 20th century. The main threat to these beautiful animals is illegal hunting, largely because their horns are used in traditional folk medicine, particularly in Asia.
12. Both black and white rhinoceroses are actually gray. They are different not in color but in lip shape. The black rhino has a pointed upper lip, while the white rhino has a squared lip. The difference in lip shape is related to the animals' diets.
13. White rhinos have two horns, the foremost more prominent than the other. Rhino horns grow as much as 3 inches a year, and have been known to grow up to 5 feet long. Females use their horns to protect their young, while males use them to battle attackers.
14.) The prominent horn for which rhinos are so well known has been their downfall. Many animals have been killed for this hard, hair-like growth, which is revered for medicinal use in China, Taiwan, Hong Kong, and Singapore. However, there is zero evidence that a rhino horn can benefit humans medicinally, in any way at all. The horn is also valued in North Africa and the Middle East as an ornamental dagger handle.
Now a Short White Rhino Video
Learn more about all kinds of cool critters here.
Be sure to comment below!