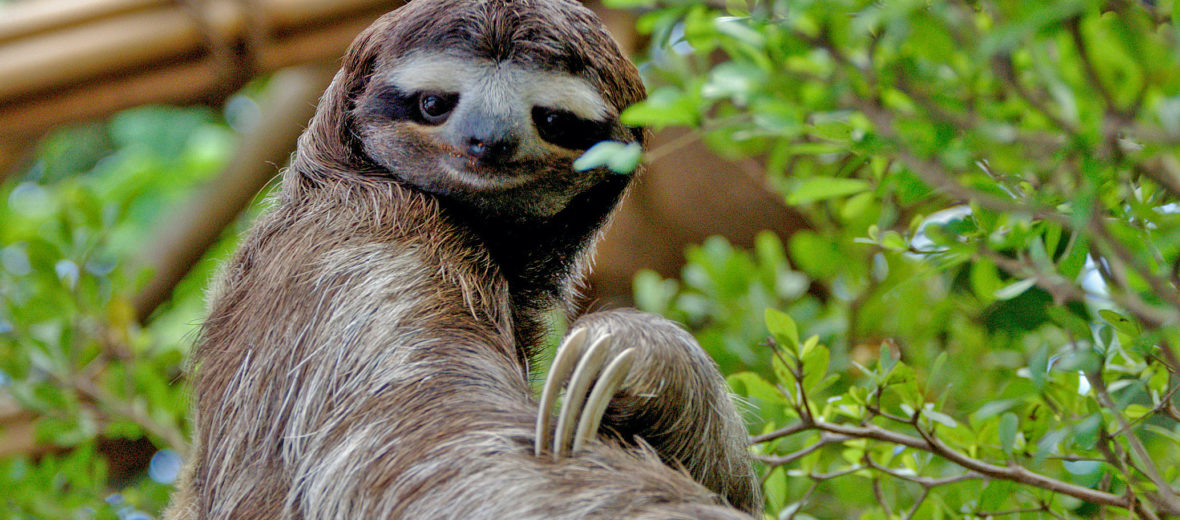 There, in the treetops, lives the world's slowest mammal; the three-toed sloth. They spend nearly their entire lives in the trees, as their long claws make it difficult to walk on the ground. These critters are so slow that algae literally grows on their fur. Their fur coat is also interesting, as it grows backwards from their stomach to their back. This helps to funnel rain water away from their bodies. Sloths use very little energy to move about the treetops due to the lack of energy they get from their poor nutritional diet. Three-toed sloths can be found in the forest canopies in Central and South America. The IUCN lists these amazing animals as Least Concern. They are affected by poaching and habitat loss though.
First the Stats…
Scientific name: Bradypus
Weight: Up to 9 lbs.
Length: Up to 23 inches
Lifespan: Up to 30 years
Now on to the Facts!
1.) There are 4 known species of three-toed sloths: the maned sloth, the brown-throated sloth, the pale-throated sloth, and the pygmy three-toed sloth which was only recently recognized as a distinct species in 2001.
2.) Today's sloths are roughly the size of a cocker spaniel. However, ancient giant sloths, like the Megatherium grew to be as large as an Asian elephant!
3.) The sloth has evolved a multi-chambered stomach, similar to a cow's, to digest the toxic leaves they eat.
4.) As mentioned before, they move so slowly that algae grows on their fur. This algae helps to provide protection, via camouflage, nutrients to their skin, and assists in developing the mini ecosystem sloths have living on and in their fur. Moths, cockroaches, beetles, and fungi all grow and live in their fur.
5.) They only move .15 mph!
But wait, there's more on the three-toed sloth!
6.) A sloth can hang upside down with no ill effect on its breathing. This is due to the fact that their organs are attached to their ribs. This relieves pressure on their lungs, as they hang from the trees.
7.) They eat leaves, buds, and tender shoots. However, some sloths have been documented eating insects and birds to supplement their diet.
Did you know…?
Dead sloths have been seen retaining their grip and remaining suspended from a branch. Now that's dedication.
8.) Sloths travel down from the canopies only once a week to defecate on the ground.
9.) Three-toed sloths can sleep up to 20 hours a day. Even when they're awake, they can spend long periods of time totally motionless.
10.) Even though they move slowly on land, they are actually very good swimmers and tend to move quicker while in the water.
But wait, there's still more on the three-toed sloth!
11.) These sloths have an extra vertebrae at the base of their skull that allows them to turn their head 270°! In comparison, humans can only turn their heads 140°.
12.) Sloths mark their territory by scent marking and dung middens.
13.) Sloths mate and give birth while hanging from branches. Pretty talented.
Now a Short Three-Toed Sloth Video!
Learn more about all kinds of cool critters, right here!
Be sure to share & comment below! Also, check out the Critter Science YouTube channel. Videos added frequently!