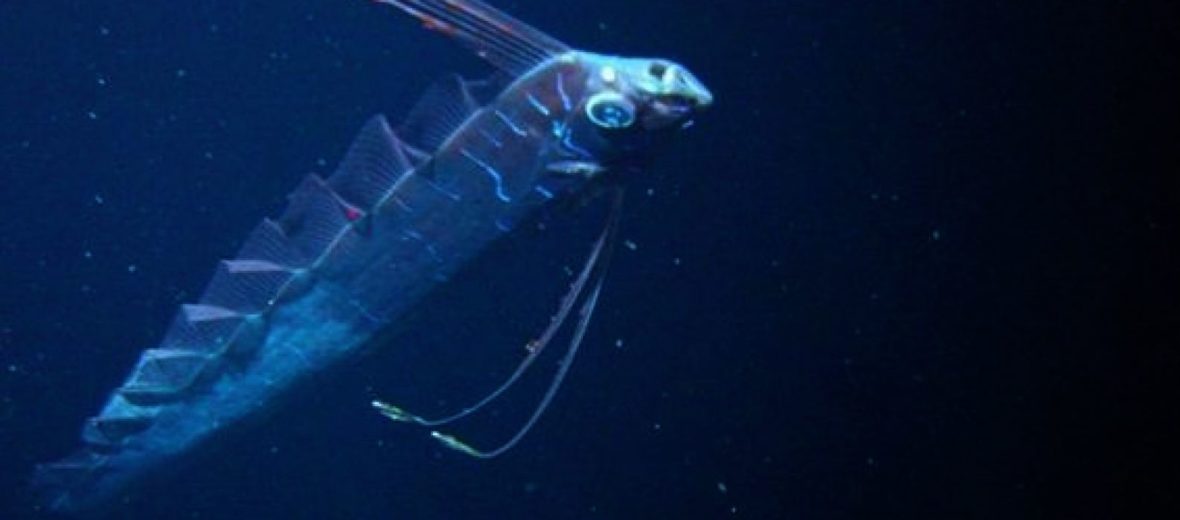 Meet the longest known bony fish in the ocean, the giant oarfish, aka Pacific oarfish, ribbonfish, king of herrings, streamer fish, and sea dragon. This deep water fish can be found in the eastern Atlantic Ocean and Mediterranean Sea at depths of up to 600 – 3,000 feet. Occasionally they get washed ashore due to a tsunami or oceanic storm. When they do, they gather quite the crowd due to their size and unusual appearance. The giant oarfish is listed as Least Concern by the IUCN.
First the Stats…
Scientific name: Regalecus glesne
Weight: Up to 600 lbs.
Length: Up to 26 feet
Lifespan: Unknown
Now on to the Facts!
1.) Rather than possessing scales, the oarfish has tubercles and a slimy coat of guanine, crowned with an ornate dorsal fin that is red.
2.) Their skin feels like thick, sticky, gel.
3.) They feed on krill, other small crustaceans, small fish, and squid.
4.) Unlike most other fish, they don't have a swim bladder. Instead, they propel through the water with their pelvic fins.
5.) They tend to swim with their tail pointed downward.
But wait, there's more on the giant oarfish!
6.) These creatures are not typically fished as their flesh is not considered palatable.
7.) They spawn from July – December.
Did you know…?
It is believed that the oarfish was the inspiration behind the sea serpent.
8.) Females lay .10 inch long eggs that float near the surface of the water. Once they hatch, the fry make their way deeper into the ocean.
Now a Short Giant Oarfish Video!
Also, check out the Critter Science YouTube channel. Videos added frequently!
Want to suggest a critter for me to write about? Let me know here.
Learn more about all kinds of cool critters, right here!