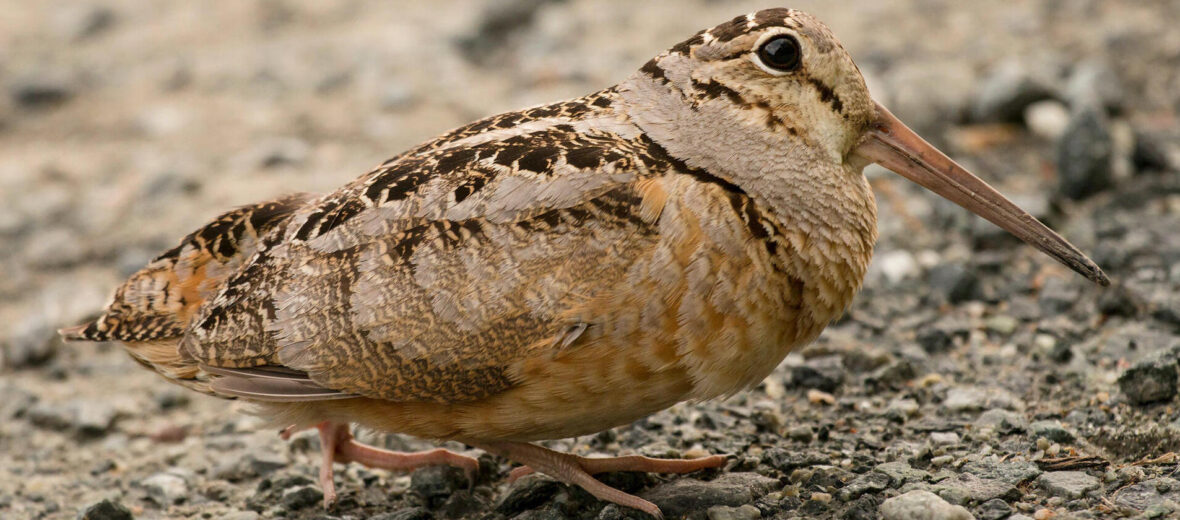 The American woodcock is an odd bird indeed. From their abnormally long beaks, to their stubby round bodies, and even their brains, these birds are quite unique. Being a migratory bird, the woodcock lives in the North during spring & summer yet spends the colder winter months in the South. These birds have several nicknames, like: bogsucker, Labrador twister, timberdoodle, and mudsnipe. Younger forests and farm fields are the woodcock's preferred habitat. They tend to sing in areas with wooded vegetation, and they forage for food along the edges of forests. You can see them in the eastern half of the U.S. and Canada. The American woodcock is listed as Least Concern by the IUCN.
First the Stats…
Scientific name: Scolopax minor
Weight: Up to 6.9 ounces
Length: Up to 12 inches
Wingspan: Up to 18.9 inches
Lifespan: Up to 8 years
Now on to the Facts!
1.) These little birds are crepuscular (active at dawn and dusk).
2.) Their eyes are set so far back on their skull that it looks like they can see out the back of their heads. This gives them the ability to look out for predators, while feasting on tasty worms. This positioning gives them 360° vision in its horizontal plane and 180° in its vertical plane.
3.) When threatened, they will totally freeze where they stand. It doesn't matter where they are. They just lock up and play statue.
4.) Sure their beaks look a little goofy, being as long as they are, in comparison to the rest of their body. But these long beaks allow them to pull worms from the soil with the greatest of ease.
5.) Earthworms make up about 60% of their diet. Beetles, centipedes, flies, and insect larvae make up the rest.
But wait, there's more on the American woodcock!
6.) During courtship, males will perform what is called a "sky dance." They will fly up high in a spiral pattern, flittering their wings as well as chirping, and then circle quickly back to the ground. There they make a peenting call. If the female is impressed, they mate.
7.) Males only role in the relationship is to mate with the female. Then he leaves the rest to her.
Did you know…?
A very unusual fact is that these bird's brains are actually upside down!
8.) Females lay between 1 – 5 grayish orange eggs that hatch in about 3 weeks.
9.) Woodcocks can eat their weight in worms each day!
10.) Finally, what's up with that little dance they do? They are known to rock their bodies back and forth while foraging. It is thought that the vibrations prompt the earthworms to move around underground, revealing their positions to the woodcock.
Now a Short American Woodcock Video!
Also, check out the Critter Science YouTube channel. Videos added frequently!
Want to suggest a critter for me to write about? Let me know here.
Learn more about all kinds of cool critters, right here!