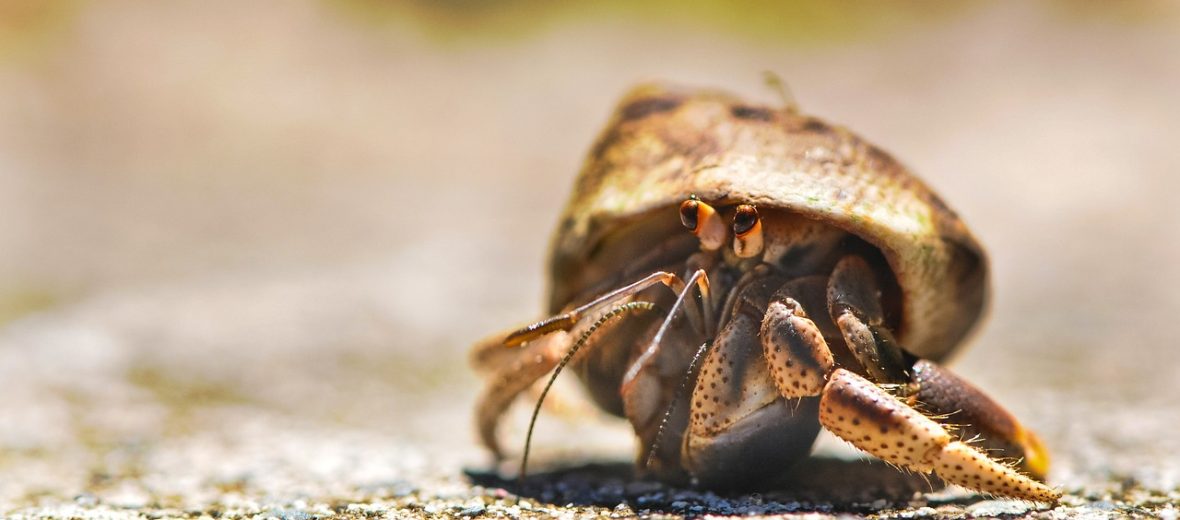 The hermit crab, contrary to their namesake, is actually a social animal that can be found in groups of 100 or more. They get their namesake due to their tendency to recoil into their shells, when threatened. There are approximately 1,100 known species of hermit crabs that can be found throughout the world; sans Antarctica. Hermits, based on the species, are listed anywhere from Least Concern to Vulnerable by the IUCN.
First the Stats…
Scientific name: Paguroidea
Weight: Up to 9 lbs.
Length: Up to 3 feet
Lifespan: Up to 70 years – Land | Up to 40+ years – Marine
Now on to the Facts!
1.) Ecuadorian, Caribbean, strawberry, and tawny hermit crabs are among the most popular hermits that are kept in captivity, as pets.
2.) Hermit crabs have up to 10 legs and 2 claws. 1 claw is larger than the other, and is used as a defensive weapon, while the smaller claw is used in feeding.
3.) These critters have 2 ocular stalks (eye stalks) that double as antennae.
4.) Both the land and marine hermit crabs use gills for breathing.
5.) Land hermits need the ambient humidity to be no lower than 70% in order to breathe.
But wait, there's more on the hermit crab!
6.) Land hermit crabs cannot breathe under water. Despite having gills. The gills of land hermit crabs need only to be slightly moist.
7.) Often times fights break out amongst these crabs, in an effort to obtain a premium shell.
Did you know…?
These amazing creatures can actually shrink in size. If a crab begins to outgrow its shell and cannot find a new shell, it will actually shrink in body size until a new shell can be found.
8.) When an empty shell is happened upon, these crustaceans will gather around to try the new shell on. The largest crab gets dibs on the new shell. Smaller crabs, in succession, will try the shell on until the right sized crab fits in the shell.
9.) Some species of marine hermit crabs will adorn their shells with anemones which are used as a defense. When they outgrow their shell, they will often remove the anemones from their old shell and attach them to the new shell.
10.) Hermit crabs are more closely related to lobsters than to crabs. This is due to a partially softened body. (true crabs have a completely hardened exoskeleton, whereas hermits have soft tails).
But wait, there's still more on the hermit crab!
11.) These opportunistic feeders feast on seaweed, kelp, plankton, tube worms, mussels, small shrimp, seahorses, small fish, other crab species, and will happily take part in dining on carrion (dead animals).
12.) Clingfish, pricklebacks, gunnels, snailfish, larger crabs, sea stars, gulls, crows, and raccoons all prey on hermies.
Did you know…?
Contrary to popular belief, hermits don't kill snails in order to take their shell. They only occupy abandoned shells.
13.) Hermits don't tend to breed well in captivity. So, the crabs you see, in aquariums (commercial and private) have, most likely, been taken from the wild.
14.) Both land and marine hermies breed in the ocean.
15.) Females can carry up to 200 eggs on her abdomen. When the eggs hatch, the newborns float at the ocean's surface for a few days.
But wait, there's still a little more on the hermit crab!
16.) Once they mature enough, the ocean-born land crabs will find a suitable shell and then make their way to land; where they'll stay until the next breeding season comes along, for the mature crabs.
17.) Coenobita brevimanus, a land hermit, can survive up to 70 years!
Now a Short Hermit Crab Video!
Be sure to share & comment below! Also, check out the Critter Science YouTube channel. Videos added regularly!
Want to suggest a critter for me to write about? Let me know here.
Think you know a lot about critters? Try your hand at these fun, free quizzes: