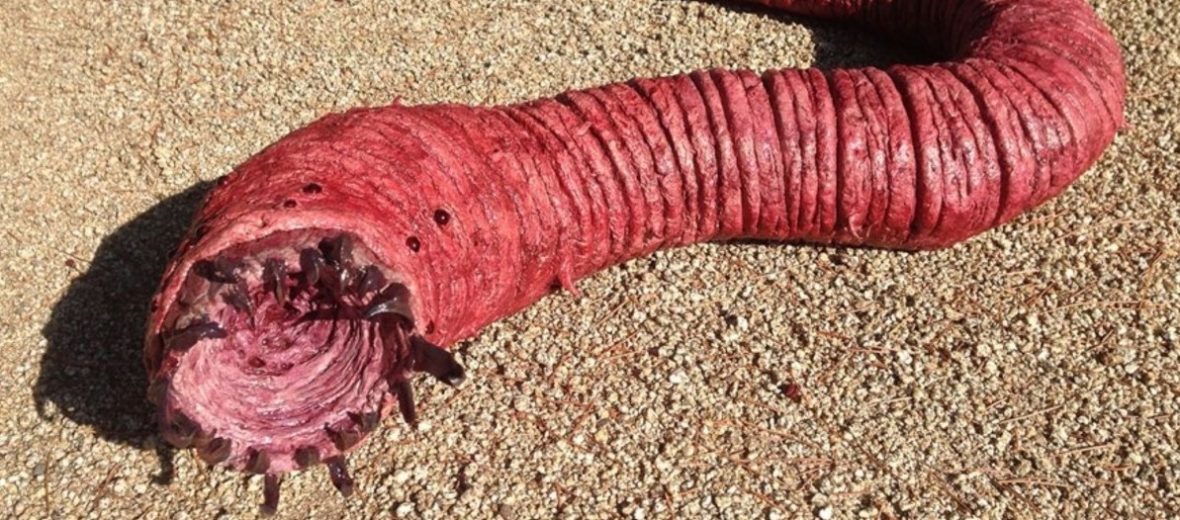 The Mongolian death worm, aka olgoi-khorkhoi, originates from the far reaches of the Gobi desert and straight out of folklore. While no one has ever actually seen a specimen, they are alleged to be quite deadly. Just the mere touch of 1 can supposedly kill a human. Happy Samhain and welcome to my Halloween tradition of posting a cryptozoological creature. Is this creature actually real or just a myth? You decide…
First the Stats…
Scientific name: Mongolius necros
Weight: Up to .5 lb.
Length: Up to 2 feet
Lifespan: Unknown
Now on to the Facts!
1.) In 2010 a film was made on this elusive and deadly creature.
2.) During 1926, Roy Chapman Andrews wrote a book called On the Trail of Ancient Man. In this book he mentions the death worm.
3.) A specimen of Tartar sand boa was shown to locals who claimed to have seen "olgoi-khorkhoi" and they confirmed that it was the same creature.
4.) In the book The New Conquest of Central Asia, Andrews again mentions the death worm, yet doesn't seem to believe its existence.
5.) It is said that they attack by means of spraying venom or discharging an electric charge.
But wait, there's more on the Mongolian death worm!
6.) They spend most of their time burrowed in the sand or loose substrate.
7.) Zoological journalist Richard Freeman of the Center for Fortean Zoology went on a trek to find these cryptos, but came up empty. He later cited these creatures are apocryphal in nature.
Did you know…?
Many previously documented cryptids have ended up being hoaxes. However, sightings of the death worm were probably due to mistaken identification of real species or hallucinations brought on by desert conditions.
8.) The reality-television series Destination Truth conducted a search for these worms from 2006 – 2007. No worms were found.
9.) These worms are also referenced in William Gibson's novel Spook Country, published back in 2007.
10.) This creature is thought to be associated with the sand worms from the book series Dune, by Frank Herbert.
Now a Short Mongolian Death Worm Video!
Be sure to share & comment below! Also, check out the Critter Science YouTube channel. Videos added regularly!
Want to suggest a critter for me to write about? Let me know here.
Think you know a lot about critters? Try your hand at these fun, free quizzes: