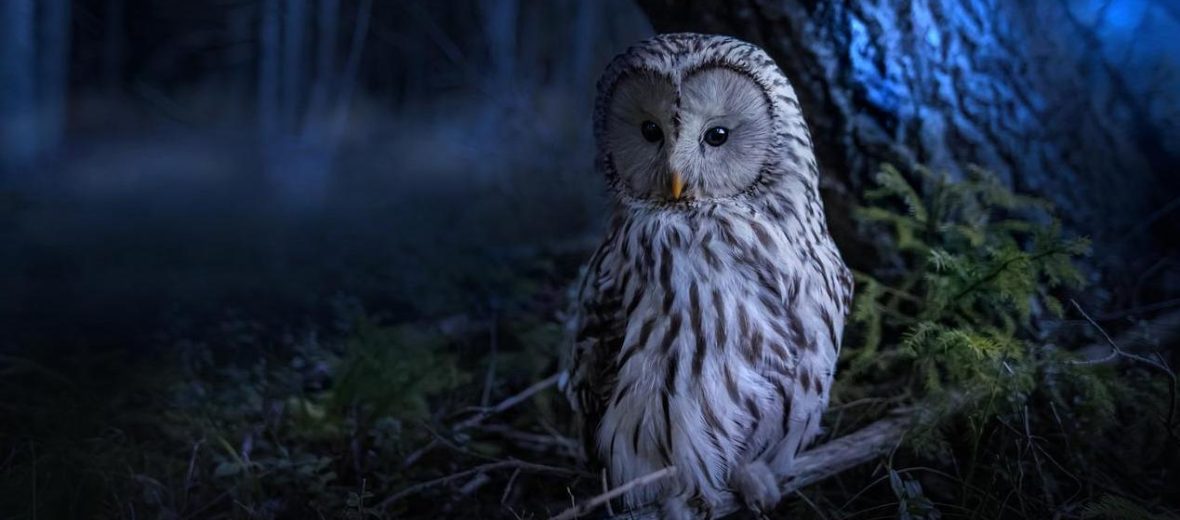 The Ural owl, aka Ural wood owl, can be found in Europe, and throughout Asia. These owls prefer mature primary forests with coniferous trees, deciduous areas, alder, spruce, and other mixed trees, that aren't too densely packed. These owls tend to stick near forest openings. With an estimated 1,000,000+ wild individuals, these owls are listed as Least Concern by the IUCN. They do still face the threats of habitat loss, at the hands of the timber industry; and the threat of invasive species, and with them disease.
First the Stats…
Scientific name: Strix uralensis
Weight: Up to 1.7 lbs.
Length: Up to 25 inches
Wingspan: Up to 4.5 feet
Lifespan: Up to 24 years
Now on to the Facts!
1.) These critters are the 8th longest owl species in the world.
2.) While typically nocturnal (active at night), the populations that live the farthest north are sometimes fully active during the day. However, the best description for these owls would be cathemeral (active during day and night).
3.) Like many other owls, these birds of prey are very territorial.
4.) Rather than approach prey from flight, these owls tend to just drop down on their unsuspecting prey from a tree branch above.
5.) Their calls have a "wihu huw-huhuwo" or "huow-huow-huow" sound. During courtship, "korrwick" or "kuwat" sounding calls can be heard.
But wait, there's more on the Ural owl!
6.) A group of owls is called a stare or parliament.
7.) Rats, mice, moles, shrews, rabbits, birds, amphibians, reptiles, and sometimes even fish are all on the menu.
Did you know…?
These owls have among the largest ears of any known owl species. This allows them to hear finite sounds of rustling prey, in the forests.
8.) These owls are monogamous (mate for life).
9.) Females lay up to 4 eggs that hatch in up to 35 days.
10.) Owlets start leaving the nest at about 35 days and begin flying at 45 days.
Now a Short Ural Owl Video!
Be sure to share & comment below! Also, check out the Critter Science YouTube channel. Videos added regularly!
Want to suggest a critter for me to write about? Let me know here.
Think you know a lot about critters? Try your hand at these fun, free quizzes: