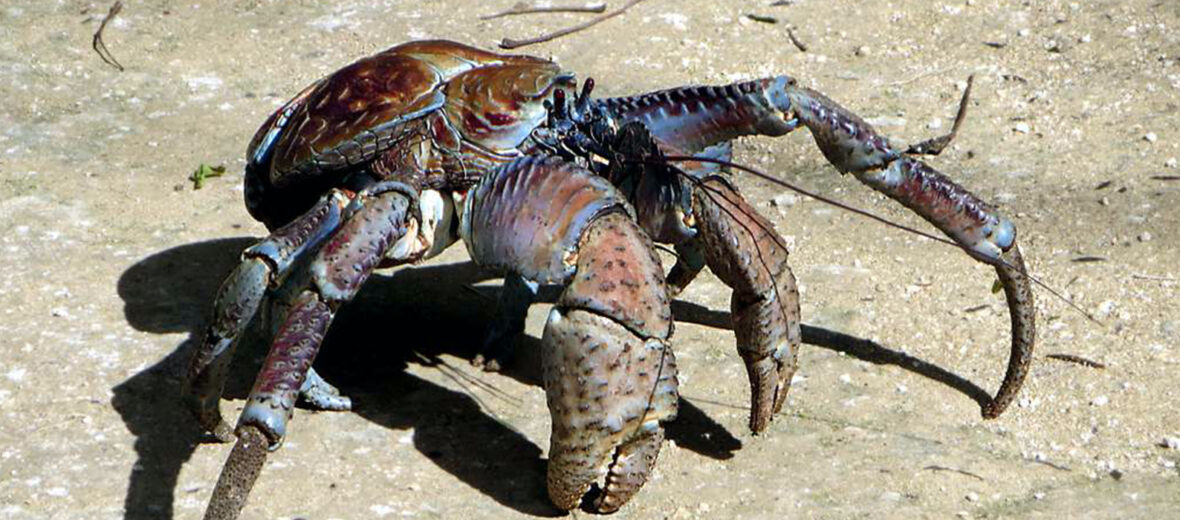 The coconut crab, aka robber crab or palm thief, is not only the largest known terrestrial hermit crab, but the largest known terrestrial arthropod in the world! You can find these ginormous critters in the island chains of the Indian Ocean, parts of the Pacific Ocean, and also as far east as the Gambier and Pitcairn Islands. They can even be found off the coast of Africa near Zanzibar. These giants prefer sandy beaches, to forests, to rocky shores. As long as there is an ample supply of food, they're happy. Due to habitat destruction, hunting, trapping, geological events (like earthquakes & tsunamis), invasive species, and climate change, these colossal crabs are listed as Vulnerable by the IUCN.
First the Stats…
Scientific name: Birgus latro
Weight: Up to 10 lbs.
Length: Up to 3.3 feet
Lifespan: Up to 60 years
Now on to the Facts!
1.) Coconut crabs have organs called branchiostegal lungs. These are used for breathing, instead of using their vestigial gills, and after the juvenile stage they will actually drown if submerged in water for too long.
2.) Their color ranges from bright red to turquoise blue.
3.) A theory surrounding the disappearance of Amelia Earhart is that the pilot crash-landed on an island in the Republic of Kiribati, in the central Pacific Ocean. She eventually died and her body was consumed by coconut crabs.
4.) They not only eat coconuts, with the greatest of ease, but they also prey on rats, migratory seabirds, and will even eat each other. Their diet also consists of tropical fruits, fallen plant material, and carrion (dead animals – or pilots).
5.) Coconut crabs start out just like hermit crabs, in that they hide and carry around abandoned snail shells. But after about a year or so, they ditch the mobile home and go through a process called recalcification. This is where their body hardens enough to where they no longer need to hide in a shell.
But wait, there's more on the coconut crab!
6.) After molting (shedding their exoskeleton) they will then turn around and eat their previous exoskeleton. This might help to replenish lost calcium.
7.) A testament to their common name 'robber crab', these critters have been known to steal silverware that has yet to be washed.
Did you know…?
They are strong enough to lift objects as heavy as 61 lbs.
8.) Their sense of smell is amazing; allowing them to pick up the faintest scent of food.
9.) The coconut crab prefers life alone. They are very antisocial and even signal 1 another via the waiving of a claw to say, "Stay away. You're getting too close"!
10.) After mating, females will attach their eggs to special appendages (called an apron) and carry them under their curled up abdomens.
But wait, there's still more on the coconut crab!
11.) When her eggs are ready to hatch, the female coconut crab will release the larvae into the water and leave them to their own devices.
12.) Only a few larvae will develop into adult crabs. Most are eaten.
Did you know…?
A 9 lb. coconut crab's claws have the crushing power of 3,300 newtons! This is greater than any other crustaceans like lobsters, who only have the claw power of 150 newtons.
13.) These crabs were first discovered and documented by Charles Darwin.
14.) They are nocturnal (active at night).
15.) Their grip is 10 times stronger than that of a human's.
Now a Short Coconut Crab Video!
Be sure to share & comment below! Also, check out the Critter Science YouTube channel. Videos added frequently!
Want to suggest a critter for me to write about? Let me know here.
Learn more about all kinds of cool critters, right here!