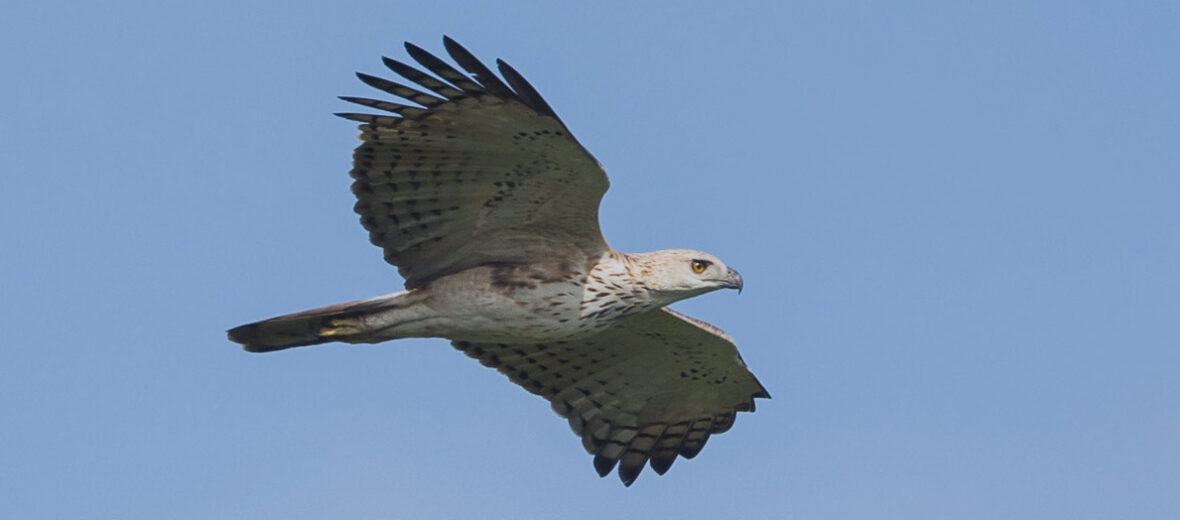 The changeable hawk-eagle, aka crested hawk-eagle, marsh hawk-eagle, booted eagle, or Indian crested hawk-eagle, is a large bird of prey that hails from the Indian subcontinent and southeast Asia. They prefer Savannah woodlands, timbered watercourses, cultivations with trees, tea plantations, forest villages, and can even be found near suburban settlements. Even though they suffer at the hands of habitat destruction and collection for the pet trade, these birds are still listed as Least Concern by the IUCN. However, their populations are decreasing.
First the Stats…
Scientific name: Nisaetus cirrhatus
Weight: Up to 4.2 lbs.
Length: Up to 28 inches
Wingspan: Up to 54 inches
Lifespan: Up to 27 years
Now on to the Facts!
1.) The changeable hawk-eagle preys on pheasants, junglefowl, ducks, hares, squirrels, snakes, and other small animals.
2.) They are diurnal (active during the day).
3.) Changeable hawk-eagles get their name due to their ability to morph from a dark to a light coloration; based on the season.
4.) These birds of prey are monogamous (mate for life), like many other raptors.
5.) Females lay a single egg in a nest built up to about 160+ feet in a tree fork.
But wait, there's more on the changeable hawk-eagle!
6.) The egg hatches in about 40 days.
7.) The chick is fully grown in approximately 50+ days and fledges in up to 68 days.
Did you know…?
There are 5 known subspecies of hawk-eagles.
8.) They communicate, vocally, via a high-pitched scream that sounds like "yeep-yip-yip-yip", and then rises to a "kwip-kwip-kwee-ah" and a "klee-leeuw".
9.) Even though they have 'hawk' in their name, they are indeed eagles.
10.) Being apex predators, they don't have any known predators.
Now a Short Changeable Hawk-Eagle Video!
Be sure to share & comment below! Also, check out the Critter Science YouTube channel. Videos added frequently!
Want to suggest a critter for me to write about? Let me know here.
Learn more about all kinds of cool critters, right here!