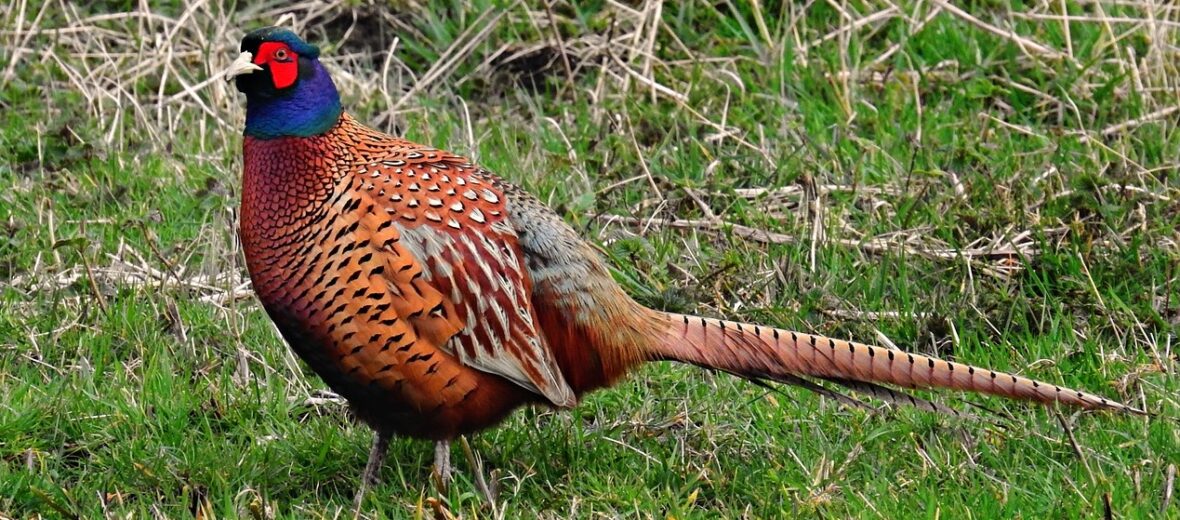 The pheasant is closely related to quails, wild chickens, and partridges. There are 35 known species of pheasant that originally come from Asia. They can currently be found in Asia, Europe, and North America. They prefer grasslands, forests, scrublands, swamps, and rural areas such as farms. Unfortunately for these birds, they are also popular game birds that are released by the hundreds of thousands each year for hunting. Due to their stable numbers, the pheasant is listed as Least Concern by the IUCN.
First the Stats…
Scientific name: Phasianus colchicus
Weight: Up to 2.6 lbs.
Length: Up to 2.9 feet
Lifespan: Up to 18 years
Now on to the Facts!
1.) In Britain, pheasants are released in huge numbers for the sole purpose of shooting them. The annual global release is estimated to be in the realm of 20 million birds!
2.) Due to their high mortality, pheasants are not in danger of becoming nuisance birds. Even though they are released by the millions each year, they are mostly not self-sustaining and will die out, in the wild, if left to their own accord.
3.) Being Omnivores (eat plant and animal matter), they will eat worms, insects, seeds, berries, fruit, small reptiles, and amphibians.
4.) Their predators include: foxes, hawks, owls, raccoons, skunks, and cats.
5.) Male pheasants are known to be sensitive to the low frequency vibrations preceding an earthquake. There are many accounts of cocks crowing insanely right before an earthquake.
But wait, there's more on the pheasant!
6.) Males tend to fight frequently for up to 18 minutes at a time.
7.) In the U.S. there is a type of pheasant called a "jumbo" that is produced solely as a table bird.
Did you know…?
The pheasant can fly at speeds of up to 60 mph! They can also run up to 10 mph and can even swim.
8.) A successful cock may have a harem of up to 7 hens. However, most cocks are not as successful, and most fail to breed at all.
9.) Females lay up to 20 eggs, with the average being about 12.
10.) Chicks are able to fly for the first time when they are only 12 days old!
Now a Short Pheasant Video!
Also, check out the Critter Science YouTube channel. Videos added frequently!
Want to suggest a critter for me to write about? Let me know here.
Learn more about all kinds of cool critters, right here!