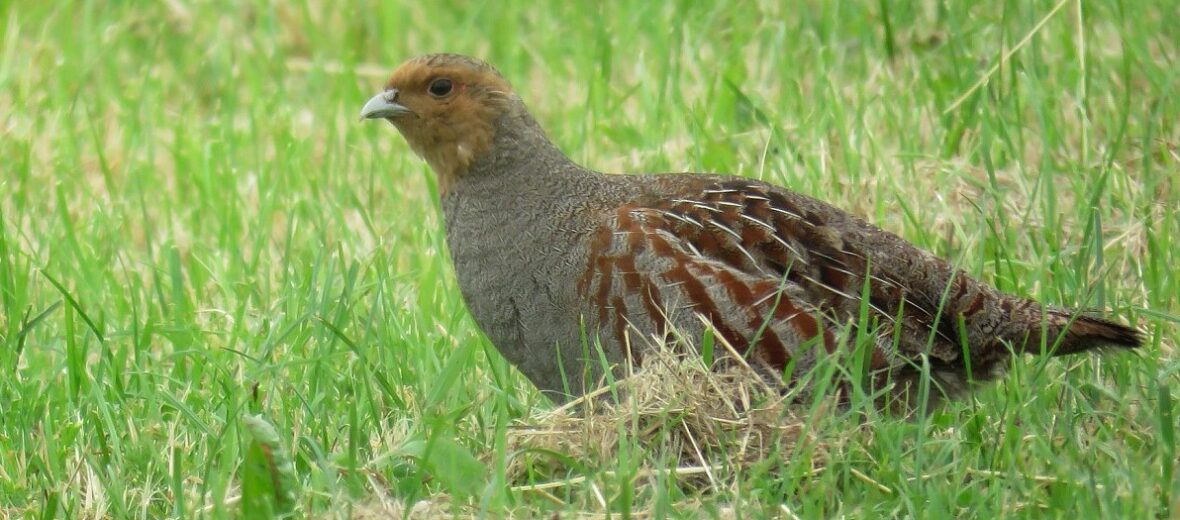 The grey partridge, aka English partridge, Hungarian partridge, or just partridge, hails from the pheasant family. There are 8 known subspecies of partridge that reside in Africa, Asia, Europe, the Middle East, and North America. They prefer to dwell in moors, hedgerows, grasslands, and farmland. These famous avians are considered game birds, hunted by humans. Their numbers have decreased by nearly 80% over the past 30 years. However, they are still listed as Least Concern by the IUCN. A question you may have is, "Do partridges hang out in pear trees?"
First the Stats…
Scientific name: Perdix perdix
Weight: Up to 1.1 lbs.
Length: Up to 13 inches
Wingspan: Up to 22 inches
Lifespan: Up to 5 years
Now on to the Facts!
1.) The grey partridge is diurnal (active during the day).
2.) No matter how much this bird has been studied, it still seems an impossible feat to keep this species from declining.
3.) Chicks eat primarily insects, where adults eat cereals, seeds, grass, and shoots.
4.) The primary predators, sans humans, are weasels and stoats.
5.) After breeding, it is not uncommon for pairs to form coveys as large as 20+ birds.
But wait, there's more on the grey partridge!
6.) Pairs are formed early in the year and remain together till Autumn. Once their chicks are reared and on their own, the pair disperses.
7.) Touted as having the most eggs of any bird, females can have up to and over 15 eggs each season!
Did you know…?
Per the Greek legend, the first partridge showed up when Daedalus threw his nephew, Perdix, off the sacred hill of Athena in a fit of jealous rage.
8.) Only the female incubates the eggs. However, the male stays nearby to fend off predators.
9.) Being very sedentary, these birds rarely fly from the area they were reared in and/or released from.
10.) When threatened, the grey partridge will make a "rick-rick-rick" call.
11.) Finally… the answer is, "No. Partridges don't hang out near or in a pear tree." These birds are primarily terrestrial (ground dwelling).
Now a Short Grey Partridge Video!
Also, check out the Critter Science YouTube channel. Videos added frequently!
Want to suggest a critter for me to write about? Let me know here.
Learn more about all kinds of cool critters, right here!