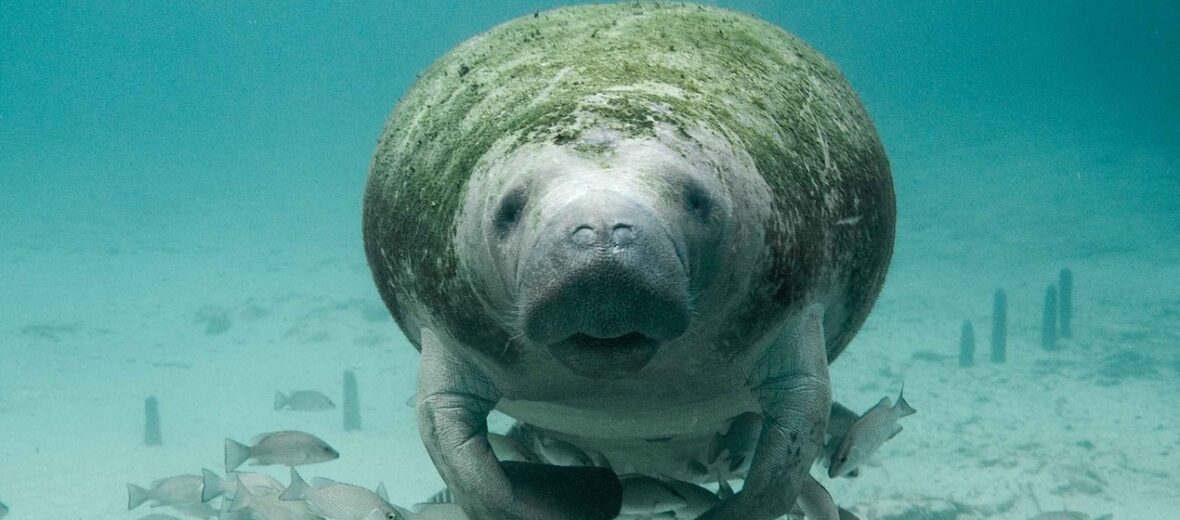 They're slow-moving, gentle grazers of sea grasses that mean no harm to anyone. The manatee, aka sea cow, is found in only a few locales in the world and there are only 3 known species of these docile creatures in the world today: the West Indian, the Amazonian, and the West African. The dugong is a close relative. They are the unfortunate recipients of harassment, injury, and death at the hands of tourists, hunting, pollution (red tide), water craft propellers & direct strikes, and habitat destruction. Manatees are listed as Vulnerable by the IUCN.
First the Stats…
Scientific name: Trichechus
Weight: Up to 1,200 lbs.
Length: Up to 11 feet
Lifespan: Up to 60 years
Now on to the Facts!
1.) Due to their low metabolic rate, manatees need warm water to thrive. They may look all blubbery but the bulk of their weight comes mostly from their digestive system.
2.) These giant critters feed primarily on mangrove leaves, sea grass, and algae.
3.) They eat up to 10% – 15% of their body weight a day in plant matter.
4.) The manatee can hold its breath for up to 20 minutes at a time. Typically though they surface roughly every 3 – 5 minutes.
5.) They are able to maintain a perfect salinity balance in their bodies through internal regulation which works with their kidneys to ensure salt concentrations never get too high.
But wait, there's more on the manatee!
6.) Not winning any intelligence contests, the manatee has the smallest brain to body ratio of any mammal.
7.) They have no natural predators, sans us humans.
Did you know…?
Manatees can reach bursts of up to 15 mph, but typically cruise along at about 5 mph.
8.) Manatees have 2,000 vibrissae (thick, whisker-like hairs) on their faces and 3,000 on their bodies. These innervated follicles help give the manatee a sense of the world around it. This really comes in handy in murky water.
9.) This creature is more closely related to the hyrax and the elephant, than the dolphin or whale.
10.) Females give birth to 1 calf every 2 – 5 years.
But wait, there's still more on the manatee!
11.) The calf will nurse from its mother for up to 2 years.
12.) The calf begins eating plants at only a few weeks old.
13.) They are also so slow that algae literally grows on their skin.
Now a Short Manatee Video!
Also, check out the Critter Science YouTube channel. Videos added frequently!
Want to suggest a critter for me to write about? Let me know here.
Learn more about all kinds of cool critters, right here!