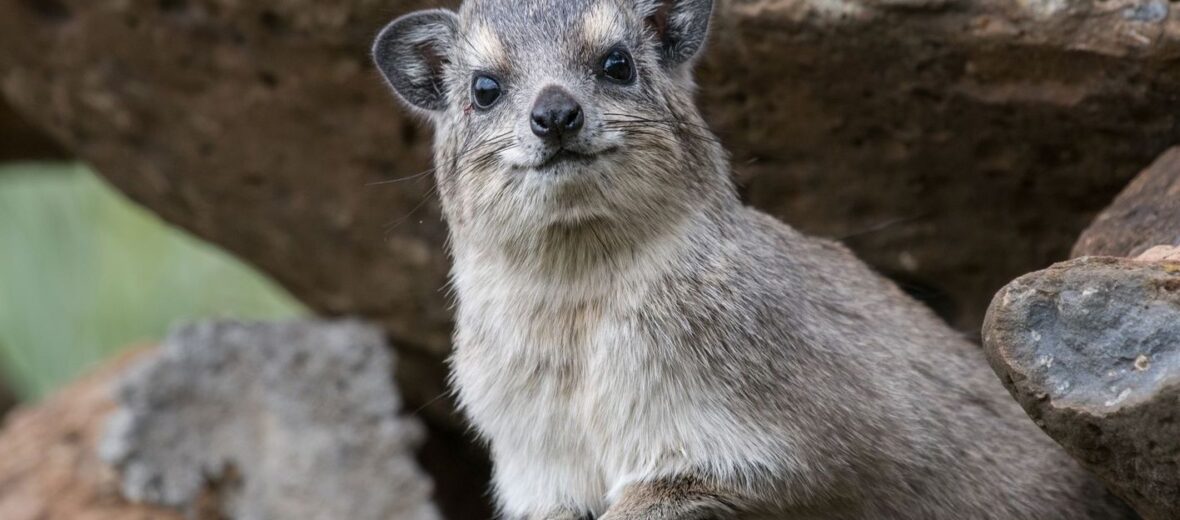 Considered to be the elephant's and the manatee's closest living relative, it's the hyrax. Although much smaller than elephants or manatees, it is their teeth and bone structure that relates them to these much larger cousins. Due to their stable numbers, they are listed as Least Concern by the IUCN. But they are threatened by habitat loss and climate change.
First the Stats…
Scientific name: Procavia capensis
Weight: Up to 11 lbs.
Length: Up to 20 inches
Life span: Up to 12 years
Now on to the Facts!
1.) The rock hyrax spends most of their time sleeping. About 90% of their time! The rest of their day is spent feeding and basking in the sun.
2.) They have four-chambered stomachs, like the dik-dik.
3.) Rock hyrax have a pair of long, pointed tusks that develop from their incisors. Males have larger tusks than females.
4.) Their habitats range from dry savanna to dense rainforest to cold Afro-alpine moorland.
5.) A rock hyrax's feet have black, rubbery pads that are coated by numerous sweat glands. The pads lift up in the middle to create a suction cup effect which helps them keep their grip on rocky surfaces.
But wait, there's more on the hyrax!
6.) The inside rear toe has a long nail called a grooming claw. This claw is used to pick through their hair and helps to scratch those annoying itches.
7.) The rock hyrax can generate over 20 different sounds! Sounds like yips, grunts, wails, trills, snorts, shrieks, growls, and whistles.
Did you know…?
The Old Testiment refers to the hyrax as not having a split hoof, so therefore not being kosher. There are also other references to them in the Bible.
8.) They have a scent gland on their backs that is used for communication and territory marking. They leave a smelly, sticky liquid that is most pungent during mating season.
9.) These cute critters eat tough vegetation, leaves, grasses, and fruit. During the meal, the dominant male will guard the group from predators.
10.) Gestation (pregnancy) lasts 200 – 250 days and ends with 1 – 6 babies, or pups. The newborns look just like miniature versions of their parents.
11.) Leopards, servals, caracals, civets, and eagles all prey on hyraxes.
Now a Short Hyrax Video!
Also, check out the Critter Science YouTube channel. Videos added frequently!
Want to suggest a critter for me to write about? Let me know here.
Learn more about all kinds of cool critters, right here!