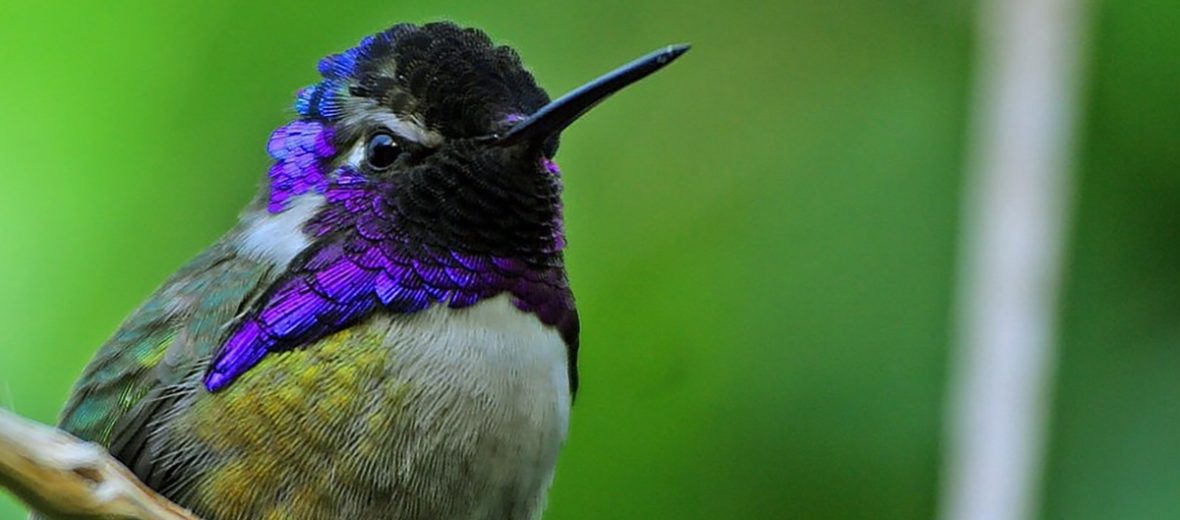 The Costa's hummingbird hails from southwestern United States and migrates to western Mexico during the winter months. They prefer arid, brush-filled deserts and gardens. These are among the smaller of the hummingbird species known. Yet, not the smallest. That title goes to the bee hummingbird. Costa's hummingbirds number an estimated 3,400,000 wild individuals and their numbers are increasing. For this reason, they are listed as Least Concern by the IUCN.
First the Stats…
Scientific name: Calypte costae
Weight: Up to .11 ounce
Length: Up to 3.5 inches
Wingspan: Up to 4.33 inches
Lifespan: Up to 9 years
Now on to the Facts!
1.) If the temperatures drop, these critters are able to enter into torpor (a type of hibernation-like state).
2.) These tiny critters feed on nectar, pollen, and occasionally small insects.
3.) Like all hummers, they have a long tongue that is used to probe flowers and obtain food.
4.) Hummingbirds are the only known species of bird that can fly in any direction. They can even fly upside down.
5.) The male's courting ritual consists of a bunch of arcing dives and swooping. They also have to make sure they get just the correct angle, in order to properly display their beautiful purple throat, as it's reflected by the sun.
But wait, there's more on the Costa's hummingbird!
6.) The males are able to produce a high-pitched shriek with their tail. They also vocalize to the female via various songs.
7.) Nests take on a cup shape and are built from plant fibers, down, and even spider silk.
Did you know…?
The flight speed of these birds is up to 30 mph. But they can dive at speeds of up to 60 mph!
8.) The nest is typically built on a tree limb or yucca stalk.
9.) Females lay 2 eggs that hatch in up to 18 days.
10.) The young leave their nest after just 23 days.
Now a Short Costa's Hummingbird Video!
Be sure to share & comment below! Also, check out the Critter Science YouTube channel. Videos added regularly!
Want to suggest a critter for me to write about? Let me know here.