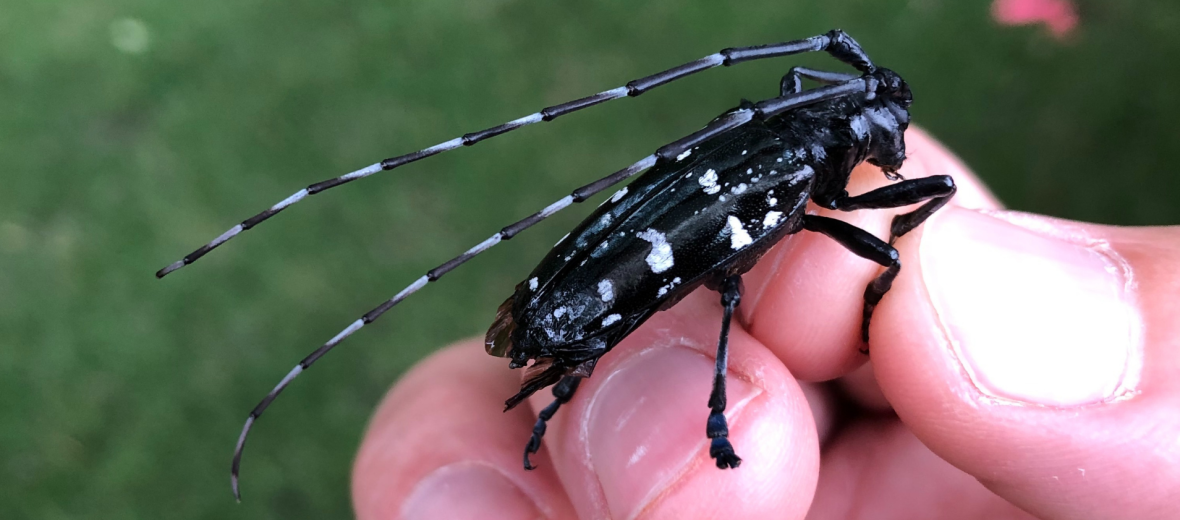 The Asian long-horned beetle, aka sky beetle, starry sky, or ALB, originates from eastern China and Korea. But this pest has since infested 6 known states, in the United States: New York (1996), Illinois (1998), New Jersey (2002), Massachusetts (2008), Ohio (2011), and South Carolina (2020). There could be more locales, but that is all the recorded locales, to date. Canada, and several countries in Europe, including: Austria, France, Germany, Italy and the UK have also reported infestations. Due to their invasive nature and abundant populations, these insect pests are not currently evaluated by the IUCN.
First the Stats…
Scientific name: Anoplophora glabripennis
Length: Up to 1.5 inches
Lifespan: Up to 2 years
Now on to the Facts!
1.) Their antennae are up to 2.5 times the length of their body.
2.) They are believed to have spread through the transport of solid wood packaging material.
3.) Other common names for these beetles are: basicosta white-spotted longicorn beetle, starry sky beetle, or smooth shoulder-longicorn.
4.) In their native range, they infest elm trees, maple trees, poplar trees, and willow trees.
5.) While in other countries, they have been known to infest Aesculus, Albizia, ash, birch, katsura, planes, and Sorbus, among others.
But wait, there's more on the Asian long-horned beetle!
6.) These insects tend to stay on or near their birth site. With some traveling up to 1.6 miles away to new hosts.
7.) Females lay up to 62 eggs in their lifetime.
Did you know…?
A single larvae can consume up to 61 cubic inches of wood in their lifetime.
8.) The female will chew a pit into the bark of a preferred tree and lay a single egg.
9.) Eggs hatch in up to 54 days and the larvae get to work eating as much as they can, as they develop and grow.
10.) The larvae expel frass (waste) near the original oviposition site.
But wait, there's still more on the Asian long-horned beetle!
11.) They can potentially destroy up to 30.3% of urban trees and cause up to $669 billion in economic loss.
12.) In September 1998, US customs regulations were altered to require wooden packing materials from China to be kiln-dried or chemically treated to stop further infestations of the Asian long-horned beetle from rearing their wood chewing head.
13.) All infested trees should be removed by certified arborists to make certain that the process is done correctly, and the felled trees chipped in place, with their stumps ground to below the soil level.
14.) In New York, over 6,000 infested trees resulted in the removal of over 18,000 trees! New Jersey's infestation of over 700 trees ended up leading to the removal and destruction of almost 23,000 trees!
15.) Due to the uncertain and unreliable results, biological control methods, like introducing fungi (Beauveria brongniartii) or woodpeckers is typically not relied upon.
Now a Short Asian Long-Horned Beetle Video!
Be sure to share & comment below! Also, check out the Critter Science YouTube channel. Videos added regularly!
Pick up your Critter Science books today, at Amazon!
Want to suggest a critter for me to write about? Let me know here.