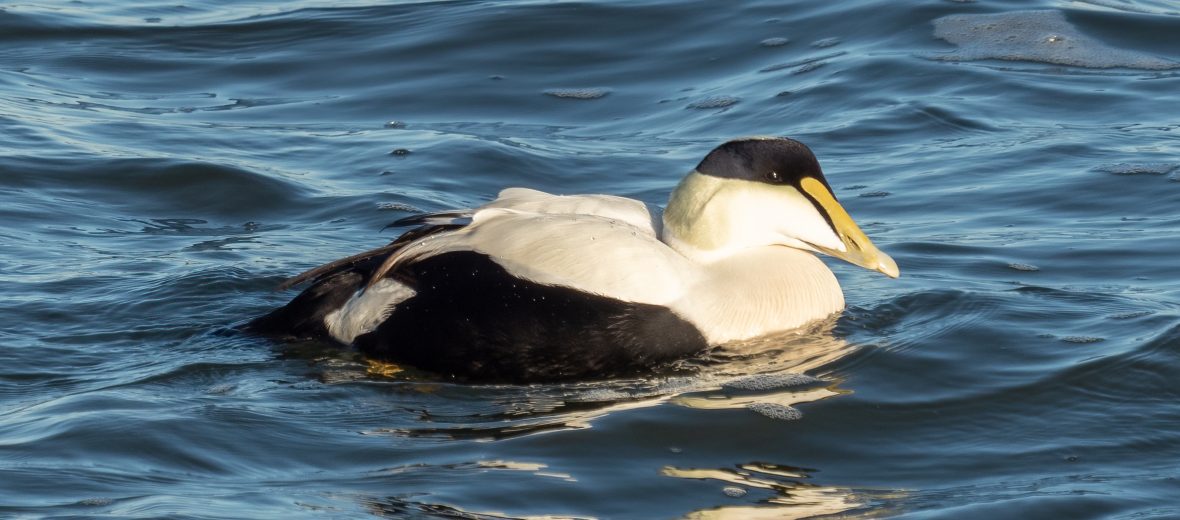 The common eider, aka Cuddy's duck or St. Cuthbert's duck can be found in North America, Europe, and in eastern Siberia. These large, migratory ducks breed in Arctic regions and winter in the southern reaches of their territories in temperate zones. Eiders face the threats of habitat destruction at the hands of agriculture, marine & freshwater aquaculture, and mining; hunting; trapping; overfishing; human-based recreational and other activities; invasive species (and with them disease); pollution; and climate change. As a result, the global populations are listed as Near Threatened by the IUCN.
First the Stats…
Scientific name: Somateria mollissima
Weight: Up to 4.5 lbs.
Length: Up to 2 feet
Wingspan: Up to 38.6 inches
Lifespan: Up to 22.5 years
Now on to the Facts!
1.) The European common eider populations are listed as Endangered by the IUCN.
2.) These birds nest on islands, in colonies of up to 15,000 individuals.
3.) In 1758, Swedish naturalist Carl Linnaeus first described the common eider.
4.) Common eiders are not only the largest of the 4 eider species but the largest duck found in Europe.
5.) The male's call is a "ah-ooo" sound and the female's is a hoarse quack.
But wait, there's more on the common eider!
6.) The common eider searches for small crustaceans and molluscs, but has a preference for mussels.
7.) When eating crabs or mussels, they will use their gizzard to crush up the shells and those are excreted. With crabs, they will remove the claws and legs, then eat the body.
Did you know…?
These birds can fly at speeds of up to 70 mph!
8.) Eiders were among the first ever birds protected by conservation laws, established by Saint Cuthbert in 676 AD. Nearly 1,000 birds still inhabit the Farne Islands in Northumberland, England.
9.) Nests are built close to the shore and lined with eiderdown (soft feathers, plucked from the female's breast).
10.) Females lay up to 8 eggs that hatch in up to 26 days.
But wait, there's more on the common eider!
11.) Foxes, minks, and seagulls all prey on these birds.
12.) These birds are diurnal (active during the day).
Now a Short Common Eider Video!
Be sure to share & comment below! Also, check out the Critter Science YouTube channel. Videos added regularly!
Want to suggest a critter for me to write about? Let me know here.
Photo credit: Rhododendrites