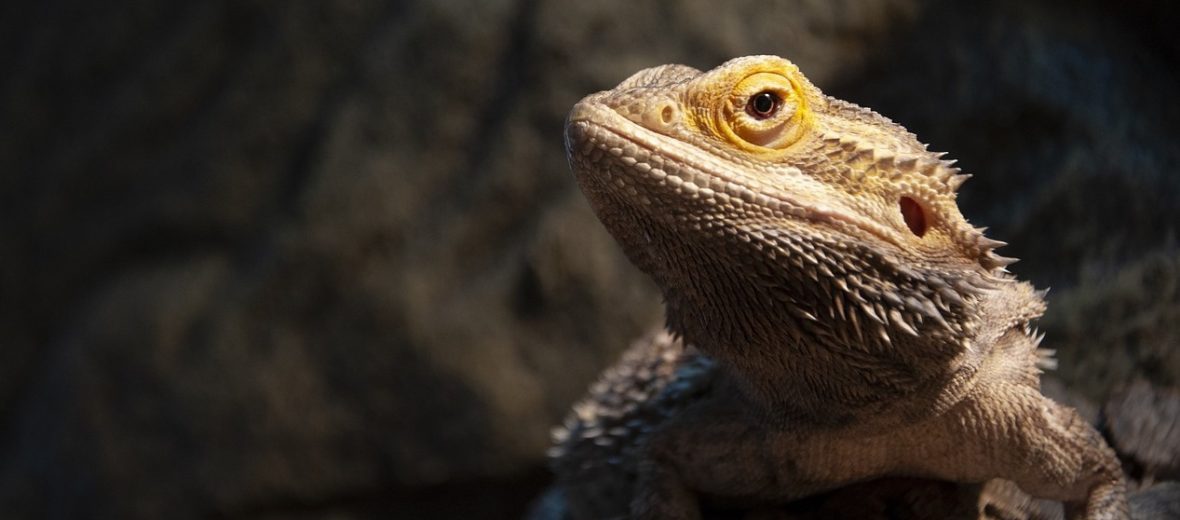 A common sight to see in pet stores around the world, the central bearded dragon, aka inland bearded or western bearded dragon, is native to eastern and central Australia. Due to the ban on importing/exporting of all wildlife in Australia, they have not been "legally" taken from the wild in many years. This ban was put in place in the 1960s. It is believed though that between 1974 – 1990, more were illegally taken out of the country for captive breeding purposes. The primary threat these lizards face is from invasive species (and with them disease, predation, and outcompeting for food). These lizards are listed as Least Concern by the IUCN, due to a stable population.
First the Stats…
Scientific name: Pogona vitticeps
Weight: Up to 1.1 lbs.
Length: Up to 17.72 inches, including their tail
Lifespan: Up to 13 years
Now on to the Facts!
1.) These lizards can tolerate a slim range of habitats, from dry forests, to deserts, to scrublands.
2.) They are diurnal (active during the day).
3.) Bearded dragons are considered semi-arboreal (spend some of their time in trees).
4.) A group of lizards is called a lounge.
5.) They get their namesake due to the ability to darken the underside of their jaw to a black or dark color.
But wait, there's more on the central bearded dragon!
6.) The diet of a bearded dragon consists of various insects, arachnids, pinky (baby) mice/rats, smaller lizards, and a range of vegetation.
7.) These critters are polygynous (1 male mates with multiple females).
Did you know…?
Like iguanas, these lizards possess a parietal eye, aka a 3rd eye or pineal eye. This is a simple eye that allows for the detection of light and dark. This aids is Predator detection and more.
8.) Breeding take place between September – March.
9.) Females lay up to 24 eggs each clutch. Once the eggs are laid and buried in the substrate, she leaves.
10.) Eggs are laid up to 9 times per year.
But wait, there's still more on the central bearded dragon!
11.) The baby beardies hatch in up to 80 days. They are born precocial (totally self-sufficient).
12.) These days, you'd be hard-pressed to walk into a local pet store and not see 1 or more beardies for sale. Bearded dragons are among the most popular pet lizard in the world.
Did you know…?
Unlike many other lizards, if a bearded dragon loses it's tail, it will not grow back.
13.) When a male comes across another male, they will typically darken their colors, including their "beard" (throat), do push-ups, bob their head up and down, gape, and inflate themselves to look larger and more menacing. If 1 doesn't back down, a fight will ensue.
14.) When a male spies a prospective female partner, he will inflate himself, bob his head, darken his colors, and wave with 1 hand. If the female is receptive to mating, the male will tend to bully her during the mating process; which sometimes results in injuries to the female, due to being bitten.
15.) These critters will typically lighten and darken their coloration to allow or limit sunlight. This is a method of thermoregulation (managing body heat).
But wait, there's still a little more on the central bearded dragon!
16.) Predators of beardies are birds, larger lizards, and some mammals.
17.) These lizards make great companions, as they are generally tame and tolerant of being handled. They also seldom bite the hand that feeds them; so to speak.
Now a Short Central Bearded Dragon Video!
Be sure to share & comment below! Also, check out the Critter Science YouTube channel. Videos added regularly!
Want to suggest a critter for me to write about? Let me know here.