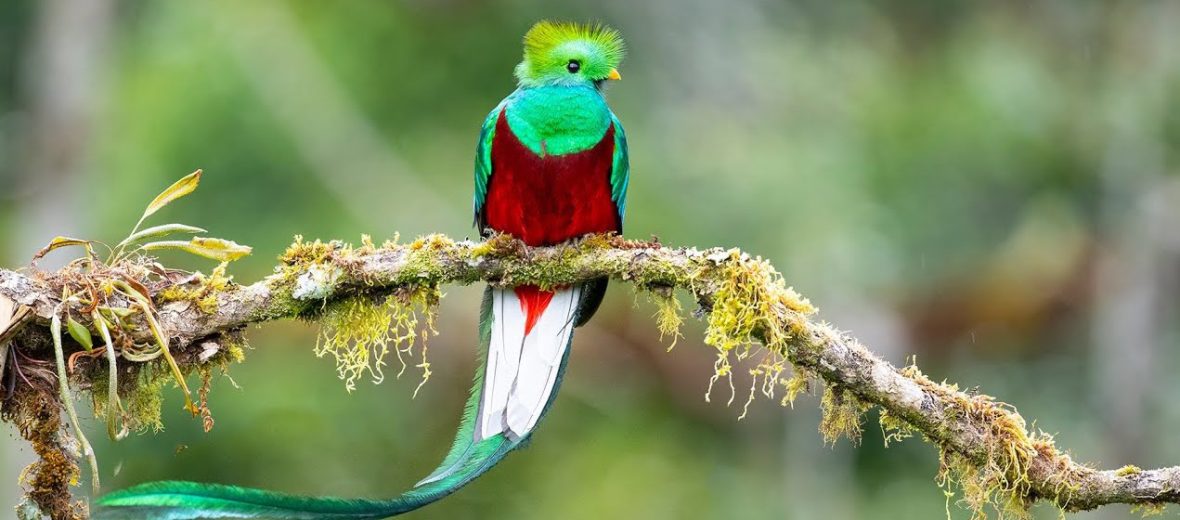 The resplendent quetzal, aka mgnificent quetzal or resplendent trogon, hails from Chiapas, Mexico to western Panama. They prefer moist rainforests and montane cloud forests. However, they can also be found in open areas with scattered trees, vegetated ravines, and pastures. Due to habitat destruction at the hands of the logging industry (both legal and illegal); hunting; trapping; and invasive species (and with them disease), these magnificent birds are listed as Near Threatened by the IUCN. Their numbers are also decreasing.
First the Stats…
Scientific name: Pharomachrus mocinno
Weight: Up to 7.1 ounces
Length: Up to 16 inches, plus up to a 12 inch tail
Wingspan: Up to 15.74 inches
Lifespan: Up to 10 years
Now on to the Facts!
1.) Being closely associated with Quetzalcoatl, these birds are an important part of Mesoamerican mythology.
2.) They are the national bird of Guatemala. These critters are pictured on the country's coat of arms, flag, and they also get the name of the country's currency, the Guatemalan quetzal.
3.) Resplendent quetzals are diurnal (active during the day).
4.) They perform aerial patterns known as "stalling" and "hovering" in order to carefully select the fruit near the tips of branches.
5.) The resplendent quetzal is monogamous (mates for life).
But wait, there's more on the resplendent quetzal!
6.) During the breeding season, these birds become altitudinal migrants (migrating from other altitudes to higher or lower altitudes in order to mate).
7.) They create hollows in decaying trees or use ones already created by woodpeckers as a preferred nest site.
Did you know…?
Females tend to neglect and sometimes abandon her chicks, nearing the end of their development. This leaves the continued rearing up to the male.
8.) Females lay up to 2 eggs that incubate in up to 18 days.
9.) While incubating, the males will tend to the eggs during the day and females tend to them at night.
10.) Their call is mostly performed on cloudy or misty days and sounds like 'kyow' or kind of like a whimpering dog. The calls are most often produced in pairs, which can be repeated. Other calls produced sound like 'weec-weec,' an alarm 'perwick' sound, and a 'ka-ka-ka' sound.
But wait, there's still more on the resplendent quetzal!
11.) On windy or sunny days, these birds are typically rather quiet.
12.) The resplendent quetzal is primarily a herbivore, more specifically they are a frugivore with omnivore tendancies. They primarily eat various types of fruit. However, they will also take ants, wasps, insect larvae, lizards, and frogs.
Did you know…?
In many Mesoamerican languages, the term 'quetzal' can also mean erected, precious, or sacred.
13.) Chicks begin flying at just 3 weeks of age. But the males won't gain their long, beautiful tails for another 3 years.
14.) The word "quetzal" comes from the Nahuatls (Aztecs). 'Quetzalli' means "tall upstanding plume" or "quetzal tail feather". The Nahuatl 'quetzaltotōtl' means "quetzal-feather bird" and so the name "quetzal" evolved.
15.) Birds in the trogon family tend to have large eyes. This allows for better vision in the sometimes gloomy or darkened understory.
16.) These birds have thick plumage as their skin is rather thin and subject to being torn. The feathers, therefor, protect their fragile skin from injury.
Now a Short Resplendent Quetzal Video!
Pick up your Critter Science books today, at Amazon!
Be sure to share & comment below! Also, check out the Critter Science YouTube channel. Videos added regularly!
Want to suggest a critter for me to write about? Let me know here.