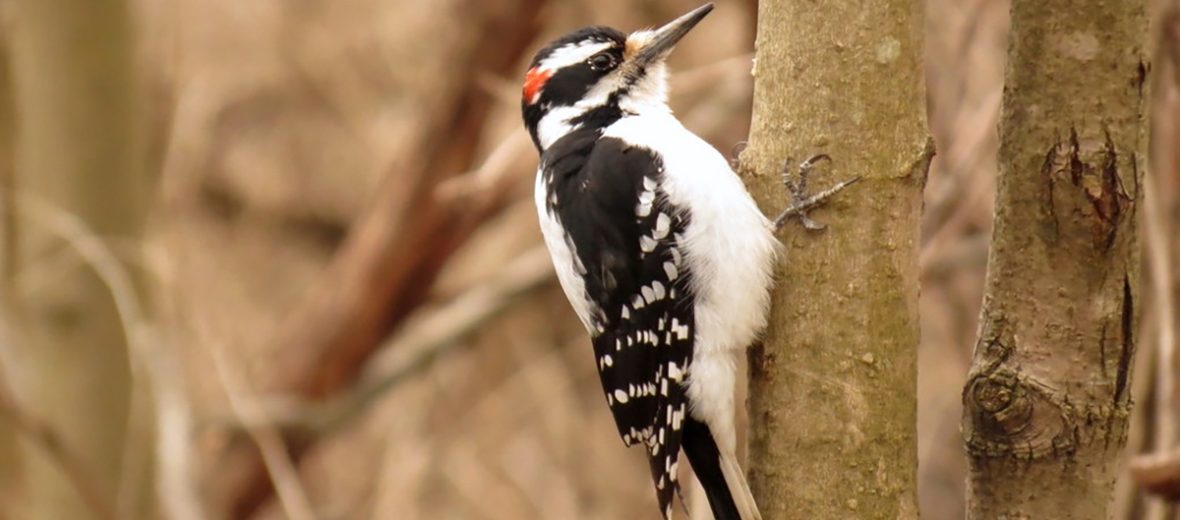 The hairy woodpecker can be found from Canada, throughout the United States, into the Bahamas, down south to Mexico and into Central America. They prefer old growth coniferous, deciduous, and mixed forests, woodlands, forest edges, and groves near rivers and streams. These birds can also be found in gardens, parks, and urban settings. Even though they face the threat of habitat destruction, these critters have a stable and increasing population of an estimated 8,900,000 and are listed as Least Concern by the IUCN.
First the Stats…
Scientific name: Leuconotopicus villosus
Weight: Up to 3.5 ounces
Length: Up to 9.8 inches
Wingspan: Up to 15 inches
Lifespan: Up to 15 years
Now on to the Facts!
1.) Although solitary, they are also serially monogamous (mate for at least a few seasons).
2.) Like other woodpeckers, they are diurnal (active during the day).
3.) A group of woodpeckers is called a descension, descent, drumming, fall, or gatling.
4.) They primarily feast on insects. But they will also dine on berries, fruits, nuts, tree sap, and suet – from bird feeders.
5.) Breeding season lasts from March – June.
But wait, there's more on the hairy woodpecker!
6.) Both the male and female excavate a hollow in a tree, in which to build a nest.
7.) Females lay up to 4 eggs that hatch in up to 2 weeks.
Did you know…?
While pecking, their skulls actually heat up and can overheat. This is why they peck in short bursts and not continuously. The resting intervals allow their head to cool down.
8.) The chicks are born altricial (blind and helpless).
9.) Chicks fledge in up to 30 days, and then stay with mom and dad for another 2 weeks, before venturing out on their own.
10.) The Hairy woodpecker is often mistaken for a downy woodpecker. The primary differences are the lack of tail feather spots, the bill size, and their calls.
But wait, there's still more on the hairy woodpecker!
11.) While searching for food, these woodpeckers may occasionally attempt to drill holes in window panes and in the sides of wood panel homes.
12.) Insects are found in tree bark due to listening for the vibrations they make.
13.) When faced with a threat, these birds will raise both wings over their back, stretch back their head, and let out shrill cries.
14.) House sparrows, European starlings, red-bellied woodpeckers, and rat snakes all prey on these woodpeckers in their various life stages.
15.) And if you're wondering how they got their name, it is derived from the long, thread-like white feathers that run down the middle of their back.
Now a Short Hairy Woodpecker Video!
Be sure to share & comment below! Also, check out the Critter Science YouTube channel. Videos added regularly!
Want to suggest a critter for me to write about? Let me know here.