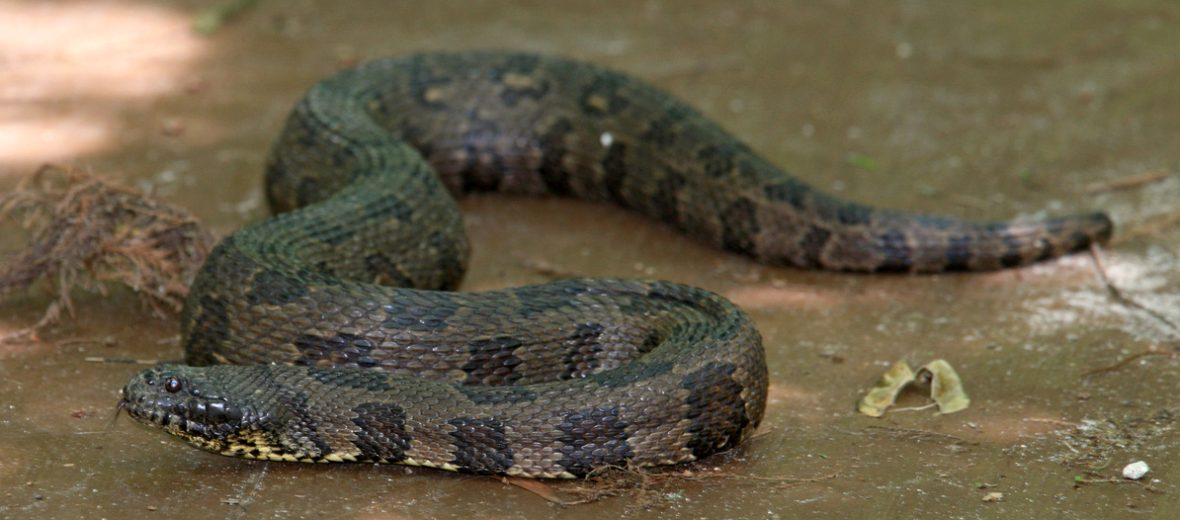 The brown water snake, aka great water snake, greater water snake, pied water snake, southern water snake, water-pilot, aspic, false moccasin, or water rattler, can be found throughout the southeastern United States. They prefer lower coastal regions, that contain canals, lakes, ponds, rivers, streams, and swamps. Even though they face the pressures of habitat destruction, pollution, and death due to being mistaken as venomous snakes, they are still listed as Least Concern by the IUCN.
First the Stats…
Scientific name: Nerodia taxispilota
Weight: Up to 3+ lbs.
Length: Up to 5 feet
Lifespan: Up to 6 years
Now on to the Facts!
1.) Brown water snakes are natricines (snakes that spend most of their lives in, or around water.
2.) Even though they are nonvenomous, they are often killed because they are mistaken for water moccasins or copperheads.
3.) A group of snakes is called a bed, den, knot, nest, or pit.
4.) While primarily diurnal (active during the day), these snakes will take on a nocturnal (active at night) behavior during hotter summer months.
5.) Like other snakes, brown water snakes are solitary and only come together to breed.
But wait, there's more on the brown water snake!
6.) Often times they are found basking on tree branches, logs, or in bushes, just above the water.
7.) Although they feed primarily on catfish, these snakes also dine on crayfish, lizards, and frogs.
Did you know…?
Even though they may take some coaxing to do so, they still aren't aggressive and don't often bite. However, they will do so, if harassed. They tend to steer clear of people and pets.
8.) These snakes are polygynandrous (promiscuous – males and females mate with several partners).
9.) Females birth up to 40 live young!
10.) The snakelets are born precocial (totally self sufficient).
Now a Short Brown Water Snake Video!
Pick up your Critter Science books today, at Amazon!
Be sure to share & comment below! Also, check out the Critter Science YouTube channel. Videos added regularly!
Want to suggest a critter for me to write about? Let me know here.
Photo credit: BirdPhotos.com